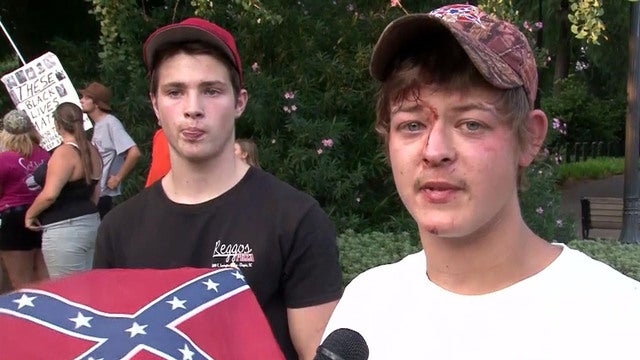 Confederate flag debate sparks South Carolina clash
A heated confrontation unfolded in the shadow of the South Carolina statehouse over the Confederate flag, reports CBS News correspondent Michelle Miller.
"That flag just does not deserve to fly at all in South Carolina and we want it down," one person said.
People for and against the display of the controversial banner, clashed Monday in the state's capital, Columbia.
"The blood on my teeth, the blood on my hands is no comparison to the Southern blood that runs through my veins," Joe Lindler said.
He was hit during the brawl and said "racism has no part" in the flag.
"I'm gonna tell you one thing, I ain't sitting down; this'll just make me walk taller," he said.
Police were forced to separate the protesters.
"We do have tension, we do have feelings and we do have emotions," a preacher said. "When you got them coming past here, taunting certain words, you're messing with the emotions of the people."
Tony Gradel said the recent tragedy at Emanuel AME Church "has nothing to do with that flag up there."
"Just because nine people lost their lives in a church in Charleston, which I'm not downplaying at all, still a tragedy, has nothing to do with that flag standing up there," he said.
On a campaign stop in West Columbia on Monday, Republican presidential candidate Jeb Bush said the state needs to move forward -- without it.
"The symbols that have divided the South in many ways, the symbols that were used in most recent modern history, not at perhaps at the beginning of the time, but the symbols were racist," he said.
The Confederate flag is no longer flying over Fort Sumter, South Carolina, where Southerners fired the first shots of the Civil War.
And on Saturday, activist Brittany Newsome climbed 30 feet up the statehouse flagpole and took the rebel flag down.
"You come against me with hatred, and oppression and violence. I come against you in the name of God. This flag comes down today," she said.
Newsome was arrested and charged with defacing monuments on capitol grounds.
The flag was put back up immediately, but the South Carolina legislature reportedly has enough votes for the two-thirds majority needed to bring it down for good. State lawmakers will take up the bill to remove the Confederate flag on July 6th.
"Do the right thing and vote with us to bring the flag down," State Sen. Kevin Johnson said.
The KKK is planning a rally at the statehouse next month. In the meantime, the community is bracing for its final funeral. The last of the nine victims killed in the June 17th Emanuel AME Church shooting will be laid to rest on Tuesday.
Thanks for reading CBS NEWS.
Create your free account or log in
for more features.