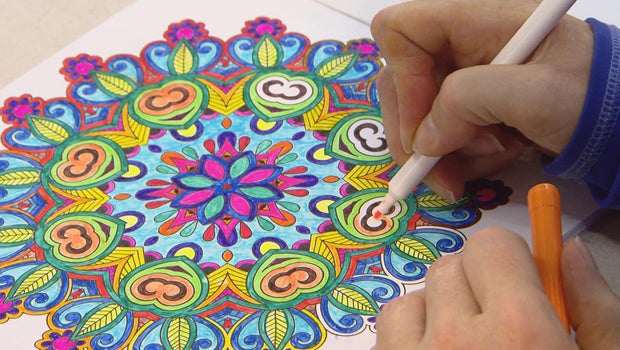 Move over, kids: Rita Braver has the story of adults afflicted with "pencilmania":
Once a month, not far from the U.S. Capitol, a resolute group files into a basement room in a D.C. public library, and it begins.
"I haven't told my family yet," laughed Julie Evans. "I'll have to break it to them slowly."
Diamond Newman was prepared: "We have your pencils, your markers, all of your things here!"
Yes, it's a coloring club ... maybe coming soon to a neighborhood near you.
That's right -- grown-ups with crayons and markers, all part of a craze that's sweeping the whole world: adult coloring books.
Believe it or not, they often become the top-selling books on Amazon!
Two students in attendance actually started coloring back in their native country. "In Korea, it is very popular -- coloring books and coloring pencils," said Jaekyeong Choo. "The book called 'Secret Garden' was very popular."
"Secret Garden," published in 2013, is credited with starting the whole trend. It's a book filled with elegant and fanciful images, and it has spawned an industry of imitations and variations.
At a recent coloring party in Florida, in honor of the "Doodlers Anonymous Coloring Book," adults like Jennifer Kaminski were proud to be caught up in what used to be known as a childish pursuit: "I don't think you ever grow out of liking to color," she said.
And today, you can color the adventures of Donald Trump, or the perfection of Ryan Gosling. There is even a new crop of coloring books devoted to swear words.
But most of the colorers Braver met (and they do tend to be women) agree with Lisa Bono, who says it lets her leave her cares behind: "It's like permission to push everything else aside at the moment, and that your main mission in life right now is to color this damn cupcake!"
Those cupcakes are from the book "Color Me Happy," part of a series that has sold more than two million copies -- which has shocked licensed art therapist Lacy Mucklow: "Very shocking. Who knew?"
Mucklow is the author (underscore "author") of the books. While the pictures are drawn by an artist in Wales, Mucklow provides commentary telling readers, for example, to "use hues that ... personally increase your sense of happiness and pleasure."
Braver asked, "What's the biggest hope that you would have, from somebody who picks up one of your books and starts to use it?"
"I hope they find that it helps them in whatever way it is," Mucklow replied. "If it helps them relax and sleep better, great. If it helps them get through a stressful time, wonderful. Coloring can be therapeutic -- it has therapeutic value to people."
In fact, in Phoenix, Arizona, coloring books provide stress relief to those who answer 911 calls.
But artist Steve McDonald begged his publishers NOT to make any therapy claims for his books.
"We weren't setting out to create a mental aid," he said. "We were setting out to create a book full of wonderful art that was going to hopefully inspire people to be creative."
And so, in his bestselling books "Fantastic Cities" and "Fantastic Structures," McDonald has created fabulous kingdoms. So, it might surprise you to see where he lives and works, two hours north of Toronto.
"I think if I lived in the middle of a city and drew the city and spent all my time creating art work of a city, I might go a little bit insane," he said.
And though he was once known for paintings and drawings sold in art galleries, McDonald has put that on hold.
Braver suggested, "I think a lot of artists might kind of scoff at this and say, 'Oh, look, he's just selling out here. That's what this is about.'"
"I'm an illustrator," McDonald said. "I'm an image creator. I don't have a high and pompous view on where my art belongs or where it should hang. And I think it's wonderful creating original work that hangs over someone's living room walls. I think it's just as legitimate creating imagery that ends up on a sneaker."
Meanwhile, the folks at Crayola, who've been in the coloring business for 113 years, have created special pencils, markers and books to get even MORE adults hooked.
Braver asked Mucklow, "It is kind of addictive -- so is that a bad thing? Or is that okay?"
"It's okay as long as it doesn't impair other parts of your life," Mucklow laughed. "If you're coloring instead of going to work, you know, that could be a problem!"

For more info:
Thanks for reading CBS NEWS.
Create your free account or log in
for more features.