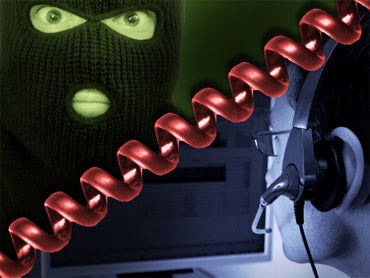 Christopher Moore, alleged Texas burglar, calls 911 after homeowners hold him at gunpoint
(CBS) SPRINGTOWN, Texas - Christopher Moore, an alleged burglar, is now behind bars after calling 911 when he became afraid of the homeowner who was holding him at gun point, CBS DFW reports.
Moore was allegedly in the process of burglarizing a home in Springtown, Texas early Tuesday morning when the homeowner, James Gerow, woke up and found Moore in his bedroom.
Gerow initially thought it was his son, until he got up and realized his son was still asleep in his own room. Gerow then noticed an unfamiliar truck parked outside, grabbed a handgun and walked outside.
Moore ran from the home toward his pickup, but Gerow chased him down and took away his keys.
Moore climbed into his truck and sat there while Gerow and his son pointed guns at him, CBS DFW says.
Gerow's wife Lindy was the first to notify authorities.
"You better come quick," she told the 911 operator, "or my husband's going to shoot him."
Moore made the second call to 911 from inside his truck.
"I'm out in the country somewhere. Some guy's got a gun on me," he said in the call. "He's going to come shoot me," he continued.
When police arrived both were still on the phone with 911 operators. When Gerow asked Moore why he was in the house, Moore replied that he had "bad intentions." Gerow said he could tell the man wasn't thinking clearly, which is why he never fired the gun he was using, CBS DFW reports.
More was arrested and charged with burglary of a habitation.
Thanks for reading CBS NEWS.
Create your free account or log in
for more features.