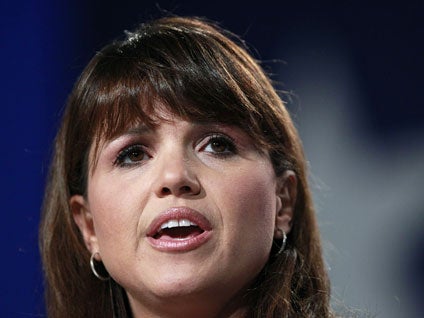 Christine O'Donnell: "I Dabbled Into Witchcraft"
Republican Senate nominee Christine O'Donnell doesn't need Facebook to dredge up her controversial past statements.
As a sometime conservative pundit a decade ago on Bill Maher's former show, "Politically Incorrect", O'Donnell said (in an appearance that wasn't aired) that she dabbled in witchcraft.
In the clip shown last night on Maher's current show, "Real Time," O'Donnell said:
"I dabbled into witchcraft -- I never joined a coven. But I did, I did. ... I dabbled into witchcraft. I hung around people who were doing these things. I'm not making this stuff up. I know what they told me they do. . . . "
"One of my first dates with a witch was on a Satanic altar, and I didn't know it. I mean, there's little blood there and stuff like that. ... We went to a movie and then had a midnight picnic on a Satanic altar."
Below is the clip with the witchcraft quotes from 1999 via Think Progress:
These blasts from the past are making it more difficult for the candidate to improve her image, especially as the media spotlight becomes more intense.
After wowing conservative attendees at the Values Voter Summit on Friday, O'Donnell cancelled appearances on CBS News' "Face the Nation" and Fox News scheduled for Sunday. Her spokesperson said she canceled the national TV appearances to attend a Republican campaign event in Delaware.
In her speech at the Values Voter Summit, O'Donnell submitted that conservatives are being oppressed by a small group of ruling elite in Washington. "They call us wacky, they call us wingnuts," she said. "We call us, we the people," she said.
With her past dabbling into witchcraft, and statements such as, "American scientific companies are cross-breeding humans and animals and coming up with mice with fully functioning human brains," candidate O'Donnell will have to explain to the citizens of Delaware what's behind her some of her more controversial ideas past and present.
Thanks for reading CBS NEWS.
Create your free account or log in
for more features.