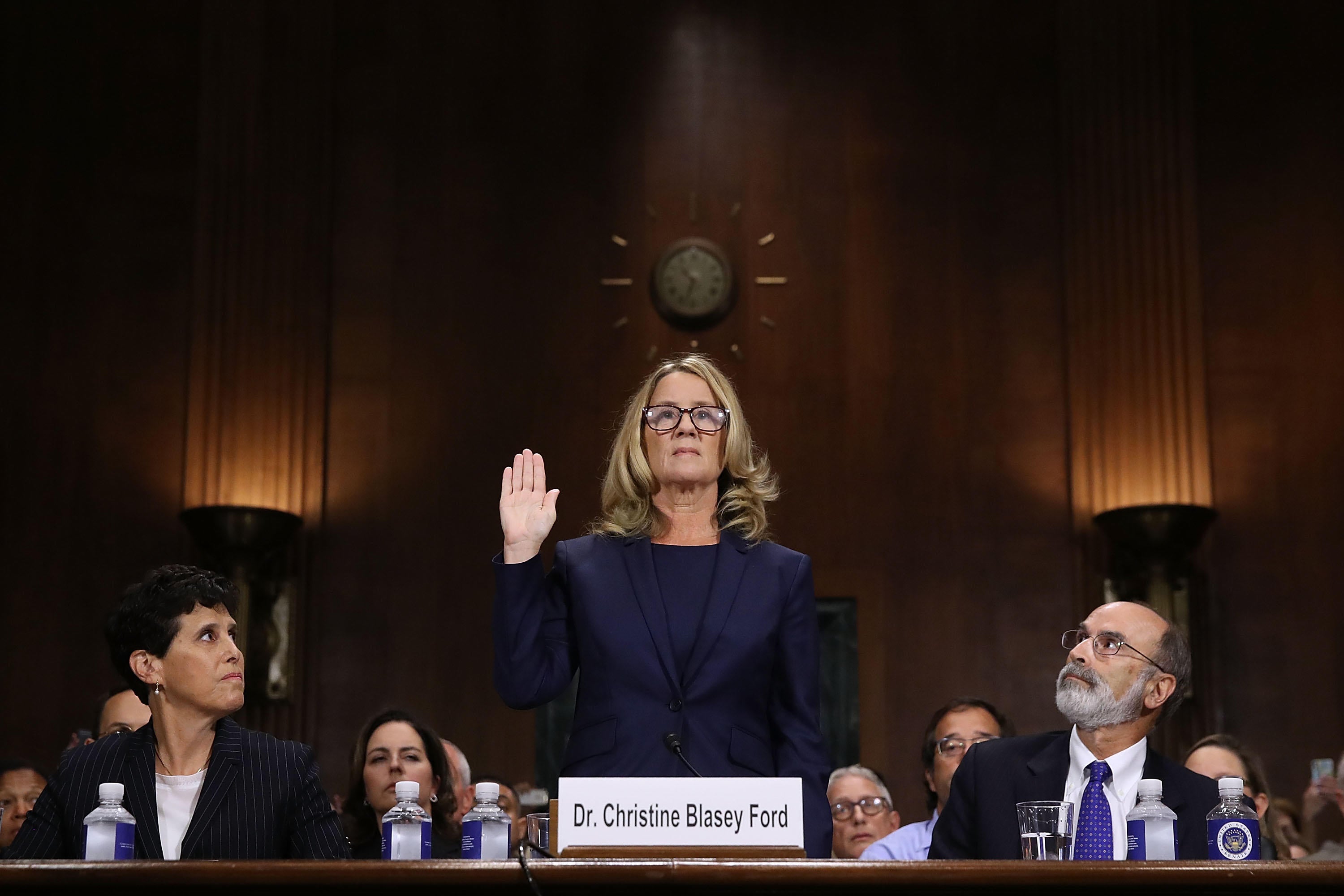 GoFundMe campaigns for Christine Blasey Ford raise over $700,000 combined
Two GoFundMe accounts made on behalf of Dr. Christine Blasey Ford and her family have raised over $700,000 in donations for the woman accusing Brett Kavanaugh of sexual assault. "Cover Dr. Blasey's security costs," has surpassed its $175,000 goal and raised over $200,000 in nine days. The GoFundMe campaign was created by Heidi Feldman on behalf of Ford's family.
"Due to death threats, Dr. Christine Blasey Ford ... and her family have had to leave their residence and arrange for private security," the page description reads. "Let's create a fund to cover her security expenses, to do just a bit to make it easier for women in her position to come forward despite great risks."
The page specifies that extra funds raised "will go to women's organizations and/or into an account to cover similar costs incurred in comparable situations."
Feldman, who says she is a professor of law at Georgetown University, wrote in the page description that she does not know Blasey Ford personally, but contacted her to inform her of the fundraising page. "My reason for starting this fundraiser is to make concrete the power of collective action in providing security, and therefore support, for Dr. Blasey's willingness to contribute to a thorough, fair vetting of a nominee for Supreme Court Justice," Feldman wrote.
Over 6,000 people have donated to that GoFundMe campaign. A second, separate campaign has raised over $500,000 from over 11,000 donors on behalf of Ford. "Help Christine Blasey Ford" was created by a GoFundMe account titled "Team Christine Blasey Ford."
"The money raised from this campaign is going directly to the Ford Family," the GoFundMe description reads. The description also suggests donors visit other similar GoFundMe pages, such as Charity Rape Abuse and Incest National Network (RAINN) as well as a second campaign started by Heidi Feldman, intended to create a scholarship in Dr. Blasey Ford's name. The scholarship campaign has raised over $14,000 of its $25,000 goal.
Ford was asked about the fundraising efforts on her behalf during Thursday's hearing. "I'm aware that there's been several GoFundMe sites that I haven't had a chance to figure out how to manage those because I've never had one," Ford said when prosecutor Rachel Mitchell asked about funding.
Ford said the intention of the fundraising was to help her cover the cost of security detail, but did not specify if she talking about Feldman's "Cover Dr. Blasey's security costs," GoFundMe.
Ford and her lawyers said her legal team is working on a pro bono basis. When asked again about additional costs the hearing has brought on, Ford said "There are members of the community in Palo Alto that have the means to contribute to help me with the security detail, et cetera."
Thanks for reading CBS NEWS.
Create your free account or log in
for more features.