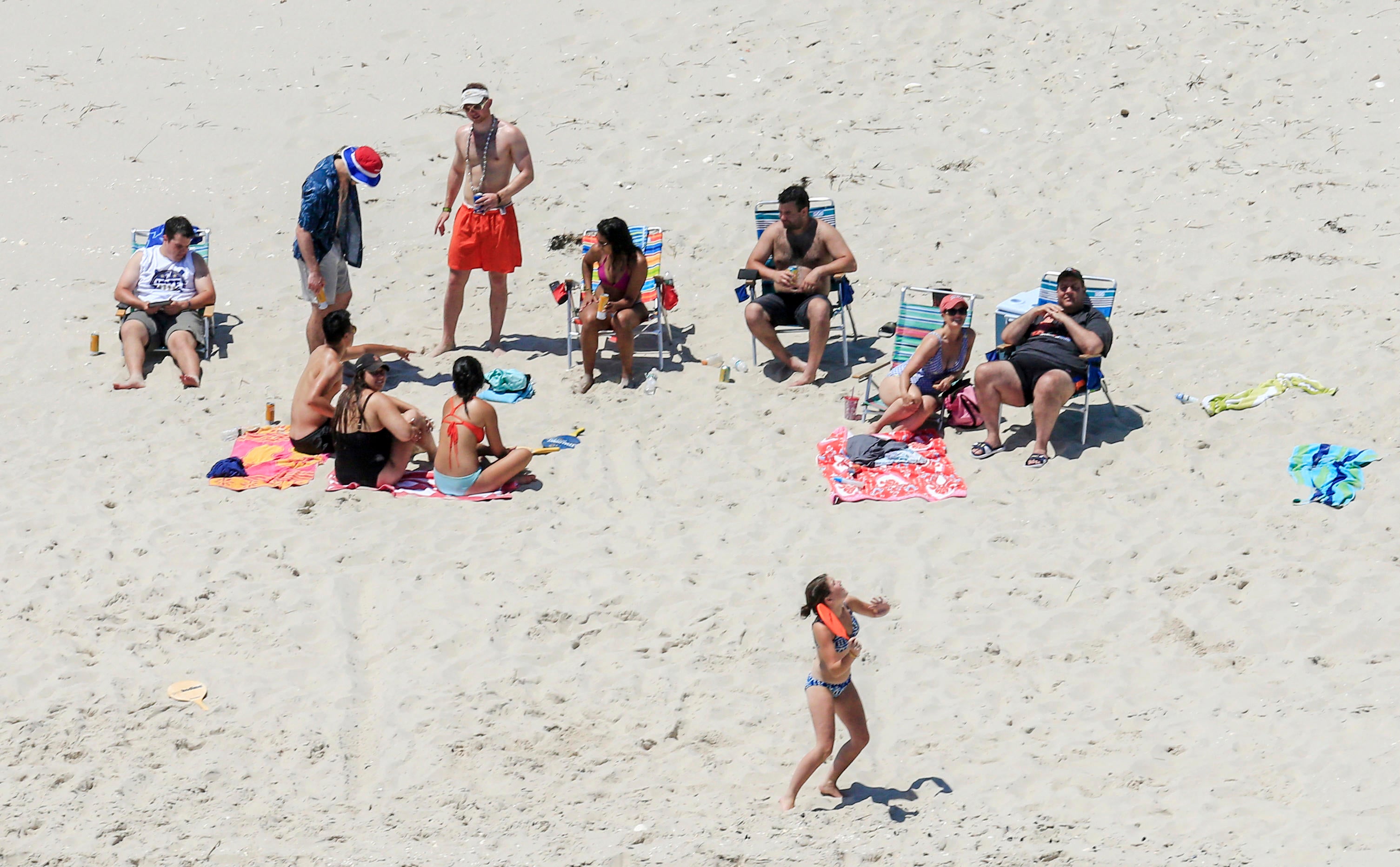 Chris Christie defends going to closed beach during government shutdown
TRENTON, N.J. -- New Jersey Gov. Chris Christie has defended himself against criticism for going to the beach with his family during the government shutdown that closed state beaches to the public over the holiday weekend.
The Republican governor told WNYW-TV on Monday that he had every right to be there.
"The governor has two residences in New Jersey. One down at the beach, at Island Beach State Park, and one at Drumthwacket, which also is in Princeton. The governor is allowed to go to his residences and I'm at my residences. I'll tell you this, I said last Monday, a week ago today, that no matter what happens, we were coming here as a family this weekend," Christie said.
Christie then mocked a New Jersey newspaper for publishing pictures of his family on its front page.
"What a great bit of journalism by The Star-Ledger. They actually caught a politician being where he said he was going to be with the people he said he was going to be with, his wife and children and their friends. I am sure they will get a Pulitzer for this one. They caught me doing what I said I was going to do with the people I said I was going to be with," he added.
Christie got blistered online after the photos were published. He had previously ordered the New Jersey beach closed to the public over the Fourth of July weekend in the midst of a state budget standoff.
"That's the way it goes," Christie said Saturday about his family's use of the beach home. "Run for governor, and you can have the residence."
On social media, users mocked the governor as selfish and arrogant and cracked jokes about the sight of the heavyset Christie in a beach chair in sandals, shorts and a T-shirt. The photo quickly became an internet meme, inserted into an Oval Office picture and scenes from movies like "Planet of the Apes" and "The Sopranos."
Online, one user joked that Christie was promoting the state's whale-watching industry. Another shared video of a simulated tsunami, saying it was the aftermath of Christie jumping into the water.
Others likened the beach closing to Bridgegate, the 2013 scheme by Christie allies to cause huge traffic jams at the George Washington Bridge. Some said Christie was trying to outdo President Trump in low approval ratings.
"SON OF A BEACH," screamed the headline in London's Daily Mail.
Christie's lieutenant governor, who is running in November to succeed him, joined the chorus of Christie's critics, calling his beach time "beyond words."
"If I were governor, I sure wouldn't be sitting on the beach if taxpayers didn't have access to state beaches," Republican Lt. Gov. Kim Guadagano posted on Twitter and Facebook.
Christie ordered the shutdown of nonessential state services over the holiday weekend — including parks, beaches and motor vehicle offices — in a stalemate over his demand that Horizon Blue Cross Blue Shield be overhauled so that the state can tap into the nonprofit insurer's surplus to finance drug treatment programs.
Christie, who is heading into his final six months in office with approval ratings at an abysmal 15 percent, made supporting the $34.7 billion state budget contingent on the overhaul.
Christie has blamed a top Democratic lawmaker for the shutdown, with the state plastering "Closed" signs at parks with Assembly Speaker Vincent Prieto's picture and office phone number.
Christie's ratings nosedived after three of his former allies were charged in the George Washington Bridge political revenge scandal, after he threw his support to Trump, and after his own presidential campaign fizzled.
In the past year, he was passed over for vice president, demoted as Trump's transition chairman, and denied a top-level administration post of his liking.
But Christie regularly says that the only time popularity counts is when you're running for something — and he's not. "I don't care," he said recently when asked about the fall in his ratings.
Among those affected by the shutdown were Cub Scouts forced to leave a state park campsite and people trying to obtain or renew motor vehicle documents.
Liberty State Park was closed, forcing the suspension of ticket sales and ferry service to the Statue of Liberty and Ellis Island. But the two sites remained open.
Prisons, state police, state hospitals and New Jersey's bus and commuter railroad remain open. The vast majority of beaches are open as well, since most are controlled not by the state but by towns up and down New Jersey's 130 miles of coastline.
"Come and enjoy them," Christie tweeted Monday, "but use sunscreen and hydrate."
Thanks for reading CBS NEWS.
Create your free account or log in
for more features.