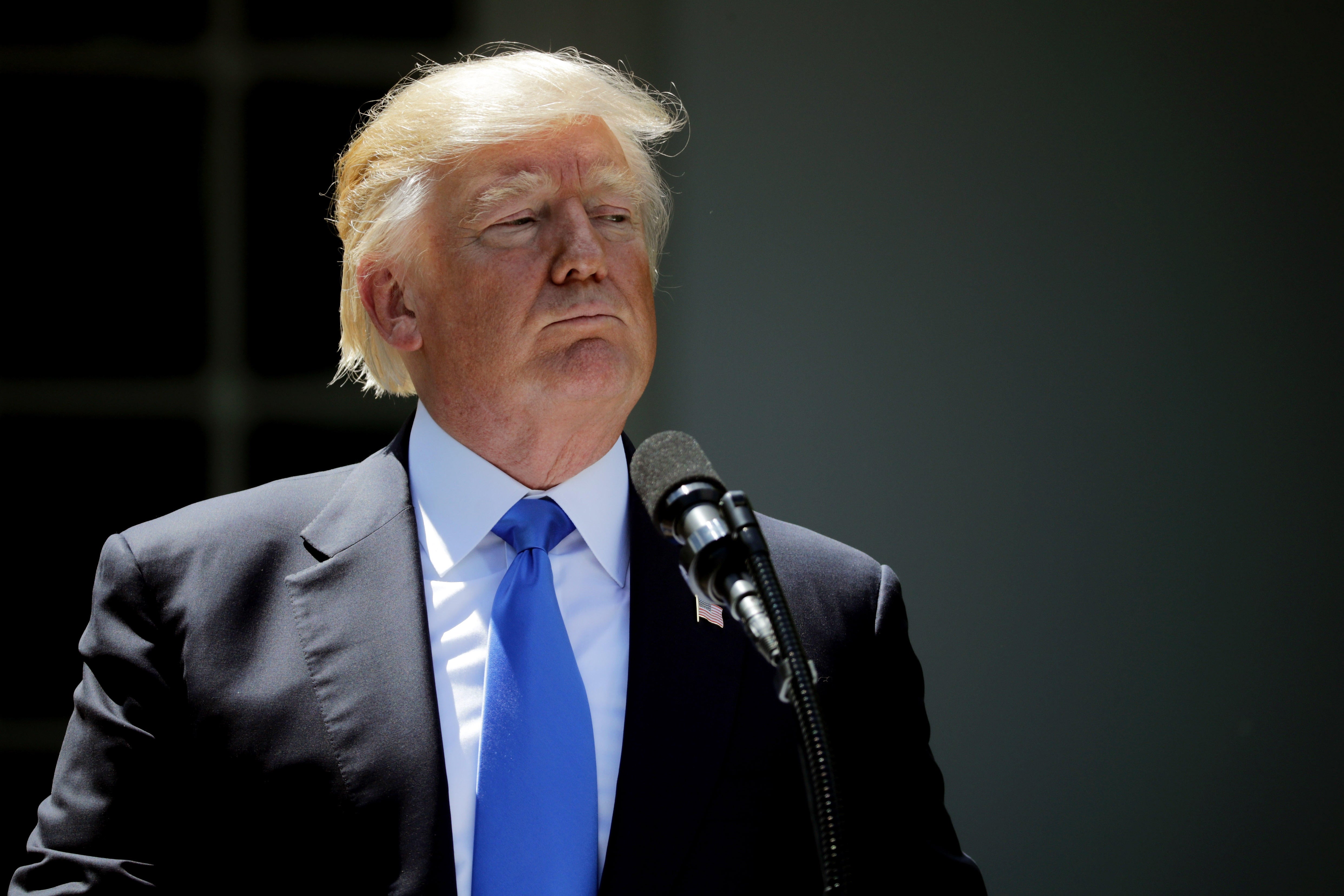 Trump's handling of Russia investigations weighs on approval ratings
By Jennifer De Pinto, Fred Backus, Kabir Khanna and Anthony Salvanto
President Trump's job approval rating has dipped in recent weeks, pushed down by negative reaction to his handling of the Russia investigations, and he's seen some slippage among Republicans as well. A third of Americans say his approach to the issue has made their opinion of him worse, and his handling of that matter gets lower marks than any of his others, like the economy or terrorism, for which he rates higher.
Americans of all stripes do seem inclined to want to get to the bottom of things: most believe that the Special Counsel Mueller's investigation will be impartial, and that the president should not do anything to try to stop it -- a view that also runs across partisan lines.
But divisions remain not only over what happened in the Russia matter, but whether it is serious or not. Most who approve of the President say it is not serious. Most Republicans feel the President is being criticized more than his predecessors and for some of them, that just makes them back the President even more.
Trump approval rating now lowest since he became president
At 36 percent, Mr. Trump's approval rating is now his lowest in CBS News Polls since becoming president. Fifty-seven percent now disapprove.
The drop in the President's approval rating is partially due to ebbing support among Republicans. Seventy-two percent approve of the job Mr. Trump is doing, a decline of eleven points since April.
Historically, a drop-off in support among a president's own party is not unusual at times. There were points in Barack Obama's presidency when his support among Democrats dipped to a similar level.
The Russia investigation
Of the issues on which Americans evaluated President Trump for this poll, they give the president his most negative marks on his handling of the Russia matter -- just 28 percent approve, while 63 percent disapprove. A third say the president's approach to this issue has made them think worse of him.
Republicans approve of how Mr. Trump is handling the Russia issue, but in far lower numbers (at 57 percent) than their support for the job he's doing on the issues of the economy (80 percent) and terrorism (77 percent).
Even as some in their ranks disapprove of how the President is handling the investigation, most Republicans don't think the issue is serious. Just one in five Republicans thinks it is a critical security matter, and more than half call the investigations a political distraction that should be put aside. Even among Republicans who think it at least somewhat likely the Trump campaign had improper communications with Russia, just a third view the issue as critical to national security.
More Americans say their opinion of Mr. Trump has grown worse, not better, because of his handling of the Russia investigations. Still, for most (including majorities of Republicans and independents), his approach to the issue hasn't caused their view of him to change.
Most Americans (56 percent) believe that the special counsel's investigation will be impartial, rejecting any assertions to the contrary, and think that the president should not do anything to try to stop it. That view runs across partisan lines, as most Democrats and Independents think so, and Republicans are more likely to believe it will be impartial than not.
Americans overwhelmingly feel the president should not try to stop that probe, with large majorities of Republicans, Democrats, and independents all in agreement.
The percentage of Americans who thinks it is at least somewhat likely that Mr. Trump's campaign associates had improper contact with the Russian government has also risen a bit in recent months -- from 59 percent in March to 65 percent today.
Movement here is driven primarily by Republicans: 40 percent now think it is at least somewhat likely that Trump associates had improper contact with the Russian government, up from just a quarter in March.
More than six in 10 Americans now believe Russia tried to interfere in the 2016 presidential election, an increase from March when only half believed this, but less than half think this interference was in order to help Donald Trump get elected. Republicans are also more likely now than they were in March to think Russia interfered in the 2016 election (though most remain skeptical that it was in order to help the Trump campaign).
By a margin of more than two-to-one, Americans think Donald Trump is more interested in protecting his administration from investigation (64 percent) than protecting the United States from Russian interference (30 percent). Here, most Republicans break with Democrats and independents in defending the President, but one-third do feel the President is more concerned about his own Administration.
The President disputed former FBI Director James Comey's account of their private meetings, and who Americans believe is driven by partisanship. Overall, most Americans (57 percent) believe Comey more. Most Republicans (64 percent) believe the president -- though a quarter do not -- while Democrats (84 percent) and Independents (55 percent) believe Comey.
A majority of Americans think at least something improper occurred in those meetings with James Comey, though just over a quarter think his actions rise to the level of illegality. Most Republicans don't think the president did anything wrong at all.
Majorities across the political spectrum are in agreement that President Trump has received more criticism than recent presidents.
For most Republicans, that criticism doesn't lead them to question President Trump. A third of Republicans say it actually makes them more likely to support him, and for about half the criticism has had no effect on their views.
---
This poll was conducted by telephone June 15-18, 2017 among a random sample of 1,117 adults nationwide. Data collection was conducted on behalf of CBS News by SSRS of Media, PA. Phone numbers were dialed from samples of both standard land-line and cell phones.
The poll employed a random digit dial methodology. For the landline sample, a respondent was randomly selected from all adults in the household. For the cell sample, interviews were conducted with the person who answered the phone.
Interviews were conducted in English and Spanish using live interviewers. The data have been weighted to reflect U.S. Census figures on demographic variables.
The error due to sampling for results based on the entire sample could be plus or minus four percentage points. The error for subgroups may be higher and is available by request. The margin of error includes the effects of standard weighting procedures which enlarge sampling error slightly.
This poll release conforms to the Standards of Disclosure of the National Council on Public Polls.
Thanks for reading CBS NEWS.
Create your free account or log in
for more features.