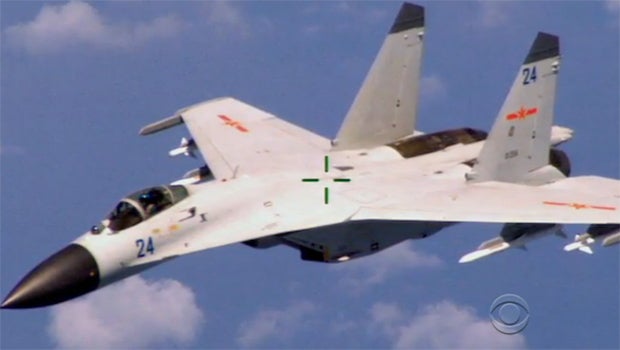 ​China vows to respond to U.S. surveillance flights
BEIJING - China said Thursday it will continue responding to U.S. military surveillance flights off its coast, rejecting American accusations that one of Beijing's fighter jets acted recklessly in intercepting a U.S. Navy plane last week.
Defense Ministry spokesman Yang Yujun said China's military would closely monitor U.S. flights and reiterated calls for the U.S. to scale back or end such missions altogether.
"According to different situations we will adopt different measures to make sure we safeguard our air and sea security of the country," Yang said at a monthly news briefing.
China has long complained about U.S. surveillance flights that just skim the edge of China's territorial airspace. However, Yang said such flights this year have become more frequent, are covering a wider area and are coming even closer to the Chinese coast.
U.S. sea and air surveillance missions occur most frequently during Chinese military exercises or weapons tests, raising the risk of accidents and misunderstandings, Yang said.
That was a likely reference to an incident last December in which China accused a U.S. Navy cruiser, the USS Cowpens, of having veered too close to China's sole aircraft carrier in the South China Sea during sea drills. That nearly led to a collision with a Chinese navy ship in the most serious sea confrontation between the two nations in years.
The latest incident also revived memories of the 2001 collision between a Chinese jet and a U.S. Navy surveillance aircraft off China's Hainan Island, killing the Chinese pilot and forcing the Navy plane to make an emergency landing on the island.
Yang, however, wouldn't say what distance China considers acceptable, saying only that the U.S. should scale back or end such flights entirely if it wants to avoid potential accidents and build mutual trust.
The Pentagon said that in the Aug. 19 encounter, a Chinese jet made several close passes by the Navy P-8 Poseidon plane, coming within 30 feet of it at one point.
It said that included the Chinese jet doing a "barrel roll" maneuver over the top of the Poseidon -- a modified Boeing 737 -- and passing across the nose of the Navy plane apparently to show that it was armed.
The incident took place about 135 miles from Hainan, which is home to naval airfields and a highly sensitive submarine base.
Yang rejected U.S. accusations that the Chinese pilot acted in a dangerous and unprofessional manner, saying it was the U.S. that seemed to have little regard for the safety of its personnel.
"China is a developing country. Our aircraft are very precious. The lives of our pilots are even more precious," Yang said. "Compared to countries that ask their pilots to fly down on other countries' door steps, we cherish more the safety of our personnel and equipment."
Thanks for reading CBS NEWS.
Create your free account or log in
for more features.