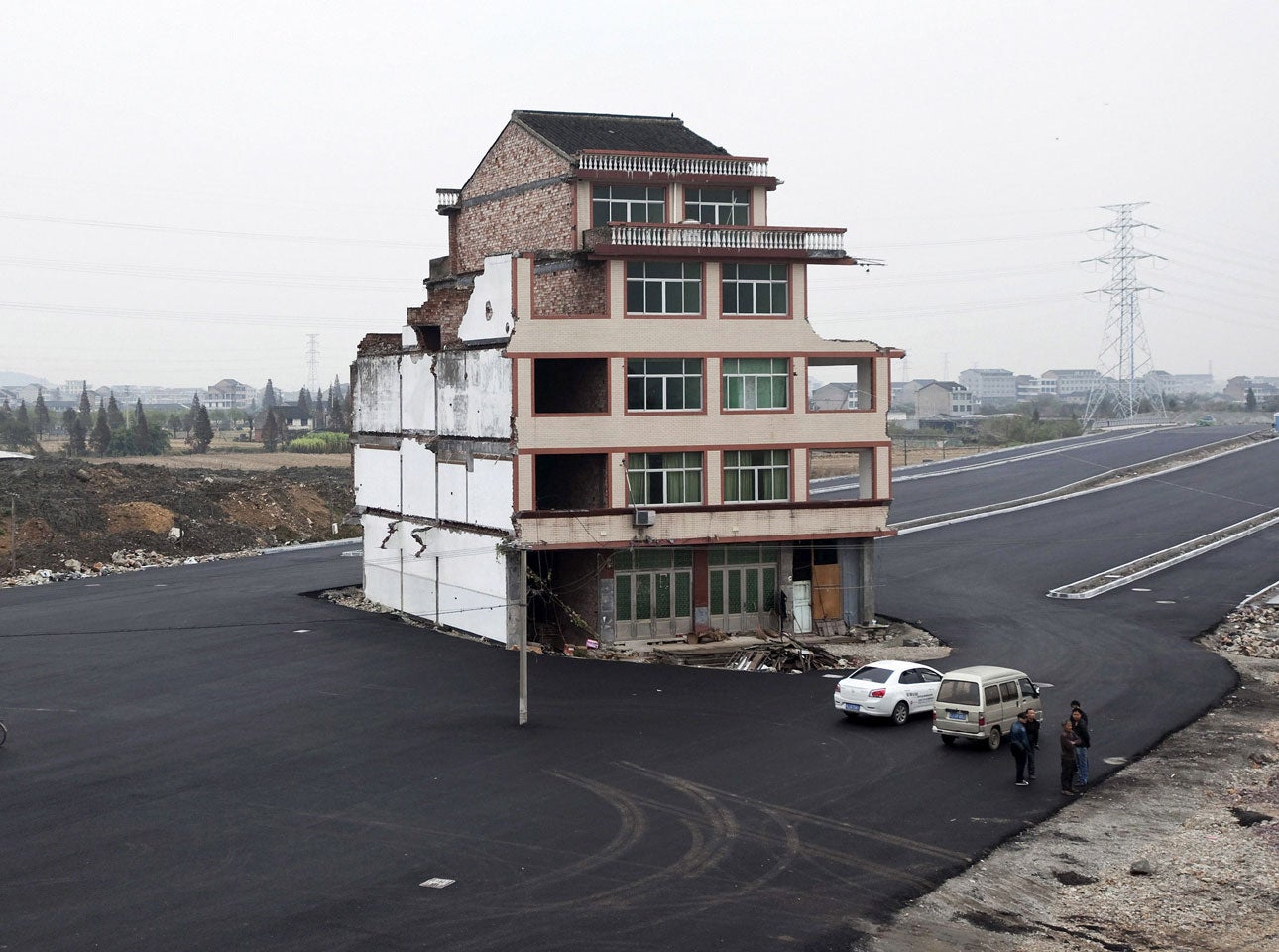 China builds road right around "nail house" as owner Luo Baogen refuses to sell
BEIJING In the middle of an eastern Chinese city's new main road, rising incongruously from a huge circle in the freshly laid pavement, is a five-story row house with ragged edges. This is the home of the duck farmer who said "no."
Luo Baogen and his wife are the lone holdouts from a neighborhood that was demolished to make way for the main thoroughfare heading to a newly built railway station on the outskirts of the city of Wenling in Zhejiang province.
Dramatic images of Luo's home have circulated widely online in China this week, becoming the latest symbol of resistance in the frequent standoffs between Chinese homeowners and local officials accused of offering too little compensation to vacate neighborhoods for major redevelopment projects.
There's even a name for the buildings that remain standing as their owners resist development. They are called "nail houses" because the homeowners refuse to be hammered down.
Nail house families occasionally have resorted to violence. Some homeowners have even set themselves on fire in protests. Often, they keep 24-hour vigils because developers will shy away from bulldozing homes when people are inside.
Xiayangzhang village chief Chen Xuecai said in a telephone interview Friday that city planners decided that Luo's village of 1,600 had to be moved for a new business district anchored by the train station. Chen said most families agreed to government-offered compensation in 2007.
Luo, 67, and a handful of neighbors in other parts of the new district are holding out for more.
"We want a new house on a two-unit lot with simple interior decoration," Luo told local reporters Thursday in video footage forwarded to The Associated Press.
Luo had just completed his house at a cost of about 600,000 yuan ($95,000) when the government first approached him with their standard offer of 220,000 ($35,000) to move out - which he refused, Chen said. The offer has since gone up to 260,000 yuan ($41,000).
"The Luo family is not rich," Chen said, acknowledging that they can ill afford such a big loss on their home. "But the policy is what it is."
The new road to the railroad station was completed in recent weeks, and has not yet been opened for traffic.
What is unusual in Luo's case is that his house has been allowed to stand for so long. It is common for local authorities in China to take extreme measures, such as cutting off utilities or moving in to demolish when residents are out for the day.
Luo told local reporters his electricity and water are still flowing, and that he and his wife sleep in separate parts of the home to deter any partial demolition.
Deputy village chief Luo Xuehua - a cousin to the duck farmer - said he didn't expect the dispute to go on much longer. He said he expects Luo Baogen to reach an agreement with the government soon, though he said the homeowner's demands are unrealistic.
"We cannot just give whatever he demands," Luo Xuehua said. "That's impossible."
Thanks for reading CBS NEWS.
Create your free account or log in
for more features.