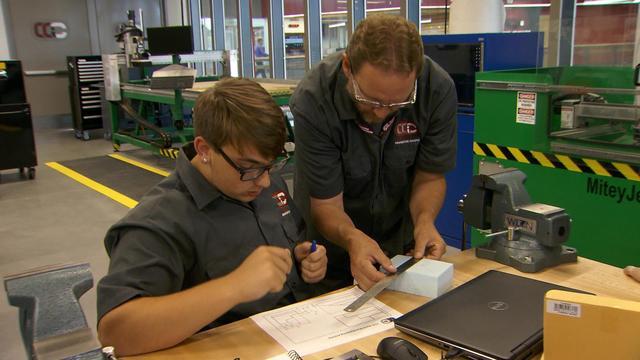 Program offers job training to high schoolers: "You don't need to go to college to be successful"
It looks like an aircraft maintenance hanger, but it isn't. Or a real hospital room … not that, either.
And the workers manning a fully-equipped auto repair shop, where some cars are right off the assembly line, are not mechanics … not yet. They are students at an unusual high school called the Cherry Creek Innovation Campus, in Centennial, Colorado.
It's where 16-year-old Taylor Oden has a plan: go from high school to work. "My mom wasn't very ecstatic about it, [she] would rather me go to college," she said. "And so was my dad; but [he] understands that you don't need to go to college to be successful nowadays."
And at auto service facilities like the one at Rickenbaugh Cadillac in downtown Denver, mechanics' salaries can get high, says service manager Blaise Flaherty.
"You could do as well as $100,000 or plus with the right shop, with the right amount of work, with the right amount of education, and the right amount of dedication," said Flaherty.
"Wow!" said Oden. "That's more than comfortable!"
The school opened this year, a $43 million custom-built facility with specialized classrooms, like a fully-equipped restaurant kitchen designed to mimic real-world settings where the learning is hands-on.
Students are volunteers and must also attend and pass regular high school classes to get their diploma. And while some students may go on to college, others here will go right to jobs.
That was a tough sell for principal Mark Morgan.
Correspondent Barry Petersen asked, "I get the sense that a lot of parents are not always comfortable with the idea of not going from high school right to college."
"And so for parents, we're really trying to educate as well, that what really matters is having a successful plan, where a student will graduate high school and go into a career where they can be happy and healthy, in something that can sustain them," Morgan said.
The most popular class is four months of training to be a certified nurse's aide. Teacher Melissa Legg, a registered nurse, said, "That certification exam, once they pass it, they have it in their hand, they can go to that employer and say, 'I'm certified to work as a CNA in a hospital, home health, long-term care, rehab, you name it."
Petersen asked, "What's the demand for these students, in terms of people looking to hire them?"
"They want 'em yesterday, basically," Legg replied.
It took a lot of work to create an aircraft mechanics class. First, they needed aircraft. They bought a used 1981 helicopter and two planes that were flown to a nearby airport and then, at dawn on a Sunday morning, towed to the school.
When asked what the opportunity of the school means to him, senior Thor Barlow replied, "I absolutely love it. I'm a very visual learner, I'm a very hands-on learner. You can go inside, like, you can see the open engines and you can see how all that works and how it fits together, how if this doesn't work, it can affect a bit of the engine or the entire thing."
And the school got FAA approval to graduate certified aircraft mechanics. It's training that instructor David Williamson said can be very pricey. Getting that certification could otherwise cost a student about $40,000. And here? "Basically free, yes, sir," said Williamson.
And are there jobs out there for those with the certification? "There's plenty of jobs out there," Williamson said.
Another skill students learn: how to succeed after they've landed a job. Morgan said, "Thirty percent of every student's grade on this campus is about professional skills. It goes to work ethic, showing up to work on time, what it means to truly collaborate, what it means to lead and to be led."
And that's the real lesson taught here: that success can be a good career with good pay, and doing what you love.
Thanks for reading CBS NEWS.
Create your free account or log in
for more features.