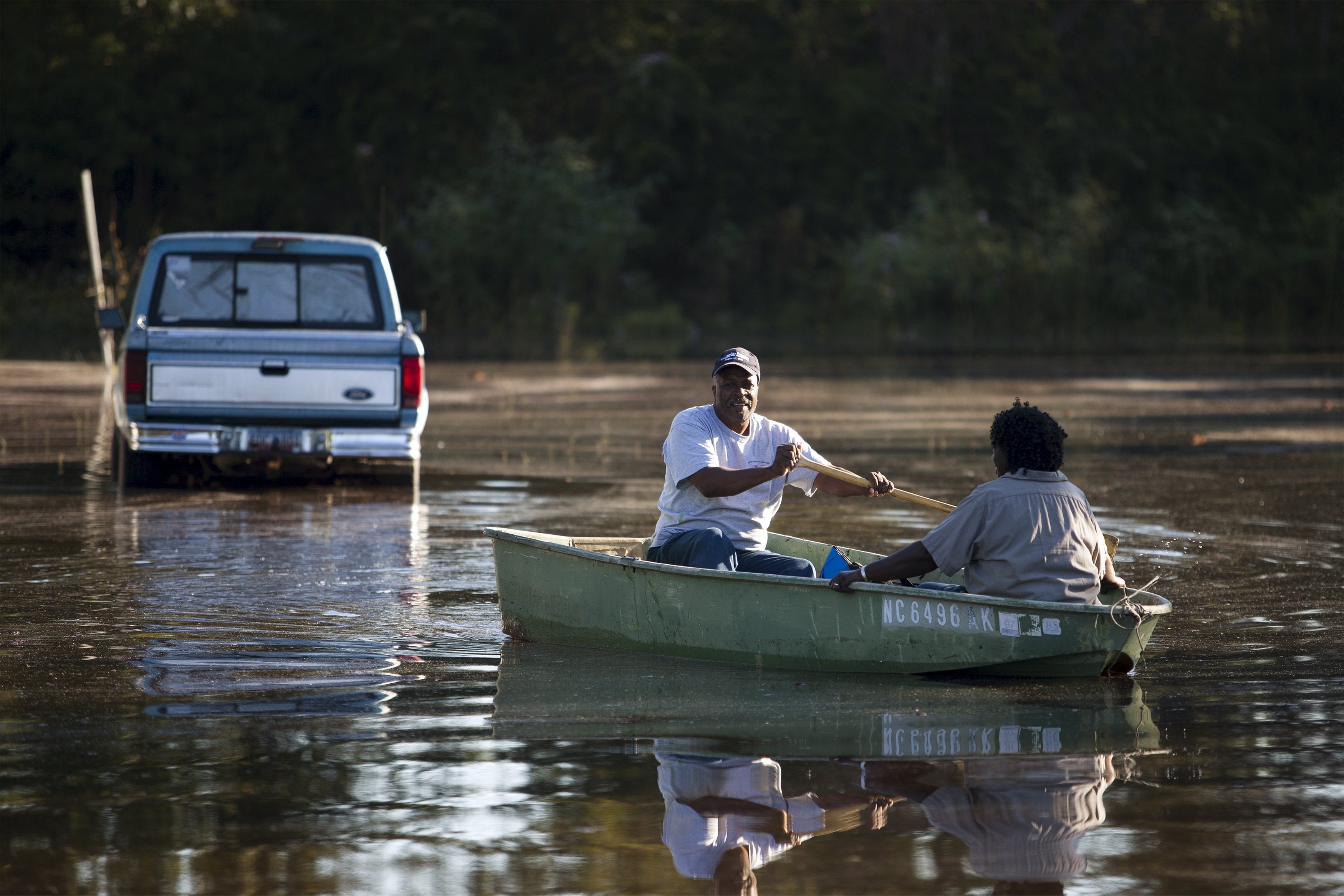 Challenges remain as S.C. tries to recover from devastating floods
COLUMBIA, S.C. -- Life has started to return to normal in areas of South Carolina inundated by massive floods from days of rain earlier this month, but challenges still remain.
The worst flooding there on record is blamed for at least 19 deaths; 372 roads and bridges closers, and 17 dam failures.
Twenty-one people in South Carolina and North Carolina have drowned or died in wrecks caused by the weather since the heavy rains and massive flooding began Oct. 2. Authorities say all the deaths occurred in or near vehicles.
Among the challenges now include: getting Columbia's water system back in shape and repairing bridges that are forcing Interstate 95 drivers on the East Coast into a more than two-hour detour.
___
WHAT NEEDS FIXING
The capital of Columbia continues to slowly fix its water system. Workers are trying to shore up the canal that the city uses to bring in drinking water after a breach nearly drained the waterway. They also are trying to finish fixing dozens of water line breaks caused by the massive floods earlier this month.
The city has been able to tell about 10 percent of its 375,000 customers they no longer have to boil water from their taps before drinking it.
Repairs continue to the Columbia Canal, which the city uses to draw water into most of its system. The canal nearly ran dry after a breach during the floods. While the hole in the canal wall is repaired, city workers are also pumping water into the canal from the nearby Broad River.
CBS correspondent David Begnaud reported that in an effort to shore up the breached canal, National Guard helicopters dropped over 700 giant sandbags each weighing 3,000 pounds into the rushing water.
The boil water advisory for most of Columbia's water customers will continue until the supply of water is stabilized and most of the water line breaks are repaired.
Work also continues to repair 13 small bridges on Interstate 95 in Clarendon County. A 16-mile stretch remains closed where the major East Coast highway goes through lowlands and swamps and over the Black and Pocotaligo rivers.
The South Carolina Department of Transportation said it hopes to have I-95 reopened in a few days. Drivers on I-95 currently have to take a 168-mile detour through Columbia instead of the normal 74-mile drive from Interstate 26 to Interstate 20.
In Andrews, South Carolina, a town about 100 miles southeast of Columbia, all that can be seen are the rooftops of two-story homes reported Begnaud.
The local Shriners Club is barely visible. A home which was on stilts is now at risk of floating away from its foundation.
Nearly four feet of water has ruined the home of 72-year-old Shelvia Poston.
"I've lost everything that I've worked 50 years for," Poston told CBS News.
Her house is not in a flood zone so, like most people in this area, she doesn't have flood insurance.
"Well, I'll have to use my life savings to rebuild our house," Poston said.
___
RETURNING TO NORMAL
Perhaps the biggest sign that the flooding and problems were winding down came when South Carolina Gov. Nikki Haley did not talk to reporters for the first time in more than a week.
Gov. Haley came under fire for a lack of preparedness in what is called a "thousand year storm."
Schools are also starting again. The University of South Carolina will welcome students back Monday after an unscheduled week break.
Also, the South Carolina Department of Transportation will start sending contractors out to clean up debris left at the side of the road Monday. Local governments are doing the same.
Richland School District 1, which includes the hard-hit area around the Forest Acres community will remain closed.
Many school districts are delaying classed by two hours so buses can drive routes in the daylight. Flooding washed out or undermined hundreds of roads and bridges across South Carolina.
___
DEATH TOLL
Nineteen people have died from flooding or weather-related traffic wrecks since the heavy rains started Oct. 2. Two more people died in North Carolina.
The latest deaths happened Thursday night in Horry County, where 27-year-old Shykimia Holman and 21-year-old Brianna Johnson died after the 2011 Honda they were in flipped into a water-filled ditch on state Highway 22 in Horry County. Both Orangeburg women drowned, authorities said.
All of the deaths in the storm happened in or near vehicles, officials said.
___
BIG EVENTS
Organizers of the South Carolina State Fair said it should begin as normal Wednesday.
The fair brings thousands of people every day to Columbia, and authorities said law enforcement and infrastructure should be ready.
The University of South Carolina had to move Saturday's football game against LSU to Louisiana because law enforcement said the officers needed for security and traffic control were too busy helping with the floods.
University athletic director Ray Tanner said Saturday that he is optimistic South Carolina will be able to host the next home game Saturday against Vanderbilt.
___
RAIN AGAIN
Heavy rain fell across much of South Carolina on Saturday, but officials didn't report any major damage.
Most of the state got at least an inch of rain. Normally, that wouldn't be a problem. But much of the rain turned into standing pools with the ground still saturated. In some areas, as much as 4 inches of water fell, causing road closures.
The National Weather Service says more than 6 inches of rain fell Saturday in Marion, causing several roads to close, including U.S. Highway 501.
Authorities were able to reopen the main road to Myrtle Beach after a few hours. Parts of hard-hit Clarendon County saw about 4 inches of rain.
Several main routes went underwater for a few hours, but officials reported no new road closures. Lexington County also saw up to 4 inches of rain. Dozens of roads were closed, but no other major problems were reported.
The forecast in South Carolina calls for a week of dry weather expect for a small chance of rain Tuesday. Amounts are expected to be under 0.25 inches.
The forecast looks good for cleanup. Other than the small chance of light rain Tuesday, skies should be sunny all week across South Carolina.
Thanks for reading CBS NEWS.
Create your free account or log in
for more features.