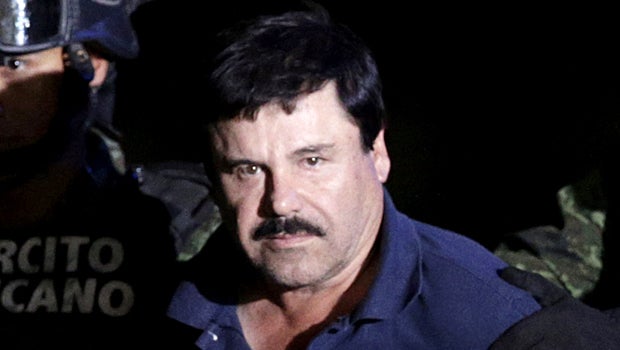 Cartel wars: Kidnapping of El Chapo's son potential bargaining chip
MEXICO CITY - For the ambitious Jalisco New Generation cartel, it must have seemed like a gift: Imprisoned Sinaloa cartel leader Joaquin "El Chapo" Guzman's son, partying at a gourmet restaurant deep in their territory.
Seven gunmen swept into La Leche restaurant in Puerto Vallarta's hotel district early Monday, taking the 16 people gathered there by surprise. Without firing a shot, they marched six men out.
In a flash, 29-year-old Jesus Alfredo Guzman Salazar became a valuable potential bargaining chip - or a high-profile casualty - in the cartel turf battles that are wreaking havoc in large swaths of Mexico. Analysts say Jalisco New Generation could try to use him as leverage to win territory or other gains from what has been the country's dominant gang.
"They can use him, if they're astute ... to get concessions from the Sinaloa cartel and expand their moneymaking enterprise," said Mike Vigil, former chief of international operations for the U.S. Drug Enforcement Administration.
Jalisco New Generation formed from a splinter of the Sinaloa cartel after the death of Sinaloa boss Ignacio "Nacho" Coronel in 2010, and has rapidly expanded from its home base in the western state of Jalisco to the Gulf coast state of Veracruz, among others.
It has done so in part through liberal use of violence. In a series of attacks last year, cartel henchmen killed 20 police officers in two ambushes and used a rocket-propelled grenade to down an army helicopter, killing 10 aboard.
What Jalisco New Generation does not have is its own trafficking corridors along the U.S. border - most of which are controlled by the Sinaloa cartel, the beneficiary of weakened regional gangs from the Gulf to the Pacific.
Violence has surged in recent months in Baja California Sur state as Jalisco New Generation fights for a foothold in Sinaloa cartel territory. Killings have also risen in the key border cities of Tijuana and Ciudad Juarez, suggesting that Sinaloa's control is being challenged there as well.
"Now they're starting to move northward because they want to control some of the principal drug-smuggling routes along the U.S.-Mexico border," Vigil said. "So they know that in order to expand, they have to control some of these pipelines into the U.S. consumer market."
Enter the young Guzman.
Jalisco state Attorney General Eduardo Almaguer said this week that authorities have no reason to believe he or the other abducted men have been killed.
But his kidnapping is a huge blunder by Sinaloa regardless of whether responsibility lies with Jesus Alfredo himself or with "El Chapo" associate Ismael "El Mayo" Zambada, who is believed to be running the cartel's operations following the elder Guzman's recapture earlier this year.
"It's a grave error that is going to cost them a lot, either in life or in a very costly negotiation," said Guillermo Valdes, former director of Mexico's intelligence services. "If you're in a fight with these gentlemen of the Jalisco New Generation, you don't go to their territory without bodyguards."
Valdes also called Jesus Alfredo Guzman's abduction the latest sign that rivals see "El Chapo" as weakened following his third arrest, in January, after two brazen prison escapes in 2001 and 2015. Fed-up Mexican officials now appear willing to grant a U.S. request for his extradition, and the case is currently wending its way through the courts.
Authorities have tightened the drug lord's prison conditions this time, and since May he's been in a federal penitentiary near Ciudad Juarez - far from his lawyers and apparently less able to communicate with underlings.
Earlier this year Mexican media reported an attack on Guzman's mother's home in the state of Sinaloa, and in July two of his wife's nephews were killed, both events signaling that rivals are less afraid to tangle with the man long known as Mexico's most notorious drug lord.
"This perception of weakness that 'El Chapo's' adversaries have speaks to a process of realignment and reorganization of drug trafficking in the country," Valdes said.
There have been rumors that Guzman's older son Ivan Archivaldo was also kidnapped in the Puerto Vallarta incident, but authorities have not confirmed that and Valdes said he, too, does not know if that's true.
But, he said, "kidnapping the sons could lead to, 'I'll trade you the life of your sons for the Manzanillo port or for Tijuana.'"
If there are no negotiations, or if there are and Guzman's son is killed anyway, it would likely bring the full wrath of "El Chapo" and the Sinaloa cartel to bear on Jalisco New Generation.
"It is going to unleash a very violent war," Valdes said.
On Friday, National Security Commissioner Renato Sales announced the arrest of a man believed to handle finances for Jalisco New Generation, but he said it was unrelated to the kidnapping.
Asked if Guzman had been told of his son's abduction, Sales said, "he found out through his lover."
Thanks for reading CBS NEWS.
Create your free account or log in
for more features.