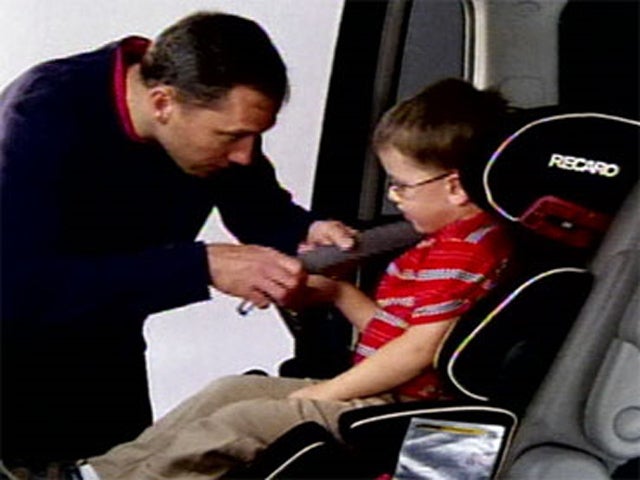 Carpooling parents often skip booster seats for kids
(CBS) Most parents make sure their child uses a booster seat in the car. But a new study found that many parents confess they don't insist on safety seats when their kids carpool.
PICTURES - Danger! 6 booster seats that get the red light
The study - published online Jan. 30 in the journal Pediatrics - surveyed over 1,600 parents across the U.S., 681 who had kids between 4 and 8 years old. Of those parents, 76 percent reported their child used a safety seat when riding in the family car - but only 55 percent insist on the seats when driving other children. And among the 64 percent of parents who carpool, 21 percent do not ask other drivers to use a booster seat for their child.
What accounts for the difference? More than one third of the parents said they thought it would be difficult to make arrangements to have booster seats for other people's children. Other studies have revealed difficulties in transferring booster seats between vehicles.
"I think it's a complex issue of convenience, expectations, and peer pressure," study author Dr. Michelle Macy, a pediatrician at the University of Michigan, told WebMD.
Laws on booster seat use vary by state, but the American Academy of Pediatrics recommends car safety seats for children up to 4 feet 9 inches in height - or between 8 and 12 years of age. Infants up to 2 years of age should use rear-facing safety seats, and switch to forward-facing safety seats through roughly 4 years of age, and then use belt-positioning booster seats until they outgrow the seats.
"Until children reach a certain size, the seatbelt doesn't fit them properly enough to maximize the protection that seatbelts offer when you're bigger and taller," Andrea Gielen, head of the Center for Injury Research and Policy at the Johns Hopkins Bloomberg School of Public Health, told Reuters Health.
Motor vehicle injuries are the leading cause of death among children in the U.S., according to the Centers for Disease Control and Prevention. Placing kids in age and size appropriate car seats reduces serious and fatal injuries by more than half.
Thanks for reading CBS NEWS.
Create your free account or log in
for more features.