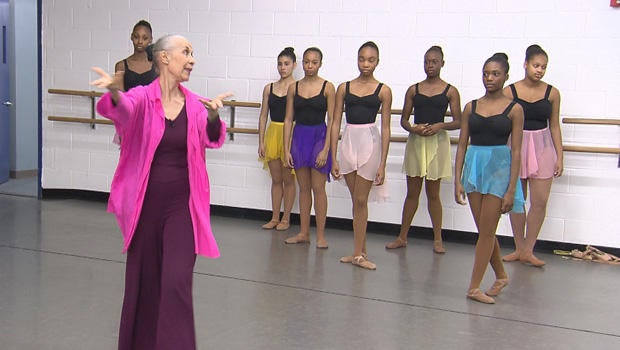 Carmen de Lavallade on a life well danced
Countless young dancers have followed in the footsteps of Carmen de Lavallade, the Grande Dame of American dance who's among those receiving Kennedy Center honors in Washington tonight. She's been shattering barriers almost all her life, as Rita Braver now shows us:
The elegant 86-year-old in pink putting young members of the Dance Theatre of Harlem through their paces ("Lighten up!") just happens to be one of the pioneers of American Modern Dance: Carmen de Lavallade.
Braver asked, "What was it always that you have hoped that audiences would get from seeing you dance over the years?"
"The connection," she replied. "Because I don't feel that I'm there just dancing for myself, you know? I'm dancing for the audience."
The remarkable journey of this California bricklayer's daughter is being saluted this weekend with a Kennedy Center Honor.
It's a story that begins when even getting dance lessons was a challenge, as she described in her 2014 one-woman show: "In those days, there were very few people who would take you if you were colored," she recalled. "And if you did get into a dance studio, the white students would walk out."
But her talent triumphed. While still in high school, de Lavallade won a place in a prestigious L.A. dance company. And she didn't go alone. She was joined by a high school friend who turned out to be a pretty good dancer himself: Alvin Ailey.
De Lavallade introduced Ailey to the world of dance, and they were partners for years.
In 1954 they were invited to perform in "House of Flowers," an all-black Broadway show. But it was a cast member from Trinidad who won her heart: Geoffrey Holder. They were married within three months.
Braver asked, "What was it about him that attracted you?"
"I must say that he allowed me to be who I am. We didn't get in each other's way."
Holder became a Tony Award-winning director (for "The Wiz") who often created both dances and costumes for his wife. The mementos of their life together are stored in a cavernous Harlem warehouse. "I lived with this all my life," de Lavallade mused.
Since Holder's death in 2014, de Lavallade and her son, Leo, have been cataloging every piece -- letters, photos, costumes and clothes -- and recalling the stories that go with them, some of them bittersweet.
In 1961 de Lavallade, by then an international sensation, was to appear on "The Ed Sullivan Show."
But she was not allowed to perform with the white dancer she was working with at the time.
Braver asked, "How did you feel when you were told that?"
"You know, I wasn't surprised," she replied. "It's not like today where, you know, you can get up and do all your protesting. It wasn't like that. You said, 'OK, move on.'"
And move on she did. She was one of the first black dancers at the Metropolitan Opera, where she also became a choreographer. And she joined the faculty of the Yale School of Drama, where she taught actors how to move.
She is still performing. But she has never forgotten the lessons of history and the injustice she and other Black artists have faced
And so, de Lavallade became one of the Kennedy Center Honorees who announced she would boycott the now-canceled White House reception after President Trump seemed to equate White nationalists who marched in Charlottesville with protesters who opposed them.
"I'm not political," she said. "I have my own way of being political. That's the first time I've ever felt that I ... I just can't."
Braver said, "Some people would say, 'Well, even so, he's our president, and it's just fitting to go.'"
To which de Lavallade responded, "I am 86 now. I have all these years, I have done what anybody asked me to, and this is the first time in my life I've ever said no. And I think at this time, it's my privilege."
But Carmen de Lavallade will be there at tonight's Kennedy Center gala savoring her award for a life well-danced:
"I'm glad to think that whatever I did meant something, that really meant something," she said. "That's what I'm pleased about."

Recent "Sunday Morning" profiles of this year's other Kennedy Center honorees:

For more info:
Thanks for reading CBS NEWS.
Create your free account or log in
for more features.