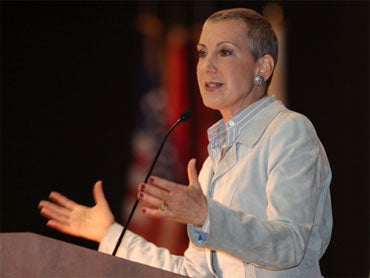 Carly Fiorina Sorry for Poor Voting Record
Weeks after Republican gubernatorial candidate Meg Whitman was criticized over her poor voting record, U.S. Senate candidate Carly Fiorina tried to fend off a similar line of questioning by owning up to her spotty past.
The former head of Hewlett-Packard, who is running for the seat now held by Democrat Barbara Boxer, said she has no excuse for not voting more often when people have died for that right.
"I'm a lifelong registered Republican but I haven't always voted," she said Thursday during an event in Sacramento. "And I will provide no excuse for it. You know, people die for the right to vote. And there are many, many Californians and Americans who exercise that civic duty on a regular basis. I didn't. Shame on me."
Fiorina's frank assessment of her inconsistent past appears to be a campaign strategy to blunt potential criticism after Whitman found herself in the middle of a political firestorm over her poor voting record. Several newspapers, including the San Francisco Chronicle and San Jose Mercury News, began raising questions about Fiornia's voting records even before she announced her candidacy Wednesday.
Whitman's voting became a hot-button campaign issue after the former chief executive of eBay refused to answer questions about her voting record during the state GOP convention in September. Whitman explained a few days later that she was focused on her family and it wasn't until she was in a Silicon Valley leadership position that she realized why she should vote.
Whitman called her voting record unacceptable.
According to Fiorina's campaign, she voted in six of 14 elections in California since 2000. She lived in New Jersey for the previous 10 years but never voted.
Fiorina's spokeswoman, Julie Soderlund, said the campaign is working on digging up Fiorina's complete voting record but hasn't been able to thus far.
Thanks for reading CBS NEWS.
Create your free account or log in
for more features.