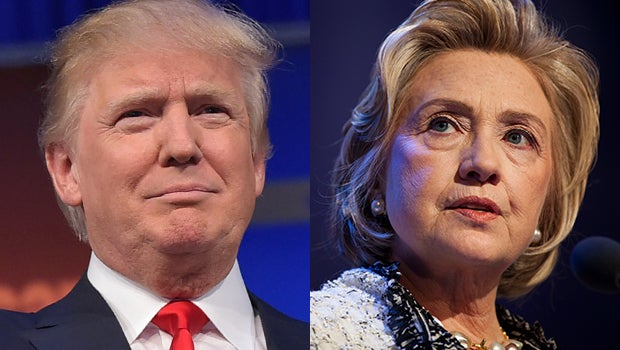 Veepstakes: Who will be Trump and Clinton's running mates?
In the presidential race, a Quinnipiac poll out Wednesday gives Hillary Clinton a two-point lead over Donald Trump.
With the conventions just weeks away, the guessing game has begun: Who will be the running mates?
Get ready for this summer's political blockbuster -- the vetting and picking of a running mate. It's a preview into Trump and Clinton's presidential calculations and approach to power.
For Clinton, capability is key.
"I'm going to be looking first and foremost as to who I believe could fulfill the responsibilities of being president and commander-in-chief," Clinton told "CBS Evening News" anchor Scott Pelley during a recent interview.
Trump has said he wants Washington experience
"I would want someone who could help me with government," he said. "So most likely, that would be a political person."
But Clinton and Trump need help beyond the obvious.
For Clinton, Massachusetts Sen. Elizabeth Warren could electrify progressives, something plainly visible when the two campaigned together earlier this week.
"I do just love to see how she gets under Donald Trump's thin skin," Clinton told the crowd.
Trump has long had his eye on former Speaker of the House Newt Gingrich, an experienced legislator who could help shore up the Republican base. Gingrich, who is being vetted, has been a close adviser to Trump
"I think we'd be very hard pressed not to say yes," Gingrich said during an interview.
When asked if he would like the job, he responded, "I don't know. It's certainly a great challenge."
Both camps are tearing through the backgrounds of potential running mates.
Douglas Graham vetted executive branch nominees for the Obama administration and has worked on the vice presidential process.
He told CBS News the research goes "as deep as you can go" into a potential nominee's life.
"Time is the only limitation there," Graham said. And according to him, time is running out.
"I can be pretty confident there are a lot of folks burning the midnight oil tonight working toward that convention," he said.
Virginia Sen. Tim Kaine, on Barack Obama's short list in 2008, leads Clinton's running mate derby.
For Trump, freshman Arkansas Sen. Tom Cotton is gaining real and serious notice. His opposition to the Iran nuclear deal infuriated the White House and energized conservatives.
Thanks for reading CBS NEWS.
Create your free account or log in
for more features.