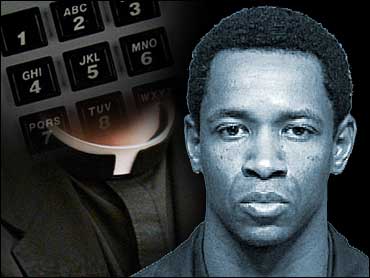 Call To Priest Cracks Sniper Case
One of America's most extraordinary manhunts culminated Thursday in the arrests of an Army veteran and a teenager, asleep at a roadside rest stop — perpetrators, authorities believe, of a bloody, three-week sniping spree that left 10 people dead, three injured and multitudes paralyzed by fear.
John Allen Muhammad, 41, and John Lee Malvo, a 17-year-old described as his stepson, were arrested sleeping in Muhammad's Chevy Caprice at a high way rest station 4 miles from the Wash D.c on j's malvo, 17-year
In a late development, the AP reports that court papers filed in Seattle allege that one of the suspects, John Alen Muhammad tried to equip an assault rifle with a silencer four months ago and told a friend about the damage such a weapon could cause.
Montgomery County State's Attorney Douglas Gansler said state and federal prosecutors would meet Friday morning to discuss charges against Muhammad, 41, and 17-year-old John Lee Malvo. Sorting out all the competing legal jurisdictions will be the first challenge for prosecutors, reports CBSNews.com legal analyst Andrew Cohen.
The lead that broke the case open, reports CBS News Correspondent Jim Stewart, came from an elderly Catholic priest.
It began to unravel not long after a shooting of a man near a Ponderosa steakhouse near Ashland, Va. on Saturday, Oct. 19.
Someone, presumably one of the snipers, called the office of a priest in Ashland last weekend and "essentially confessed" that he was involved not only in the sniper slayings, but a "robbery-homicide in Montgomery, Ala." as well, law enforcement sources told CBS. One source said the caller actually "left his remarks on the priest's answering machine." Why he would do such a thing remains a mystery.
The priest contacted the FBI hotline and by Sunday night the sniper task force was in touch with police in Alabama.
"They called us because they said a caller - and they're not sure whether the caller was connected to their shootings or not - had made a reference to the murder in Montgomery, Alabama," said Montgomery Police Chief John Wilson.
That murder occurred on Sept. 21, when one Alabama State Liquor Board employee was killed and another wounded by a single gunman in the parking lot outside their store.
Police, who had been under enormous pressure, turned their attention to gathering evidence that Muhammad and Malvo were responsible. The first item was Malvo's fingerprint, found at the scene of the Alabama robbery on a magazine about weapons, according to Montgomery Mayor Bobby Bright.
A composite sketch of the suspect in the liquor-store shootings was made and "there are some very good similarities" to Malvo, Wilson said. He said the gun used in Alabama was not the same as the one in the Washington, D.C.-area shootings, however.
Police traced Malvo to a house in Tacoma, Wash., that was searched Wednesday. He had been living in the house with Muhammad, a source told the AP.
FBI agents carted away potential evidence, including a tree stump from the yard that investigators planned to examine for bullets or bullet fragments.
CBS News Correspondent Vince Gonzales reports on the reaction of Muhammed's family and neighbors in Tacoma.
Felix Strozier, who ran a karate school with Muhammad, says he was controlling, had a nasty temper and took it out on even his youngest children when they didn't meet his expectations.
His neighbors, Chris and Deborah Waters, didn't have any suspicions of the Gulf War veteran. They did hear shots fired from Muhammad's house, which police believe were practices rounds fired into a tree stump.
Over several nights in January, Chris Waters heard gunshots coming from the vicinity of Muhammad's yard.
"A high-powered rifle .. every other day. I didn't even know it was coming from his house,'' Waters told CBS
Muhammed's relatives were shocked to learn of his arrest in connection with the sniper shootings. But when he visited them recently, they claim he was brainwashing his so called stepson, John Lee Malvo, by depriving him of food.
It was the tip from the priest which led police to Malvo and Muhammad.
But who were these two, and why might they have unleashed terror on Maryland, Virginia and the District of Columbia?
But there was no indication, authorities said, that they were linked to al Qaeda or any terrorist group.
Muhammad did not receiver sniper training during his Army career, but he did receive a Marksmanship Badge with expert rating, the highest of three ratings — in use of the M-16 rifle, according to Army records.
A senior defense official who disclosed parts of Muhammad's Army record said Muhammad had training in three areas, mainly as a combat engineer, which was his specialty during the time he served in the 1991 Gulf War.
He also was trained as a metal worker and a water transport specialist.
Muhammad enlisted in the Army on Nov. 6, 1985, and was discharged at Fort Lewis on April 26, 1994. After leaving active duty he served in the Oregon National Guard until 1995. Before coming on active duty, he served in the Louisiana National Guard from 1978 to 1985.
His highest ranking on active duty was sergeant.
Muhammad changed his name last year from John Allen Williams, years after he converted to Islam, investigators told the Times.
Muhammad has been married and divorced twice. His second wife, Mildred Denise Williams, had taken out a restraining order against him, and according to a law enforcement source, he was held Thursday on a charge of violating that order by possessing a weapon.
FBI agents visited Bellingham High School, 90 miles north of Seattle, on Wednesday. Mayor Mark Asmundson said Muhammad and Malvo had been in the area until about nine months ago.
The relationship between the two was not clear. Some news reports identified Malvo as Muhammad's stepson, but two senior federal law enforcement officials, speaking on condition of anonymity, said investigators believe he is not, at least not in the traditional sense.
Malvo attended high school in Bellingham last year. Police Chief Randy Carroll said his force had known about Malvo since December 2001, when the high school reported the youth arrived at the school without transcripts or other papers.
At one point, he lived with Muhammad at the Lighthouse Mission, a homeless shelter, Carroll said.
The pair was arrested without incident by members of the sniper task force at a rest stop in Frederick County, 50 miles northwest of Washington. The time was 3:19 a.m.
Three hours earlier, Montgomery County Police Chief Charles Moose had announced that Muhammad and Malvo were being sought and issued a nationwide alert for a blue, 1990 Chevrolet Caprice with New Jersey plates. A motorist and an attendant spotted the car and called police.
The Caprice has an opening in its trunk that would permit someone to lie inside and fire the rifle while remaining hidden, two federal law enforcement sources told The Associated Press. That could explain the lack of spent shell casings in most of the shootings, the officials said, speaking on condition of anonymity.
Investigators now believe that the Caprice was involved in all the shootings. Sightings of white vans and box trucks were attributed to erroneous witness accounts.
Police would not confirm a report in The (Baltimore) Sun's Thursday editions that the Caprice was approached Oct. 8 by Baltimore officers who found Muhammad and Malvo sleeping. That was the day after a 13-year-old boy in Bowie was wounded as he arrived at school.
The two were allowed to go, sources told The Sun, because investigators were looking for a white van. In the weeks after, four more people were shot by the sniper, three fatally.
All told, 13 people were shot; three survived. The sniper left notes claiming to be God, and warning that children were not safe "anywhere, at any time."
---
Earlier versions of this story reported that sources had told the Associated Press that ballistics tests had confirmed that the rifle seized today matched the sniper shootings. The Associated Press has withdrawn that statement, saying that two law enforcement sources now say that the tests have not been completed.
Thanks for reading CBS NEWS.
Create your free account or log in
for more features.