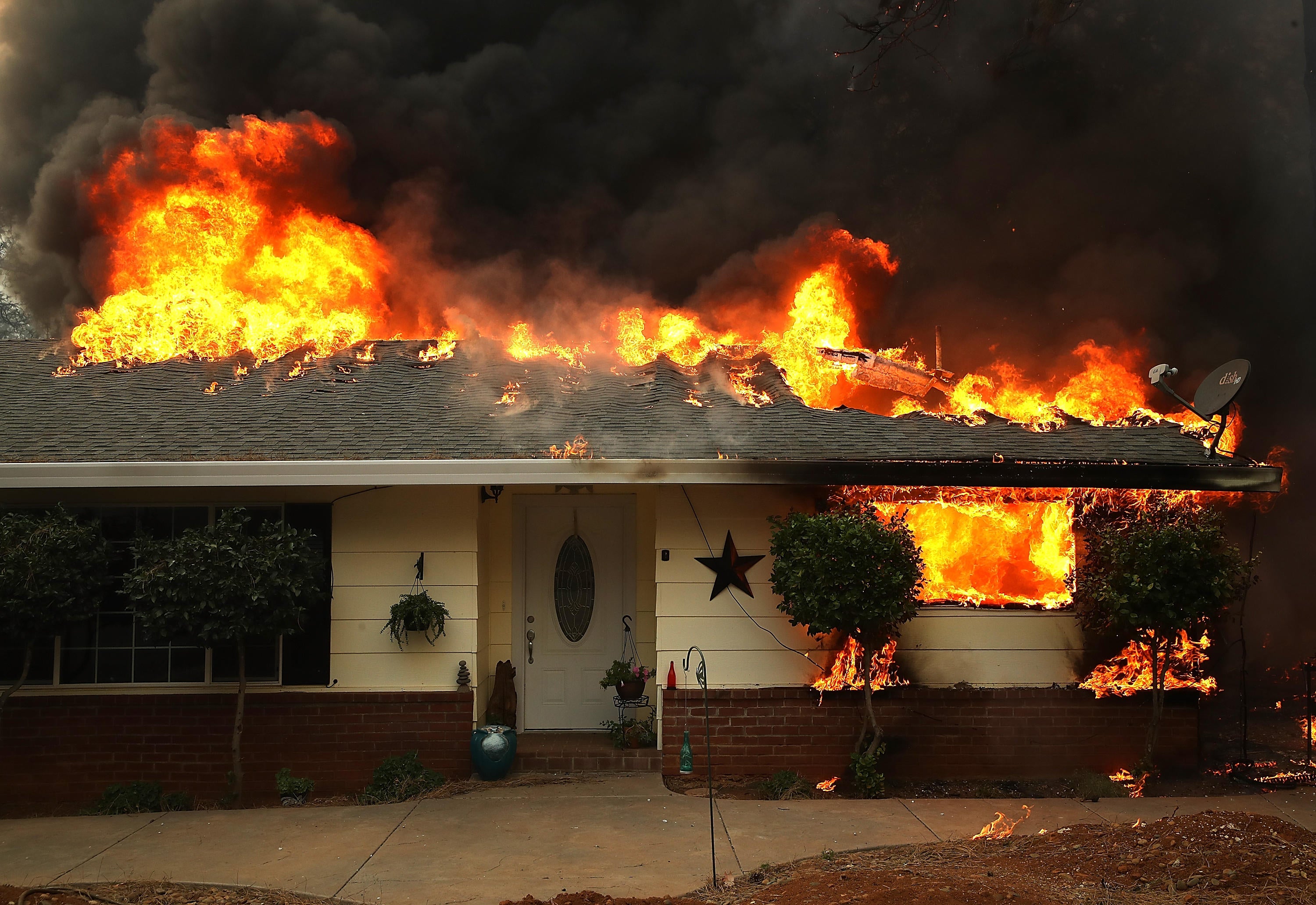 Destructive California wildfires magnified by population and shifting climate
By now fire season in California should be wrapping up. Instead there are more than a dozen fires burning across California currently — a few of which are historically destructive like the Camp Fire and Woolsey Fire.
But why are such volatile wildfires persisting past typical fire season, into mid-November? There are many answers, involving both current weather and longer term climate shifts.
Right now a combination of dry ground, low relatively humidity and gusty winds from the mountains are making conditions ripe for fires to spread out of control. Gusts on Sunday morning were clocked over 50 mph in parts of north Central California.
But there is good news for the northern half of the state. Winds are forecast to slow down making the fires easier to fight.
The opposite is true, however, for Southern California, where a high wind warning is in effect for parts of the area near the "Woolsey Fire." Winds will easily gust over 50 mph, with some isolated gusts near hurricane force. This makes fighting fires nearly impossible and makes the likelihood of fires spreading out of control even greater. These strong wind gusts will remain an issue at least through Tuesday, with some indication the winds will start to cooperate more by midweek.
Recently, it's been very dry in the Golden State. Over the past 30 days, most of California has seen little if any rain.
While normal values of rain are only a couple of inches the first half of autumn, any lack of rain at the very end of fire season, even an inch or two, exacerbates an already grave fire threat. The ground is parched and the brush is like a tinder box.
In the longer term, a more elaborate story emerges: One of population increases and climate changes.
California's population has nearly doubled since the 1970s, from around 20 million to nearly 40 million today. As a result, people are encroaching on once sparsely populated areas more vulnerable to fires. Across the country the number of homes on the wildland-urban interface has increased dramatically. A recent study in the Proceedings of National Academy of Sciences illustrates the encroachment issue: "Within the perimeter of recent wildfires (1990-2015), there were 286,000 houses in 2010, compared with 177,000 in 1990." High populations mean a higher propensity for fires to be started in those forested areas. This is the direct human element.
But there is another human element which appears more subtle, yet has substantial real world consequences: That is a changing climate. Since the 1970s, fire season has increased by three to four months. Some have said that California does not have a fire season anymore. It's all year round. Probably the most astonishing fact is that large fires have tripled since the 1970s.
Over the past few decades temperatures have warmed in the American West. That increases evaporation from plants, trees and soil. At the same time snow pack has decreased and rain is less reliable. Combine all those changing climate factors and you end up with long periods of very dry vegetation. The end result are fires that burn faster, longer and larger.
The proof of that can be found in just the last several years. Looking at records back to 1930, four out of five of California's largest wildfires have burned in just the past six years.
So is there any relief in sight? The answer is: Not in the immediate future. Over the next 10 days little, if any, significant rain will fall in the West.
For the upcoming winter, there is a weak to moderate El Niño forecast. This may be good news for Southern California. But the emphasis is on the word "may." As is typical of El Niño winters, NOAA is predicting slightly above normal rain, but only in the very southern tip of the state. However, the news on temperatures is not as favorable. NOAA forecasts a greater likelihood of above normal temperatures for all of the western U.S.
Looking decades ahead into the more distant future, climate change is forecast to make conditions even more challenging in California. Our best science tells us that the climate will continue to get warmer and drier in most of the state.
All the evidence points to dangerous wildfires, like the ones currently burning in California, being a new reality of life in the western U.S. Smart land use, planning and development will be necessary to minimize the damage. In the long run, a global effort to fight global warming would also help to stem the destruction. But even if we start now, greenhouse gases lingering in our atmosphere mean trends like warming and drying are now baked in for decades to come.
Thanks for reading CBS NEWS.
Create your free account or log in
for more features.