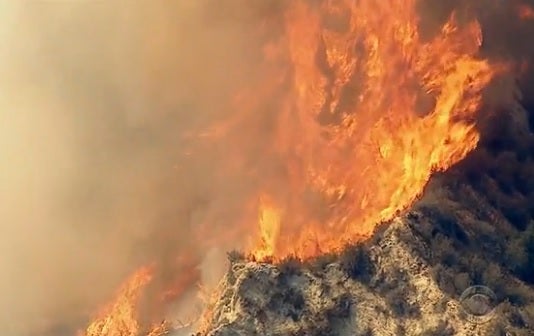 Calif. facing most volatile fire season in over 100 years, fire chief says
CALIFORNIA -- A wildfire near Boulder, Colorado, has destroyed at least three homes, and 30 more homes are in the path of the fire.
In California's Santa Clarita Valley, another wildfire threatened hundreds of homes.
North of downtown Los Angeles, a wildfire raged in the Santa Clarita Valley, forcing 2,000 people to evacuate.
Steve Little and his family worried they would lose their home.
"All of sudden the sheriff came by and said you need to get whatever you have, put it in the car, and get out of here," he recalled.
Crews attacked the flames from the air and on the ground, lighting back fires to consume dry brush, and prevent the fire from reaching homes.
Overnight, the evacuation orders were lifted.
"It was a little scary, absolutely, but they did such an amazing job," said homeowner Jessica Leone.
In the last two months, nearly 100,000 acres have burned in California. The Erskine fire near Lake Isabella killed two people and destroyed more than 280 homes.
Los Angeles county fire chief Darly Osby said this is the most volatile fire season in over 100 years.
"Even though some of the fuels appear to be green there is five years of dead growth underneath those fuels and there is a potential for a catastrophic fire," he said.
The fire got dangerously close to this neighborhood forcing crews to spray the area with red fire retardant.
The main concern now is the weather. Low humidity and strong winds could reignite the threat to these homes.
Thanks for reading CBS NEWS.
Create your free account or log in
for more features.