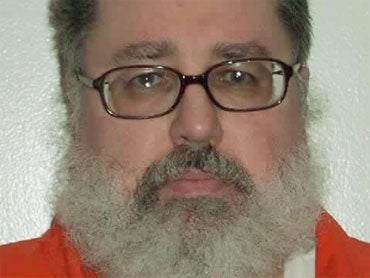 Cal Coburn Brown Executed in Wash. State, Complains: "I Only Killed One Victim"
WALLA WALLA, Wash. (CBS/KIRO/AP) Cal Coburn Brown has been executed by lethal injection at the Washington State Penitentiary in Walla Walla.
The execution after midnight is the state's first in nine years.

Brown, 52, confessed to the 1991 murder of a 22-year-old Holly Washa of Burien.
Washa's father, brother and two sisters witnessed the execution, as did King County prosecutor Dan Satterberg.
After the curtain in the execution chamber slowly went up, Brown spoke to the witnesses.
CBS affiliate KIRO's Deborah Horne reports that he turned and addressed Washa's family. Brown said he hopes this gives "them closure." He told them he understood how they felt, but never said he was sorry.
Brown complained about his treatment by the state, and said he was angry other killers received life in prison, while he had to die. Brown also said, "I only killed one victim."
Brown's final words were "Thank you, God bless you, God bless my family."
The execution went quickly. Witnesses said it looked like Brown gasped, then exhaled.
Prison officials announced the time of death as 12:56 a.m.

Washa's family spoke to reporters after the execution. Her father, John Washa, said the execution brings closure, but it took too long for Brown to die. Holly's sister, Becky, fought back tears as she told reporters she does not hate Brown. She said now that it's finally over, she is done with him.
Brown was just hours from being injected with a three-drug cocktail in March 2009 when he received a last-minute stay of execution. The state Supreme Court granted the stay because another inmate had been granted a hearing on the constitutionality of the state's lethal injection method.
Since then, Washington changed to a one-drug execution method and named a new four-member team to carry out the death sentence. Members of the team have not been publicly identified.
The previous team resigned, fearing they might be identified after several inmates challenged the state's three-drug method and questioned the executioners' qualifications.
The U.S. Supreme Court on Thursday denied Brown's request to halt his execution.
Brown confessed to kidnapping Holly Washa at knifepoint, then raping, torturing and killing her. He left her body in the trunk of a car.
Brown confessed while California authorities were interrogating him over an attack on a woman there.
Originally from San Jose, Calif., Brown had a history of violent crime. He was convicted of assaults in California and Oregon, and served seven years in an Oregon prison. Brown was released on parole just two months before Washa's death in 1991.
Since 1904, 77 other men have been put to death in Washington. Before Brown, the last inmate executed was 58-year-old James Homer Elledge, who died by lethal injection for the 1998 stabbing and strangulation of Eloise Fitzner, 47, at the Lynnwood church where he was a janitor.
Seven other men have been sentenced to death and are incarcerated at the state penitentiary.
Thanks for reading CBS NEWS.
Create your free account or log in
for more features.