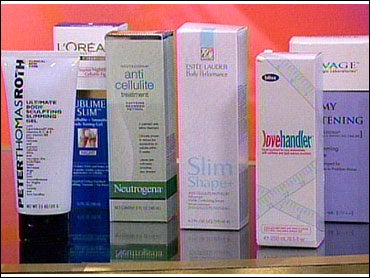 Caffeine Is Latest Anti-Cellulite Weapon
Creams containing caffeine are the newest weapon in women's arsenal of cellulite-fighters.
They were the topic as The Early Show began a weekly series Thursday, "Weapons of Mass Reduction," in which weight-loss and firm-up products and techniques are explored.
"Dermatologist to the stars" Dr. Ava Shamban, an assistant professor of dermatology at UCLA, explained to co-anchor Julie Chen that cellulite "is a term used to describe the lumpy, bumpy appearance of the skin, almost like a mattress. You can almost see where those little buttons would go right in. It can appear on even the thinnest women."
Cellulite, she says, appears on all women at some point, regardless of age or size.
Shamban, who owns the Laser Institute for Dermatology and European Skin Care in Santa Monica, Calif., adds that cellulite "is a structural problem. It's not only the fat, but it has to do with the connective tissue. The connective tissue acts as a mesh to keep the fat close to the legs, which happens for men, but not so well for women. So, in women, sometimes this connective mesh opens up and the fat bulges out. That gives you the cellulite."
There's no proven, effective method that gets rid of cellulite, Shamban observes, but there are products and treatments that can visibly reduce its look and feel.
"Part of is genetic," Shamban responded, "and exercising may or may not help. Being slender does help because, if you can imagine, if the fat cells themselves are expanding, you're going to get more bulging through that mesh work."
Another possible avenue: caffeine-based creams.
Shamban says she sees them as "one of the three great promises made to women, (namely), 'There's no MSG in your food. I'm gonna to call you in the morning. And this cream will get rid of your cellulite.' So, I'm a little bit from Missouri -- show me! I want to make sure they work.
"The theory behind caffeine is that it actually can reduce fat. It can enhance fat metabolism and also reduce some of the edema, or swelling that we get around the fat, so the skin appears smoother."
Three volunteers are going to try out various caffeine-based creams for four-to-six weeks, and report back on The Early Show on how well they did the job -- Sabina, in her 50s, Jackie, in her 40s, and Danielle, in her 30s. The areas where they have cellulite vary.
---

TO SEE HOW THE VOLUNTEERS SAY THE CREAMS FARED,
---

According to Shamban:

Anti-cellulite cream doesn't remove the "orange-peel" cellulite appearance completely. But it's a temporary technique for cellulite reduction. It works by plumping up the skin, creating a smoother texture when massaged on cellulite prone areas. For better results, choose anti-cellulite creams that contain antioxidants, anti-inflammatory and other ingredients that help to stimulate blood flow.

If you do purchase anti-cellulite creams, make sure to check for the availability of some key ingredients listed below:

Caffeine
Some cellulite cream used caffeine to fight cellulite. Caffeine, the active ingredient in many cellulite creams, works to tighten blood vessels. There have not been any reports showing that caffeine is successful in cellulite reduction. But we are seeing this is a very big trend in creams. So some products may list "caffeine" or "coffee" but remember that "caffeine" can be derived from black and green teas as well -- so make sure to read the label carefully.

CoffeeBerry
CoffeeBerry is the fruit of the coffee plant from which the coffee bean is derived. It's another way of stating that caffeine is an active ingredient in the product. CoffeeBerry can have a higher level of antioxidants depending on when the fruit was selected.

Aminophylline
Cellulite cream containing aminophylline is used to reduce the bumpy, dimpling effect of cellulite. Aminophylline is said to break down fat cells into fatty acids. The extent of effectiveness of aminophylline in cellulite reduction is still unknown. However, some patients reported successful reduction of cellulite after using aminophylline treatment cream. Take note that anti-cellulite cream containing aminophylline must be kept away from heat and used quickly.

Retinol
Some anti-cellulite cream use Retinols to improve skin texture and is a common ingredient in wrinkle treatment creams. Though its effectiveness of retinols in fighting cellulite is still in debate, retinol is used to improve the thickness of the epidermis and circulation to the skin. Since retinoid or Vitamin A derivatives can be destroyed when expose to light, it is best to apply retinol based cream at night.

AHA (Alpha Hydroxy Acids)
More and more cellulite cream make used of AHAs such as lactic acid and glycolic acid to fight cellulite. AHA helps accelerate the removal of the superficial layer of dead cells.

Herbal Cellulite Lotion
Citric, Tartaric and Phytic acids derived from fruits and plants are active ingredients used in cellulite treatment lotions. Herbal cellulite lotion helps to improve the tone and texture of skin in cellulite prone areas.

Among the creams the three volunteers will be trying (with descriptions prepared with information provided by the manufacturers):

Celluli-Pro/Anti-Cellulite Body Care (Sisley Paris), 7 oz/200ml, $180.00 Available at Saks Fifth Avenue, Bergdorf Avenue, Neiman Marcus and select luxury boutiques nationwide. The first slenderizing skin care with a "sport-like" formula that acts like a "coach" on dimpled skin visibly reduced the appearance of cellulite, refining silhouette.
Rice Peptide Extract mimics the activity of our UC Peptides in order reproduce what happens during physical activity-energy consumption-that slows down lipogenesis (storage of new fat in our adipocytes) and consequently adipogenesis (production of new adipocytes).
Bitter Orange Extract works in synergy with Butcherbroom, Arnica, Caffeine and Cedrol to encourage the elimination of stubborn fat. As a result of the appearance of dimpled skin is polished and smoothed out, body contours seem more refined and fat deposits diminished.
Soy and Ratanhia extracts help strengthen skin firmness and elasticity. A cocktail of moisturizing and skin-repair agents (Kokum and Shea Butters) and ingredients with nourishing and revitalizing properties (Rapeseed, Sunflower and Red Palm Oils) helps create superb skin quality from the very first application, with a more refined, moisturized, velvety-soft texture.
Results: Body contours appear more refined, the figure looks re-sculpted, more beautiful, visibly slimmer. The number of fat deposits is reduced. Skin feels softer, smoother and firmer, it is more moisturized and better-toned.

Energising Hip & Thigh Gel - 5 oz. tube, $29.75;6.7oz. pump, $39.00, Available from www.lizearle.com, Customer Centre - 1-800-515-5911, Brownes & Co. Apothecary, Miami FL. This gel from Liz Earle's Naturally Active Skincare range is designed to help improve skin's appearance, leaving it softer, smoother and deliciously scented. A potent blend of naturally active ingredients-contains 10 pure essential oils-Grapefruit, Sweet Orange, Rosemary, Cajeput, Eucalyptus, Geranium, Patchouli, Pine, Petitgrain and Peppermint. Plus herbal extracts of gingko biloba, ivy, caffeine, butcher's broom and horse chestnut, specially selected for their stimulating properties. These botanicals help to naturally boost the lymph system and encourage the elimination of of toxins which results in smoother silhouette and softer skin. The stimulating ingredients are combined in a base of pure rose water, extracted from the first distillation of organically grown damask rose. The gel should be massaged all over the body, concentrating on areas such as thighs, hips, stomach and legs. The light gel formula is absorbed quickly into the skin. Used twice daily, after bathing, this stimulating tonic will help to improve the condition and appearance of the skin.

Estee Lauder Body Performance Slim Shape+ Anti Cellulite/Anti-Fluid Advanced Visible Contouring Serum - 6.7 oz., $52.50, Available at Estee Lauder counters and www.esteelauder.com. Daniel Maes, VP Research & Development at Estee Lauder discovered that fluid accumulation is a significant contributing factor in skin's puffy appearance. This led to the development of FluidMotion Technology. When added to the original anti-cellulite formulation, it was found that this new technology not only helps optimize the natural flow of fluids but it delivers effective and more comprehensive improvement making the skin appear more "sleek." It combats the look of cellulite and the appearance of puffiness in four ways:
1) Begins to attack the appearance of "orange peel" skin instantly - Siegesbeckia, from traditional Chinese medicine is known to help reduce collagen degradation, and Vitamin C helps the skin boost its natural collagen production. Forskolin, a powerful plant extract from India, helps skin optimize its naturally existing energy for a smoother look. Brazilian Guarana seeds and Chinese Black Tea, know to have one of the highest caffeine contents. These ingredients work with the skin's natural enzymes so the skin looks sleeker, more contoured.
2) Thermogenic Complex for a Slimmer Look. Within hours of application the Thermogenic Complex consisting of Creatine and Carnitine-ignites the skin's energy to help it work at its peak, reduce the look of dimpled skin. Conjugated Linoleic Acid (CLA) derived from safflower extract combined with a powerful Biopeptide also helps dimpled skin look smoother and firmer.
3) Excess water can become trapped, accentuating skin's fatty look and swollen appearance. The Fluid Motion Technology consists of a unique combination of Ximenynic Acid, and Eyeliss, a Bio-Peptide, which help to improve the appearance of "puffy" skin, for a sleeker, more defined look.
4) A lifting Polymer, Sweet Almond Extract, helps tone the skin instantly; you will feel a tightening, cooling sensation upon application which will last several minutes.
Directions for Use: Apply morning and evening to areas prone to cellulite.

PeterThomasRoth Ultimate Body Sculpting Slimming Gel, 7.5 oz., $100.00, Available at www.PeterThomasRoth.com and fine retailers nationwide including Sephora, Ulta and select Bath & Body Works locations. Includes a potent cocktail of cellulite fighting ingredients for smoother and firmer thighs, buttocks and stomach. Key ingredients: Liporeductyl - 10% A potent cocktail of anti-cellulite fighting ingredients that reduces water and body fat mass to improve skin texture and elasticity. Vitamins A , C & E protects the skin from environmental damage. Pro Vitamin B5 (Panthenol) Prevents moisture loss. Clinical results visible after 60 days.

Apivita Aromatherapy Metamorphosis Anticellulite Massage Oil - 3.4 oz., $18.00 Available at www.apivita.us.com
The combination of essential oils with massage helps to break down fat deposits and stimulate blood circulation to promote the drainage of water and toxins. Active ingredients: Sweet Almond Essential Oils, Juniper Berry Essential Oils, Cypress Essential Oils, Lemon and Bitter Orange Essential Oils, Red Pepper Extracts, Green Tea Water Base, Seaweed Extract.

Neutrogena Anti-Cellulite Treatment 5 oz., $19.99:
Combines seaweed extracts and caffeine to reduce the appearance of cellulite, leaving skin looking smoother and less dimpled. The cream-gel combats this problem with a patented retinol formula that helps to improve skin elasticity and reduce the appearance of "orange-peel" skin. Apply the cream-gel twice a day after just 8 weeks you will notice clinically proven results.

Sovage Tummy Flattening Gel - 6 oz., $119.00 available at Sephora and other retailers nationwide.

L'oreal Sublime Anti-Cellulite Gels, $13.89 each, drugstores. In an independent clinical study of the L'oréal products, 150 women lost an average of ½ inch off their thighs in four weeks. You can get a day or night formula. But it is recommended to use both daily. They both visibly reduce the fatty look of dimpled skin caused by cellulite. Non-sticky, non-greasy formula. Penetrates the skin immediately.

L'oreal Sublime Slim Patches: concentrated caffeine cx agent and body smoothing complex. This is great for targeted firming to fight cellulite. This is the first-to-mass, targeted body firming treatment that has no-mess adhesive that is flexible and comfortable on the skin. The patches contain concentrated caffeine cx which helps to eliminate the appearance of cellulite; and an ultra-cooling hydro-gel body smoothing complex to smooth skin. After one application -- skin will appear softer and smoother. After four weeks the appearance of cellulite is visibly reduced. The patch rejuvenates skin's tone and texture. $13.89

Fat Girl Slim-- Qusome-Encapsulated Caffeine: This is Bliss' latest super-strength flab-fighting formula delivers qusome encapsulated caffeine molecules beneath surface cell layers -- stimulating lipolysis of unsightly adipose "padding" into free fatty acid chains. Use twice a week over six to eight weeks -- you will notice a difference. $29.00

Thanks for reading CBS NEWS.
Create your free account or log in
for more features.