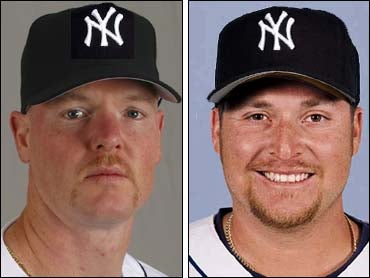 Bullpen Base-Brawl Players Charged
New York Yankees Jeff Nelson and Karim Garcia were charged Thursday with assault and battery for fighting with a groundskeeper in the Fenway Park bullpen during a playoff game against the Red Sox.
A clerk magistrate also found probable cause to go forward with Nelson's cross-complaint against Paul Williams, 24, a middle school teacher and part-time groundskeeper from Derry, N.H.
Clerk Magistrate Michael Neighbors called the case against the two players "weak," but said there was enough evidence in the police incident report to allow the case to go forward, despite a lack of eyewitnesses.
The fight took place during a raucous Game 3 of the AL championship series on Oct. 11. Williams said he was attacked by Yankee reliever Nelson because he was cheering for the Red Sox in the Yankee bullpen.
But Nelson, who filed a cross-complaint seeking counter charges against Williams, said during a probable cause hearing last week in Roxbury District Court that it was Williams who provoked the fight. In issuing his ruling from the bench Thursday, Neighbors said there was also evidence this was true.
He said the lack of defensive wounds on the groundskeeper's hands could suggest the possibility that Williams was the aggressor.
Yankee right fielder Garcia, who jumped over the outfield fence into the bullpen to join the fight, did not attend last week's hearing. Neighbors said this impeded the legal process and deprived Garcia of the chance to tell his side of the story.
Neither Yankee attended Thursday's hearing. Neighbors scheduled arraignments for Nelson, Garcia and Williams for Jan. 7.
"We'll now have an opportunity for a full and fair hearing," said Nelson's lawyer, James Merberg.
Garcia's lawyer, Gerard Malone, said the finding of probable cause was not unexpected.
"The burden is not beyond a reasonable doubt, the burden in probable cause," he said. "This is just the first step. The evidence presented was minimal but sufficient."

Thanks for reading CBS NEWS.
Create your free account or log in
for more features.