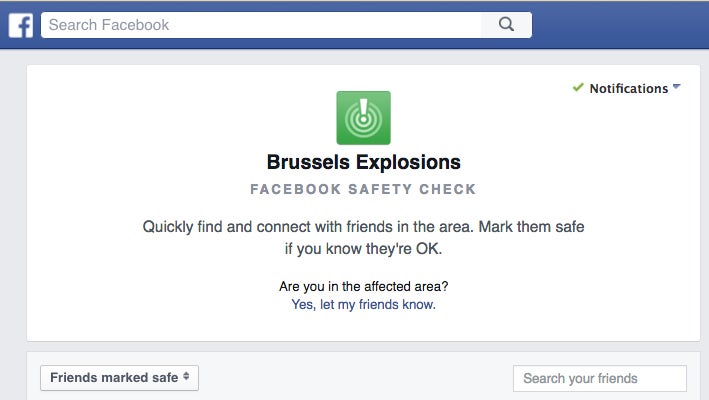 Facebook activates Safety Check after Brussels attacks
In the aftermath of the terrorist attacks in Brussels that left dozens dead and more than 150 injured, Facebook activated its check-in feature, "Safety Check," for people in the region to mark themselves as "safe" and alert their friends and family.
Along with checking themselves in, people can also search for friends who may be in the area.
The Safety Check feature was launched October 16, 2014 to provide a simple way for people to let their friends and family know that they are safe in the wake of a natural disaster or crisis.
"Over the last few years there have been many disasters and crises where people have turned to the Internet for help," Facebook stated in a press release when the feature was first introduced. "Each time, we see people use Facebook to check on their loved ones and see if they're safe. Connecting with people is always valuable, but these are the moments when it matters most."
Safety Check was mobilized a number of times in the months that followed, including after the massive Nepal earthquake in April 2015.
The feature was first used in response to a terrorist attack in November 2015 after the Paris attacks that killed 130 people. The social media site received criticism over its decision, however, because the feature had not been activated a day earlier when a bomb killed at least 43 people in Beirut.
Facebook's founder and CEO Mark Zuckerberg responded to the criticism in a post on the website. "Until yesterday, our policy was only to activate safety check for natural disasters. We just changed this and now plan to activate safety check for more human disasters going forward as well," he wrote.
He added: "We care about all people equally, and we will work hard to help people suffering in as many of these situations as we can."
In a statement to CBS News, Facebook said that "in 2015, more than 950 million people received a notification that a friend or loved one was safe in a crisis."
Facebook users can also show their support for the people of Belgium in the wake of this tragedy by adding the Belgium flag overlay to their profile picture.
Thanks for reading CBS NEWS.
Create your free account or log in
for more features.