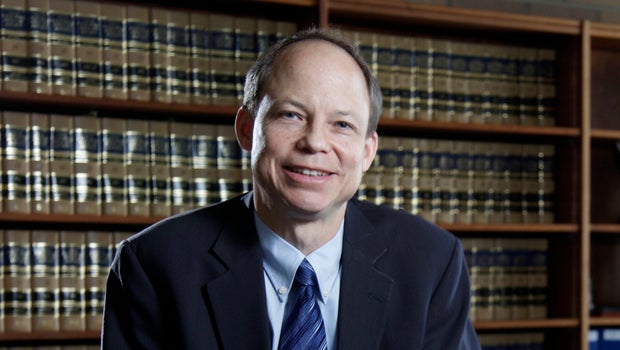 Judge on Stanford attacker's consent claims: "I take him at his word"
PALO ALTO, Calif. -- A recently-released transcript of the sentencing hearing for Brock Turner, the ex-Stanford swimmer convicted of sexually assaulting an unconscious woman, sheds new light on a judge's controversial decision to sentence Turner to six months in jail.
At the June 2 hearing, Turner's lawyer Mike Armstrong argued that Turner has admitted digitally penetrating the woman, but says that "in his drunken state, he remembered consent." In explaining his sentence, Santa Clara County Superior Court Judge Aaron Persky's appears to believe Turner is being truthful in that regard.
"I mean, I take him at his word that, subjectively, that's his version of events," Persky said. "The jury, obviously, found it not to be the sequence of events."
Prosecutor Alaleh Kianerci repudiated the judge's ruling in court, saying witnesses saw Turner on top of the young woman while she was unconscious. She said Turner believes the victim was coherent "because that's the story that he tells himself and his family and that gets him through his day."
"...While the defendant believes his lie, this court shouldn't, because 12 jurors didn't," Kianerci said.
Turner, 20, was convicted in March on three felony counts for the January 2015 sex assault that happened after an alcohol-fueled fraternity party while Turner was a freshman at Stanford. Persky sentenced him to six months in jail and three years of probation, but he could be released in as little as three months. Turner was also required to register as a sex offender.
The maximum possible sentence for the charges Turner was convicted of is 14 years in prison; prosecutors sought six years behind bars.
Persky's sentence -- which follows a recommendation from probation officials -- has led to widespread outcry and a campaign to recall him. One juror who convicted the former swimmer has called the sentence "ridiculously lenient," though some commentators have defended the sentence.
Speaking before the court at the sentencing hearing, Turner apologized to the victim and her family.
"It's unbearable to think that my actions that night have caused these good people so much sorrow and pain," Turner said, according to the transcript. "Nobody deserves a single second of what I have caused them to go through."
But whether or not Turner is truly remorseful for his actions is "one of the most conflicted and difficult issues in the case," Persky said at the hearing. Turner has come under fire for a statement to probation officials in which he blames his conduct on alcohol and "the college lifestyle." And in a harrowing victim impact letter which has gone viral, the victim calls on Turner to accept responsibility for the assault, telling him, "assault is not an accident."
"You have been convicted of violating me with malicious intent, and all you can admit to is consuming alcohol," the woman wrote. "Do not talk about the sad way your life was upturned because alcohol made you do bad things. Figure out how to take responsibility for your own conduct."
Perksy found that Turner is genuinely remorseful, despite what he calls his lack of complete acquiescence to the verdict. He said Turner wouldn't be truthful if he changed his version of events - that he remembered consent, according to his lawyer -- to "pacify the court or the public."
"And so you have Mr. Turner expressing remorse, which I think, subjectively, is genuine, and [the victim] not seeing that as a genuine expression of remorse because he never says, 'I did this. I knew how drunk you were. I knew how out of it you were, and I did it anyway.' And that - I don't think that bridge will, probably, ever be crossed."
In order for Persky to sentence Turner to probation rather than prison, he was required to find "unusual circumstances where the interest of justice would be best served." Persky said the victim's life has been "poisoned" by the assault, but found that state prison for Turner wasn't "an antidote for that poison."
In making the ruling, Persky said he took into consideration that Turner didn't have previous convictions, was young, wasn't armed during the crime, didn't demonstrate criminal sophistication, would be willing to comply with terms of probation, and wouldn't be a danger to others if not imprisoned. He also found a prison sentence would have a "severe impact" on Turner, and his life would suffer severe "collateral consequences" resulting from the felony conviction because of the intense publicity and the requirement to register as a sex offender.
Persky also responded to a probation officer's finding that Turner's crime was "less serious" than similar assaults because he was drunk. Persky said alcohol is "not an excuse," but ultimately found it to weigh in Turner's favor as he assessed moral culpability.
Factoring against his decision for probation, he said, was that the victim was "extremely vulnerable" and that she suffered "both physical and devastating emotional injury." In court, he read from a portion of her victim impact statement, which he called "eloquent." He also found Turner was an active participant in the crime.
Persky said he also took into account the slew of letters he received -- 39 -- vouching for Turner's good character. A point from a particular letter "rang true," he said - a childhood friend who told the judge she would never expect Turner to be in the position he is.
"It sort of corroborates the evidence of his character up until the night of this incident, which has been positive," Persky said.
The woman has since apologized for the letter after it drew backlash on social media. It went on to say, "I don't think it's fair to base the fate of the next 10+ years of his life on the decision of a girl who doesn't remember anything but the amount she drank to press charges against him."
Kianerci pleaded with the judge to sentence Turner to "at least a year in county jail," if not prison. Responding to Persky's comments about the character letter, Kianerci said:
"The sad reality is that sex assaults often occur by people you never expect them, people who look just like Mr. Turner, people who were the nice guy, the guy next door."
Thanks for reading CBS NEWS.
Create your free account or log in
for more features.