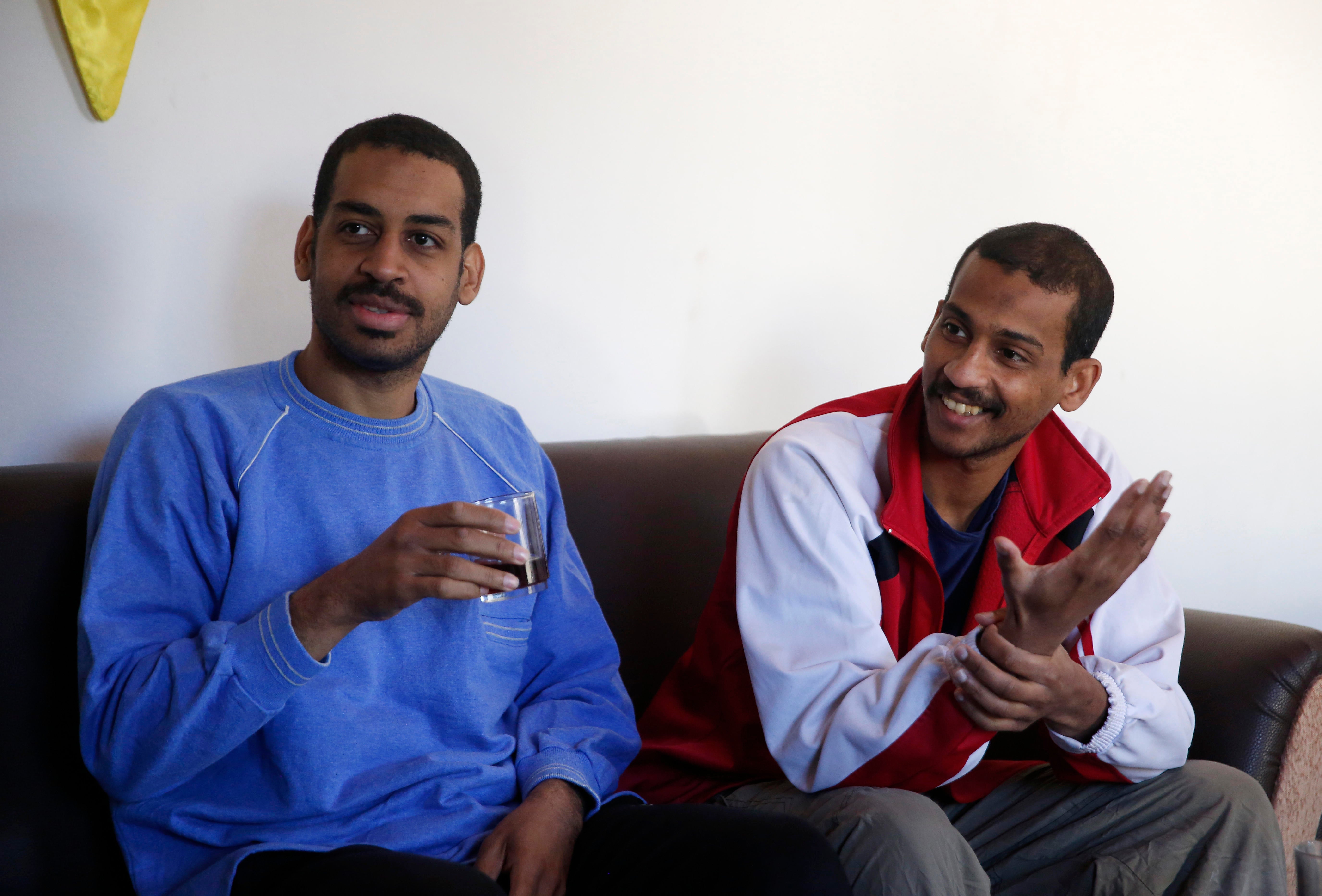 U.K. halts U.S. cooperation on handover of ISIS "Beatles" suspects
LONDON -- Britain's Home Office has temporarily suspended cooperating with U.S. authorities on the handover of two British jihadis allegedly linked to the Islamic State of Iraq and Syria (ISIS) until a judge reviews a decision that would allow the pair to be tried in the United States. Defense lawyers wrote the government this week after leaked documents showed that British officials were willing to hand over El Shafee Elsheikh and Alexanda Kotey without assurances the men would not be subject to the death penalty if they were convicted in an American court.
"We have agreed to a short-term pause," the Home Office said in a statement Thursday. "The government remains committed to bringing these people to justice, and we are confident we have acted in full accordance of the law."
Elsheikh and Alexanda Kotey are suspected of being part of a notorious cell of British jihadis known for beheadings and barbaric treatment of hostages in Syria. The cell was nicknamed "The Beatles" because of their British accents. The British leader of the cell, Mohammed Emwazi, who was also known as "Jihadi John," was killed in a 2015 drone strike.
In 2014 and 2015, the group held more than 20 Western hostages in Syria and tortured many of them. It beheaded seven American, British and Japanese journalists and aid workers and a group of Syrian soldiers, boasting of the butchery in grisly videos.
In February, the mother of slain American journalist James Foley, believed to have been executed by the cell, said she welcomed the capture of the men who were part of the group. Diane Foley told the BBC that the arrests won't bring her son back, but "hopefully it protects others from this kind of crime."
Britain's The Daily Telegraph newspaper reported Monday that it had seen a letter from Home Secretary Sajid Javid to U.S. Attorney General Jeff Sessions about the two militants, who have been in custody in Kurdish-controlled northeastern Syria since they were captured earlier this year.
The government pause came after lawyers for Elsheikh demanded a judicial review of the decision to allow the men to be put on trial in the U.S.
Attorneys Gareth Peirce and Anne McMurdie said they wrote the government to outline why the decision was unlawful and "setting out an urgent timetable" for the case to be heard in court.
Elsheikh, whose family came to Britain from Sudan when he was a child, was a mechanic from White City in west London. Kotey, who is of Ghanaian and Greek-Cypriot descent and converted to Islam in his 20s, is from London's Paddington neighborhood. Both have been interrogated by U.S. officials since their capture.
Elsheikh traveled to Syria in 2012, initially joining al Qaeda's branch before moving on to ISIS, according to the U.S. State Department's listing of the two men for terrorism sanctions. It said he "earned a reputation for waterboarding, mock executions and crucifixions while serving as an (ISIS) jailer."
Kotey served as a guard for the execution cell and "likely engaged in the group's executions and exceptionally cruel torture methods, including electronic shock and waterboarding," the State Department said.
In an interview with the Associated Press earlier this year in northern Syria, the two men denounced the media for the spreading allegations of the "Beatles" cell, at one point depicting the accusations as concocted as a pretext to kill them with drone strikes in Syria.
"No fair trial, when I am 'the Beatle' in the media. No fair trial," Elsheikh said.
They also denounced as "illegal" the British government's decision in February to strip them of citizenship. The decision was widely reported in British media, though officials have not confirmed or denied it, citing privacy rules.
The revocation of citizenship exposes them to "rendition and torture," Elsheikh said, "being taken to any foreign land and treated in anyway and having nobody to vouch for you."
"When you have these two guys who don't even have any citizenship... if we just disappear one day, where is my mom going to go and say where is my son," he said.
The capture of the two men has sparked a debate over where and how to prosecute them. The U.S. has been pressing for the home countries of foreign jihadis in Iraq and Syria to take their nationals for trial. Britain's defense secretary has said they should not be allowed back into the country. Former captives of the cell and families of its victims have called on Elsheikh and Kotey to be given a fair trial, whether in the U.S. or Britain.
Thanks for reading CBS NEWS.
Create your free account or log in
for more features.