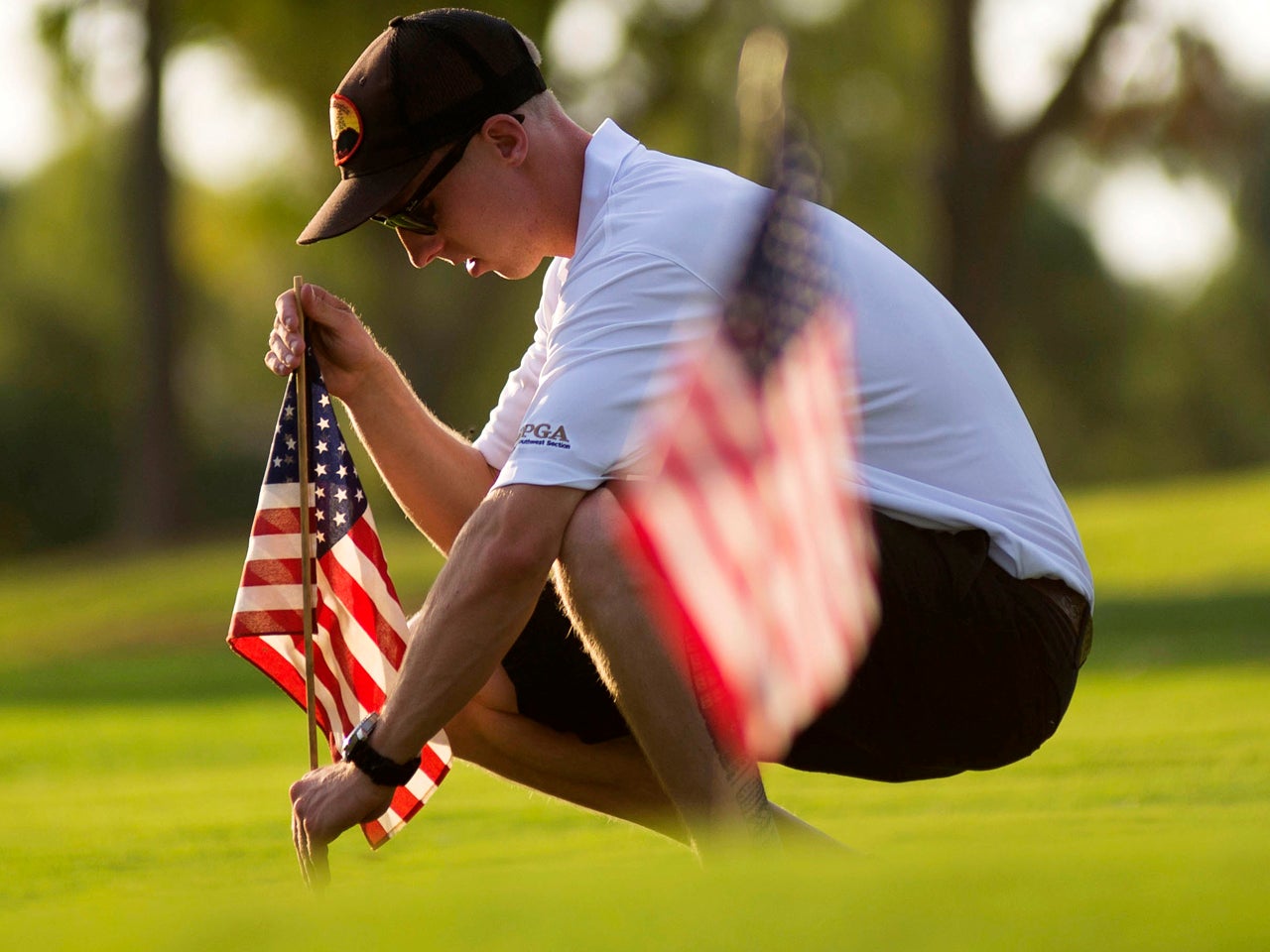 Brendan McDonough, Hotshot who survived deadly Arizona fire, opens up
PRESCOTT, Ariz. The surviving member of an elite Arizona firefighting crew that was overrun by flames says he went numb after learning the 19 men he considered his brothers were dead, and he wonders why he alone was spared what he calls a "horrible, freak accident."
Brendan McDonough was the Granite Mountain Hotshots' lookout June 30 and wasn't with the rest of the crew when it was overtaken by the Yarnell Hill Fire amid shifting winds. He left his post for safety after notifying the men of rapidly changing weather.
McDonough told ABC's "Good Morning America" in an interview aired Wednesday that he learned of his fellow Hotshots' deaths while back with his crew's vehicles after hitching a ride with another Hotshot crew.
"Why wasn't I there with them?" McDonough said he asked himself. "That's all I could think, to pray for their safety. ... I'm kind of numb at that point. I'd cried a lot. And I came to a point where I just didn't have any more tears."
McDonough's comments come as some of the loved ones of the Hotshots who died fight with the city of Prescott for the lifetime benefits given to families of full-time firefighters who die in the line of duty.
All 19 hotshot families will receive worker's compensation and a one-time federal payment of $328,000, CBS News correspondent Carter Evans reports. But the city insists Andrew Ashcraft and 12 others were seasonal employees and are therefore not entitled to the lifetime salaries and health benefits - worth millions - given to the six full-time Hotshots.
"I said to them, 'My husband was a full-time employee, he went to work full-time for you,'" Ashcraft's wife Juliann Ashcraft told Evans, "and their response to me was, 'Perhaps there was a communication issue in your marriage.'"
CBS News obtained paperwork that shows Ashcraft did earn a full-time salary. The local firefighters union said that of the 13 Hotshots denied full benefits Andrew Ashcraft was the only one to work 40 hours a week year-round. City officials declined CBS News' multiple requests for an interview, but Monday they sent a statement.
"The city has fully complied with all of the laws and employment policies that direct survivor benefits," the statement said.
An investigation into the firefighters' deaths is under way, but officials have said the crew moving on foot in rugged terrain was aware as it changed positions that the direction of the wind pushing the fire was shifting.
Eric Marsh, superintendent of the Granite Mountain Hotshots, at one point told a fire manager on the radio that the 19 men were deploying their emergency shelters.
In an interview published Wednesday by The Daily Courier, McDonough said he heard Marsh's radio call and was devastated to learn the crew was about to get into the lightweight cocoons that are intended as a firefighter's last resort.
"When I heard they had to deploy, I was crushed mentally and emotionally," McDonough told the Prescott newspaper. "I didn't know what to do ... It was just a horrible, freak accident."
When fire managers couldn't contact the crew, a state police paramedic was dropped off by a helicopter and hiked to the crew's deployment site. The paramedic confirmed the deaths and reported them by radio.
McDonough, 21, told ABC his emotions plunged further as he heard the ringing phones that some members of his crew had left in one of the unit's vehicles. He said he knew the calls were from family members trying to reach the fallen firefighters.
"And that's — yeah. I sunk. Sunk into my seat, I sunk into myself," he said.
McDonough said he has asked himself "a million times" why he survived and his fellow Hotshots didn't. But he told the Courier he tries not to dwell on what happened that day.
"That's not going to help anyone," including his 2-year-old daughter. "That's not going to remember my brothers the right way," McDonough said.
He told ABC his time with the crew was both the best and worst memories of his life.
"I wouldn't have traded the years I spent with those men for anything in this world," he told the Courier. "They made me the man, and father I am today. How successful I am physically, emotionally, spiritually — I owe it to them."
Prescott City Council members indicated during a Tuesday night meeting that they want to rebuild the Hotshot crew.
"We want to restore what we had. The sooner the better," Councilman Jim Lamerson said.
Prescott Fire Department Chief Dan Fraijo asked that a firm decision be made at the council's next meeting Aug. 20 as to how the crew would be structured so the department can begin hiring and training for it.
"The sooner the decision is made, the more time we have to put a team together," he said.
Thanks for reading CBS NEWS.
Create your free account or log in
for more features.