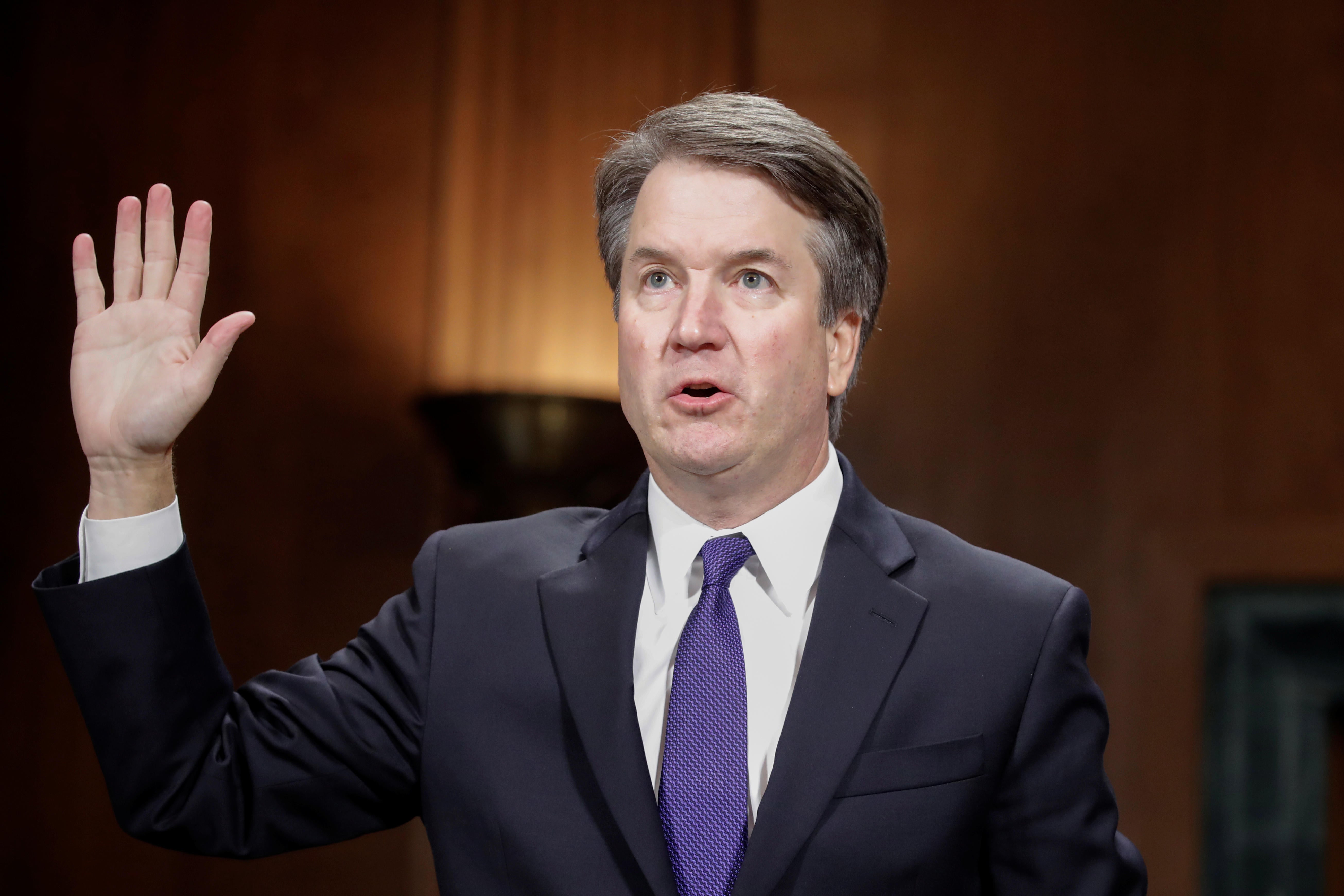 "Boofed," "Devil's Triangle," "FFFFFFourth of July": How Brett Kavanaugh explained his yearbook jokes
Heading into Brett Kavanaugh's Senate testimony about sexual assault allegations, which he denied, speculation swirled about a series of cryptic comments on his page in Georgetown Preparatory School's 1983 yearbook. Media reports and critics of Kavanaugh suggested that they joked about binge drinking and sexual exploits with other students.
But in his testimony Thursday, Kavanaugh offered alternative explanations for the items on his page. He said they were inside jokes known to the yearbook editors and other students.
Here's what Kavanaugh had to say about the most scrutinized parts of his yearbook page:
"Devil's Triangle"
This term on the yearbook page is also known as a sexual slang term for a threesome involving two men and one woman. Michael Avenatti, the lawyer representing a woman who said Kavanaugh was present at parties where gang rapes took place, implied in a tweet that the term on Kavanaugh's page had a sexual meaning.
But Kavanaugh told the Senate Judiciary Committee that this was a reference to a "drinking game" with three cups arranged in a triangle. He seemed to compare it to Quarters, a popular drinking game in which players toss coins into shotglasses.
"Devil's Triangle" has also been a title of board games, TV episodes and rock songs. According to the Twitter account @Congressedits, which keeps tabs on changes to Wikipedia, someone in the House of Representatives anonymously edited the Wikipedia results for "Devil's Triangle" during the hearing to include the result, "a popular drinking game enjoyed by friends of Judge Brett Kavanaugh."
"FFFFFFourth of July"
Avenatti alleged in a tweet that this stood for "Find them, French them, Feel them, Finger them, F*ck them, Forget them."
But Kavanaugh claimed this was not an acronym, but rather a play on a friend with a verbal tic who "wound up" his F's before saying the F-word.
"Boofed"
Kavanaugh's yearbook page includes the phrase, "Judge, have you boofed yet?" This apparently references his friend Mark Judge, who is alleged to have participated in Kavanaugh's sexual assault of Christine Blasey Ford in 1982. Judge's yearbook page has the phrase, "Bart, have you boofed yet?" Judge went on to write a memoir in 1997 about his alcoholism that included a character called "Bart O'Kavanaugh," though Kavanaugh did not confirm if it was based on him.
"Boofed" is also sometimes used as a vulgar slang term, usually referring to some mix of anal sex and drugs. The New Yorker said it "refers to the practice of anally ingesting alcohol or drugs."
But Kavanaugh said it was simply a teenage joke between him and Judge about "flatulence."
"If we want to talk about flatulence at age 16 on a yearbook page, I'm game," he told Sen. Sheldon Whitehouse when questioned about it.
"Renate Alumnius"
"Renate" refers to Renate Schroeder, a student at a nearby Catholic girls' school, and that term reportedly appears at least 14 times on various pages of the yearbook. Two of Kavanaugh's classmates told The New York Times that "Renate Alumnius" is an inside joke about supposed sexual conquests with Schroeder. One classmate said the Georgetown Prep boys were "very disrespectful, at least verbally, with Renate."
Kavanaugh acknowledged that the entry is about Schoeder but said it had no sexual undertone. He called Schroeder "a good female friend" who his friends "would admire and went to dances with," and that the joke was "clumsily intended to show affection and that she was one of us."
Schroeder was one of 65 women who signed a letter sent to the Senate attesting to Kavanaugh's honorable treatment about women. After news of the yearbook broke, she said she didn't know what "Renate Alumnius" meant but would be sickened if its darker meaning was true.
"I can't begin to comprehend what goes through the minds of 17-year-old boys who write such things, but the insinuation is horrible, hurtful and simply untrue," she said in a statement. "I pray their daughters are never treated this way. I will have no further comment."
Kavanaugh and friends of Schroeder have denied that the two had any sexual contact.
"Beach Week Ralph Club – Biggest Contributor"
"Beach Week" was an annual Maryland prep school trip to Delaware that often involved heavy drinking, according to the Washington Post. With "Ralph" being a slang term for vomiting, the entry appeared to joke about Kavanaugh drinking to excess on the trip.
Kavanaugh acknowledged that it was a reference to "throwing up" but would not say if that was brought on by heavy drinking.
"I'm known to have a weak stomach and always have," he said, adding that it could be caused by "beer" or "spicy food."
Thanks for reading CBS NEWS.
Create your free account or log in
for more features.