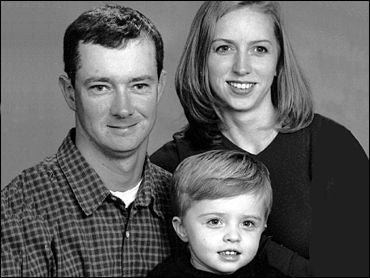 Bodies Of Missing Family Found
The bodies of three family members who disappeared from their home on Valentine's Day were found in a wooded area of Mississippi on Monday, and a relative was charged with murder, authorities said.
Warren Strain, spokesman for the Mississippi Highway Patrol, told CNN that the bodies of what are believed to be Michael and Rebecca Hargon and their 4-year-old son had been found. J.P. Morgan, a driver with Mississippi Mortuary Services in Rankin County, said the mortuary was called to pick up the three bodies at about 5:15 p.m.
The discovery of the remains and the charges against Earnest Lee Hargon capped an intense three-week search for clues in the case. Hargon, a 43-year-old truck driver, was arrested on unrelated drug charges Friday, and authorities rushed to the search area in southern Mississippi on Monday morning.
Teams of law officers using portable lights searched through scattered rain and into the evening hours for the bodies.
In a Yazoo County courthouse about 100 miles away, Earnest Lee Hargon heard the three capital murder charges read and was ordered held without bond.
He is a cousin of Michael Hargon, 27, who disappeared on Feb. 14 along with his 29-year-old wife and their son, James Patrick. Friends and relatives of the family, many visibly shaken, attended the brief court appearance.
Blood and spent bullet casings were discovered at the family's home in Yazoo County after their disappearance. Investigators have not found a .22-caliber weapon that apparently was fired in the house.
Prosecutor James Powell said the slayings occurred during the kidnapping of one or more of Michael Hargon's family. He said Hargon had acted alone.
"We've been saying all along since we've anticipated filing these charges that our case is rock solid," Strain said.
Investigators have been checking a piece of land that Michael Hargon recently inherited from his uncle, Charles Hargon, to determine if it is linked to the disappearance, said Jennifer Hargon, Michael's sister.
Prosecutors are not saying that is the motive, but they say they don't need one, reports CBS News Correspondent Elizabeth Sanchez.
Earnest Hargon, Charles Hargon's adopted son, was not included in the will, she said. Strain said the property is a consideration in the case, but not necessarily a motive.
"It could be a potential motive, but it's not the only one," Strain said.
Family members at the hearing declined to discuss the deaths. Louis Fischer, Michael Hargon's first cousin, screamed at Hargon after being turned away from the crowded courtroom.
"It's been a long, emotional 17 or 18 days and I let my emotions get the better of me," Fischer said later. "I promised my aunt (Michael Hargon's mother) that I wouldn't do that."'
Minutes before lawmen were to bring Hargon into the courtroom Monday, Strain announced a delay due to "profound new developments" in the county where the search is being conducted.
State troopers and deputies closed entrances to the land while helicopters and state Crime Lab trucks moved in to assist in the ground search. The property consists mostly of pine woods.
Intense searches of Hargon's home and 160 acres around it were carried out over the weekend by teams using horses, off-road vehicles, a helicopter and tracking dogs.
Families in the area said the land being searched was owned by Tony Moran, whose family lives about a mile from the property. Family members at the Moran home would not comment on the search. The Moran property is several miles way from Earnest Hargon's home near Taylorsville.

Thanks for reading CBS NEWS.
Create your free account or log in
for more features.