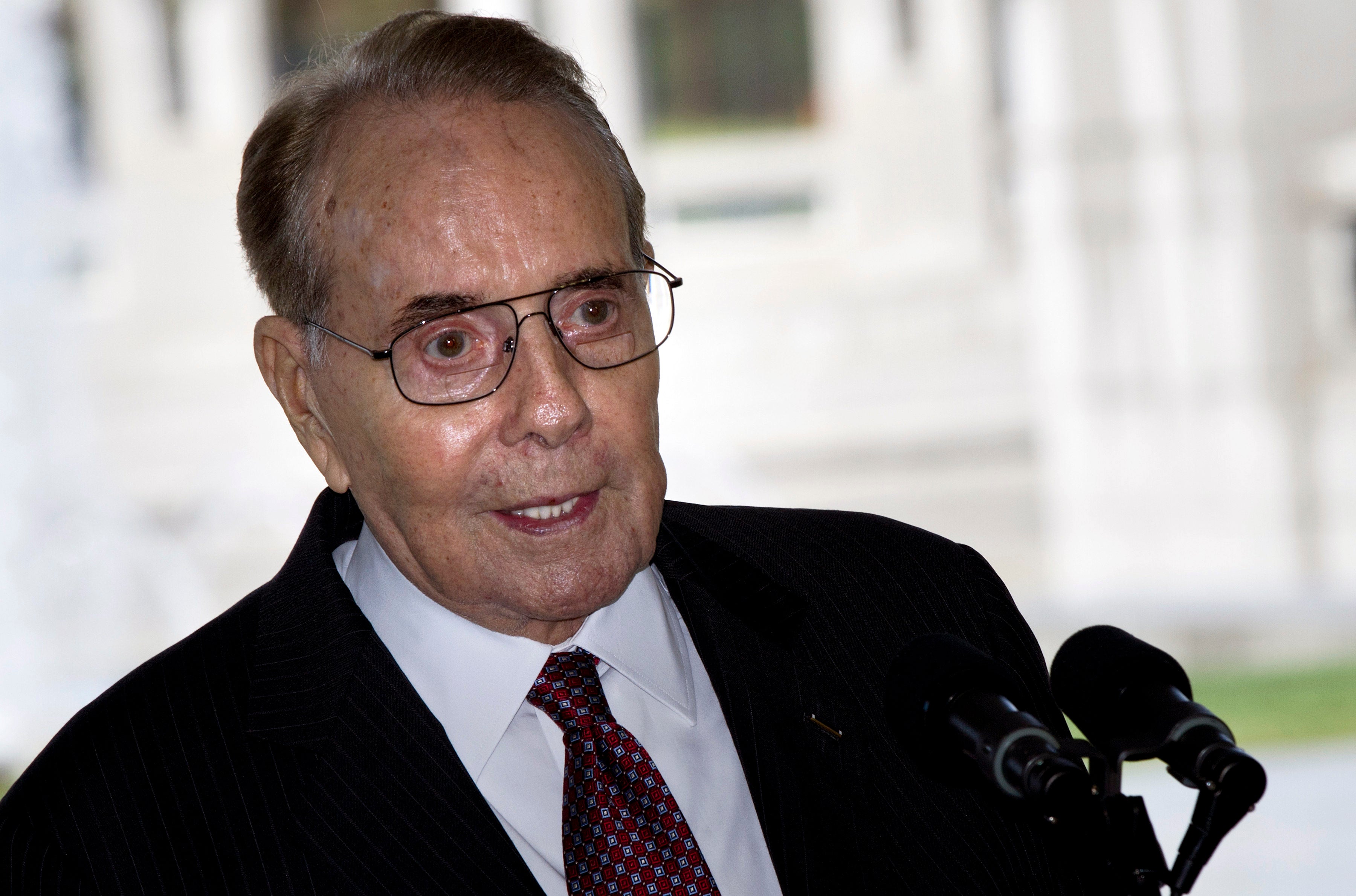 Bob Dole hopes Gingrich has no chance to be president
The former Republican senator from Kansas and presidential candidate Bob Dole has thrown his support behind Mitt Romney and decisively against Newt Gingrich. Dole described Gingrich in a recent "CBS Sunday Morning" interview with Rita Braver as "very bright, "very articulate" and a "good debater," but said he found him "very difficult to work with."
When asked if he thought Gingrich had a chance to be president, he responded, "I hope not."
On Thursday the Romney campaign released a blunt critique of Gingrich by the 88-year-old Dole. He wrote that Gingrich as the nominee would "have an adverse impact on Republican candidates running for county, state and federal offices," and that he was a "one man band" set on "his way or the highway." Following is the full text:
I have not been critical of Newt Gingrich, but it is now time to take a stand before it is too late. Hardly anyone who served with Newt in Congress has endorsed him and that fact speaks for itself. He was a one-man-band who rarely took advice. It was his way or the highway.
Gingrich served as speaker from 1995 to 1999 and had trouble within his own party. Already in 1997 a number of House members wanted to throw him out as speaker. But he hung on until after the 1998 elections when the writing was on the wall. His mounting ethics problems caused him to resign in early 1999. I know whereof I speak as I helped establish a line of credit of $150,000 to help Newt pay off the fine for his ethics violations. In the end, he paid the fine with money from other sources.
Gingrich had a new idea every minute and most of them were off the wall. He loved picking a fight with Bill Clinton because he knew this would get the attention of the press. This and a myriad of other specifics helped to topple Gingrich in 1998.
In my run for the presidency in 1996 the Democrats greeted me with a number of negative TV ads, and in every one of them Newt was in the ad. He was very unpopular and I am not only certain that this did not help me, but that it also cost House seats that year. Newt would show up at the campaign headquarters with an empty ice-bucket in his hand -- that was a symbol of some sort for him -- and I never did know what he was doing or why he was doing it.
In my opinion if we want to avoid an Obama landslide in November, Republicans should nominate Governor Romney as our standard bearer. He has the requisite experience in the public and private sectors. He would be a president we could have confidence in.
Other Republican figures have also weighed in on Gingrich's fitness as the GOP nominee. Elliott Abrams, an assistant secretary of state in the Reagan administration, said Gingrich overstated his closeness to the Reagan administration. He termed Gingrich's claims of having "worked with President Reagan to change things in Washington" as "misleading at best," in an article in the conservative National Review magazine.
Only a handful of members of Congress have backed Gingrich, while more than 70 House and Senate members have endorsed Romney. Romney supporter Utah Republican Rep. Jason Chaffetz explained, "Clearly people understand that Newt Gingrich is a product of Washington, D.C. And there's a reason there's a lot of us newbies in Congress want Mitt Romney: because we want someone from the outside." Republican New York Rep. Peter King labeled Gingrich "too erratic and "too self-centered."
New Jersey Governor and Mitt Romney surrogate Chris Christie has called Gingrich an "embarrassment" to the Republican party.
In a recent campaign stop in Florida, Gingrich said, "I think the Washington establishment is going fight me every steps to the nomination. And I think they are going to say whatever they have to say."
Watch the video from "CBS Evening News" on Dole's comments about Gingrich below:
Thanks for reading CBS NEWS.
Create your free account or log in
for more features.