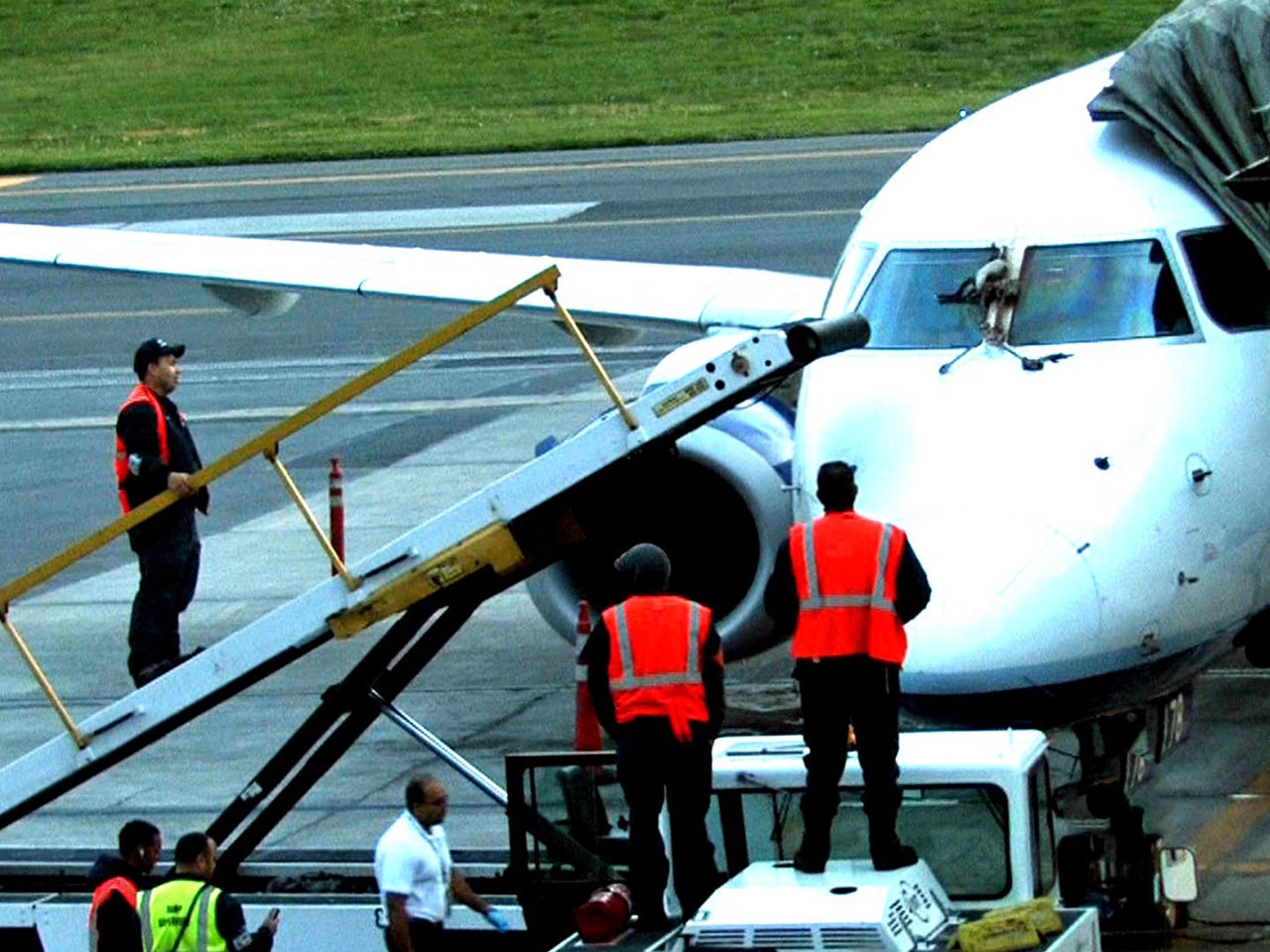 Back-to-back bird strikes prompt new call to address danger
There were scares in the air for three commercial airliners Wednesday.
The pilots each reported bird strikes while approaching New York's LaGuardia Airport, prompting a new call to address what one report says is an increasing danger.
Bird strikes can cause loss of life and serious damage to planes, and LaGuardia has seen its share of them over the years, CBS News' Jeff Pegues reports. Because it's located on the water, it has a large population of geese.
But bird strikes are happening at airports across the country.
The first reported bird strike came just after 7 a.m. Wednesday as an ExpressJet plane was coming in for a landing on LaGuardia's runway 31. Then, at 8:53 a.m., another ExpressJet reported striking a bird while taxiing after landing on the same runway.
Less than three hours later, at 11:15 a.m., a pilot of an Air Canada jet reported a third strike 12 miles northeast of the airport.
It's just the latest example of a dangerous and potentially deadly aviation hazard.
Earlier this year, a pilot struck a bird near the runway in Fort Meyers, Florida.
"I lost the left wing, bird direct hit. It hit me in the head," the pilot said.
And in March, there was another incident on a flight heading to West Palm Beach.
In January of 2009, when Captain Chesley "Sully" Sullenberger struck a flock of geese shortly after takeoff from LaGuardia, with the engines disabled, he guided the US Airways plane to safety in New York's Hudson River.
"Even though awareness of the bird strike problem has increased greatly in the last several years, there's still much more work to be done," Sullenberger said.
According to a recent FAA report, the number of strikes annually reported has increased from 1,851 in 1990 to a record 11,315 last year.
The number of bird strikes in close proximity to airports and strikes which have damaged planes have decreased, in part because of efforts to clear birds out of the paths of planes.
But animal rights groups question the methods being used to clear aviation paths.
"The focus really needs to be on non-lethal alternatives, and we're not seeing that," said David Karopkin, founder and director of GooseWatch NYC. "We're not seeing radar technology being implemented ... there's really a lot of room for improvement."
Thanks for reading CBS NEWS.
Create your free account or log in
for more features.