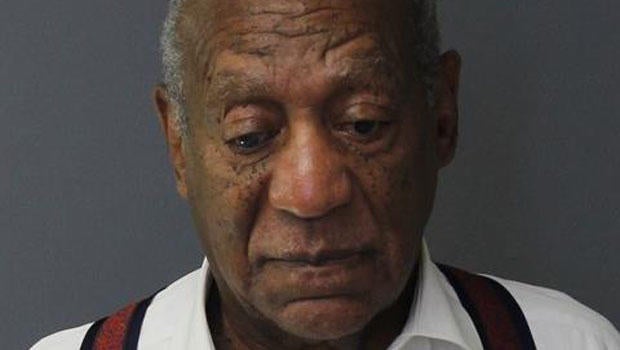 Bill Cosby sentenced to 3 to 10 years in prison for 2004 sex assault
NORRISTOWN, Pa. — Bill Cosby was sentenced Tuesday to three to 10 years in state prison for drugging and sexually assaulting a woman over a decade ago, becoming the first celebrity of the #MeToo era to be sent to prison. Montgomery County Judge Steven O'Neill handed down the sentence after he ruled Cosby to be a "sexually violent predator" for the assault on Temple University women's basketball administrator Andrea Constand at the comedian's estate near Philadelphia in 2004.
"It is time for justice. Mr. Cosby, this has all circled back to you. The time has come," O'Neill said. He quoted from Constand's own statement to the court, in which she said Cosby took her "beautiful, young spirit and crushed it."
Cosby's lawyers asked that he be allowed to remain free on bail while he appeals his conviction, but the judge appeared incredulous over the request and turned it down, saying that even considering Cosby's age and blindness, "he could quite possibly be a danger to the community."
Cosby was escorted out of the courtroom in handcuffs. Cosby will spend the first few days of his prison sentence at the Montgomery County Correctional Facility outside Philadelphia. From there, he'll be taken to SCI Phoenix, a new state prison outside Philadelphia, where staff will assess his physical, medical and security needs. He will then be designated to a state prison.
Cosby could end up in a long-term medical care unit.
Cosby declined the opportunity to address the court before the sentence came down. The punishment all but completed the dizzying, late-in-life fall for the comedian, former TV star and breaker of racial barriers.
Some of Cosby's accusers, with linked arms, cried as the sentence was read, reports CBS News correspondent Jericka Duncan.
"It is a significant part of the #MeToo movement and will be a watershed moment," said CBS News legal analyst Rikki Klieman.
Sonia Ossorio, president of the National Organization for Women of New York, credited Cosby's accusers with helping pave the way for the #MeToo movement.
"Bill Cosby seeing the inside of a prison cell sends a strong message that predators - no matter who they are, from Hollywood to Wall Street to the Supreme Court - can no longer be protected at the expense of victims," she said.
Cosby's wife of 54 years, Camille, was not in court. Constand smiled broadly upon hearing the punishment and was hugged by others in the courtroom.
Former model Janice Dickinson, who was among the 60 or so women who have come forward to accuse Cosby of drugging and violating them over the past five decades, looked at Cosby and said: "Here's the last laugh, pal."
Dickinson, who was among five accusers who testified at trial as prosecutors argued Cosby had a pattern of drugging and sexually assaulting women, told Duncan Cosby's accusers feel "vindicated." Janice Baker-Kinney, who also testified at trial, thanked Cosby for his "arrogance" in a statement read by her attorney, Gloria Allred. She said it turned her into an outspoken advocate, bonded his accusers together and sparked a movement.
"You used your celebrity to victimize dozens upon dozens of women, including me," the statement said. "Your sense of entitlement and your lack of remorse is astonishing."
None of the other accusations have resulted in criminal charges.
The "sexually violent predator" classification means that Cosby must also undergo lifetime counseling and report quarterly to authorities. His name will appear on a sex-offender registry sent to neighbors, schools and victims.
Cosby's lawyers had fought the "sexually violent predator" designation, arguing that Pennsylvania's sex-offender law remains unconstitutional despite several revisions. The judge heard testimony Tuesday from a defense psychologist who says Cosby is no longer a danger, given his age, and should not be subject to the label.
Defense attorney Joseph Green started the second day of Cosby's sentencing hearing by getting a psychologist for the state to acknowledge it is possible Cosby is in "full remission" from a psychological disorder she says gives him the uncontrollable urge to assault women.
But O'Neill said prosecutors had met their burden of proof by "clear and convincing" evidence.
Cosby was also fined $25,000 and ordered to pay the cost of the prosecution.
The once-beloved entertainer dubbed "America's Dad" for his role as Dr. Cliff Huxtable on the top-ranked 1980s-era "Cosby Show" could have faced anywhere from probation to 10 years in prison. Prosecutors on Monday asked a judge to give the comedian five to 10 years behind bars, while his lawyers asked for house arrest, saying the legally blind Cosby, 81, is too old and helpless to do time in prison.
In a blistering statement, Cosby spokesman Andrew Wyatt said the comic was subjected to "most racist and sexist trial in the history of the United States."
Wyatt claimed prosecutors presented falsified evidence when they introduced a recording of a phone conversation between Cosby and Constand's mother, Gianna Constand. Wyatt said an expert hired by Cosby determined the recording to be "doctored," and said he would seek bring the matter before the court.
Referring to the recording, Camille Cosby said in a statement read by a spokeswoman: "These egregious injustices must be corrected."
Speaking at a press conference, Montgomery County District Attorney Kevin Steele rejected the claim: "If that's what they've got, it's more than a 'hail Mary.'"
Steele said that though Cosby will be eligible for parole in three years, "victims get a say" in his release.
"He could serve every day of 10 years at this point," Steele said.
Constand stood next to Steele at the news conference but did not address the media. Steele said the 81-year-old entertainer used his fame and fortune to "hide his true self and hide his crimes," intimidating his victims into keeping them silent for decades, but has now been "unmasked" as a predator.
Steele said Monday Cosby would no doubt commit similar crimes if given the chance, warning that the former TV star seemingly gets a sexual thrill out of slipping women drugs and assaulting them.
Cosby, he said, has shown repeatedly that he feels no remorse over his actions. And he said the sentence should send a message.
"Despite bullying tactics, despite PR teams and other folks trying to change the optics, as one lawyer for the defense put it, the bottom line is that nobody's above the law. Nobody," the district attorney said.
In a five-page statement submitted to the court, Constand, now 45, said the assault robbed her of her self-confidence and affects her to this day. Constand said she now lives alone with her two dogs and has trouble trusting people.
"When the sexual assault happened, I was a young woman brimming with confidence and looking forward to a future bright with possibilities," she wrote. "Now, almost 15 years later, I'm a middle-aged woman who's been stuck in a holding pattern for most of her adult life, unable to heal fully or to move forward."
She also wrote of Cosby: "We may never know the full extent of his double life as a sexual predator, but his decades-long reign of terror as a serial rapist is over."
The AP does not typically identify people who say they are victims of sexual assault unless they come forward publicly, which Constand and other accusers have done.
Thanks for reading CBS NEWS.
Create your free account or log in
for more features.