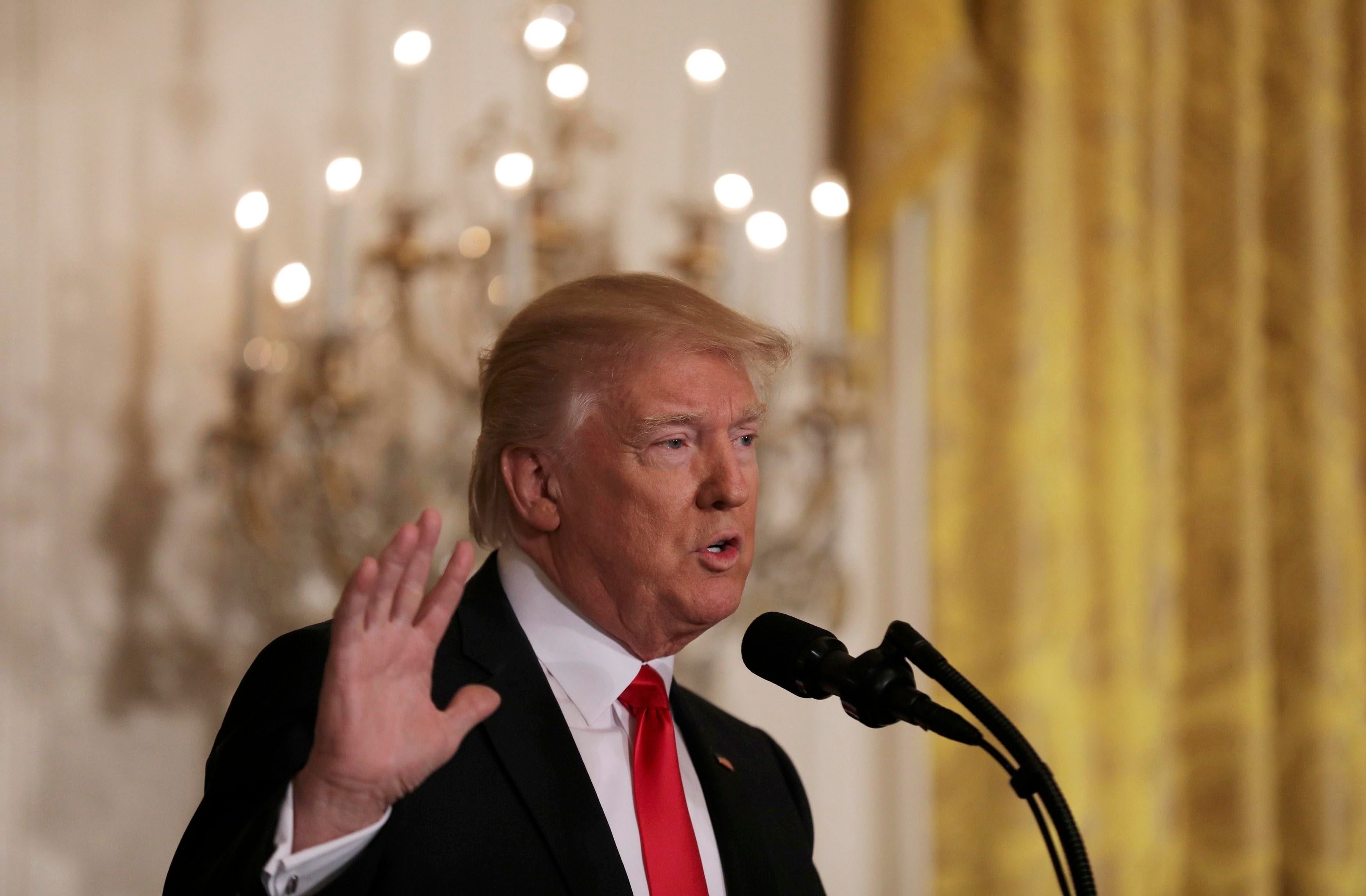 Big labor's delicate dance with Donald Trump
When President Donald Trump faced the North America Building Trades Union (NABTU) conference in Washington, D.C., the wealthy former businessman offered a simple assurance that spoke volumes to the Union bricklayers, pipefitters, plumbers, carpenters, and electricians of America.
"Now, you have a builder as President," Mr. Trump said to cheers and applause earlier this month.
The event felt like a homecoming of sorts for a President who campaigned on a resume of harnessing labor's manpower to pepper the New York City skyline with glimmering skyscrapers. The support from union members helped propel him to the presidency, and he ultimately won a surprising 43 percent of union households, according to exit polls.
Mr. Trump's warm reception at the builders conference underscored yet another strange political reality taking shape under the new president: organized labor, traditionally supporters of Democrats up and down the ticket, now finds itself in a delicate dance with a Republican White House.
"Membership recognizes that, historically, Democrats have been better than Republicans for the long range economic interests of our members, but funny things have happened over the last ten to twelve years," NABTU president Sean McGarvey told CBS News. "Democrats don't quite value the construction workforce as much as they used to, in the membership view."
This past week, Mr. Trump introduced two additional provisions to boost American manufacturing and labor. One was his "Buy American and Hire American" executive order. The other was a memo commencing an investigation into unfair steel trade practices and the national security risks of steel imports, which account for 36 percent of the U.S steel supply.
A final flurry of executive orders related to trade are expected this week as Mr. Trump prepares to celebrate his 100th day in office on Saturday.
Mr. Trump's rhetoric has led to enthusiasm not just from blue-collar workers who bolted from the Democrats to support Trump, but also from some labor leaders who hope the new president will look out for their membership.
"Ask someone what the Democratic Party stands for and they look at you and they don't have any answer," AFL-CIO chief Richard Trumka, perhaps the best known labor leader in the country, said in an interview with CBS News last week.
Trumka, who typically supports Democrats, begrudgingly commended Mr. Trump on his suggested reforms to the H-1B program, a non-immigrant visa program that allows U.S. employs to hire foreign workers with specialty skills.
And the AFL-CIO also has an unlikely ally in the mastermind behind this "economic nationalist" policy: Steve Bannon, the embattled, bomb-throwing chief strategist to the president, who has advocated for a restoration of American manufacturing and trade work.
Mr. Trumka sighs when Bannon is brought up. "I think some of the issues he supports, we support," Trumka admits, pointing to Bannon's plan to get the President to throw a trillion dollars behind an infrastructure bill.
"If he does something that's good for us, whether it's from Steve Bannon or anyone else in the White House, we're going to try to support it," Trumka adds.
But Trumka then said that the President has a long way to go. "He's retreated significantly from where he was during the campaign," he told CBS News.
This is the great paradox of the Trump administration for big labor: Mr. Trump's appeal among membership is at odds with a drift that's becoming apparent inside the White House. Labor's agenda, like Bannon himself, is imperiled by Wall Street's gravitational pull in an administration stacked with former Goldman Sachs employees and corporate CEOs, many of them Democrats.
"Trump had all the progressive lingo out there," Mr. Trumka said. "He had a message in many ways what I could have delivered. Now he has to follow through on it. I think the Wall Street wing of his administration is hijacking the agenda by the administration."
The view from Trumka's office on 16th Street provides a direct line of sight into Mr. Trump's new office, which he has already visited three times, even venturing over without staff on at least one occasion.
Trumka describes their conversations positively, adding that his office has been providing Mr. Trump with proposed changes to the North American Free Trade Agreement (NAFTA).
But the more Mr. Trump sidles up to Wall Street, the easier it gets for organized labor to criticize him — perhaps a more familiar position for an AFL-CIO leader to be in when talking about a Republican president.
"That's going to be the biggest test and most defining part of his presidency -- who he stands with," Trumka said. And so far, Trumka says, Mr. Trump has mostly been standing with Wall Street.
After calling the NAFTA "the worst trade deal ever," Mr. Trump released a "very, very timid" letter of notice, according to Trumka, that did not make one mention of entirely withdrawing from the agreement.
Moreover, the administration has not even submitted proposed NAFTA changes to Congress to authorize a renegotiation. A White House official says they are waiting until attorney Robert Lighthizer, a noted protectionist, is confirmed as Mr. Trump's U.S. Trade Representative.
"On trade, they started off…gang busters, but they have moved significantly away from the campaign promises that he made," Trumka said. "Hopefully the actual negotiations will be more effective."
Trumka is also critical of Mr. Trump's rolling back of manufacturing regulations, denying that there is a connection between job creation and deregulation. In particular, Trumka takes issue with Mr. Trump's moratoriums on rules designed to protect workers from overexposure to carcinogens, and with the Department of Labor's delay of the "fiduciary rule" that requires financial advisors to act in the best interest of clients' retirement accounts.
"Those people who voted for him are seeing him move away from them right now," Trumka said. "When he does away with all of those things, he's doing away with all that and rewriting the rules all right, but not to benefit working people."
Thanks for reading CBS NEWS.
Create your free account or log in
for more features.