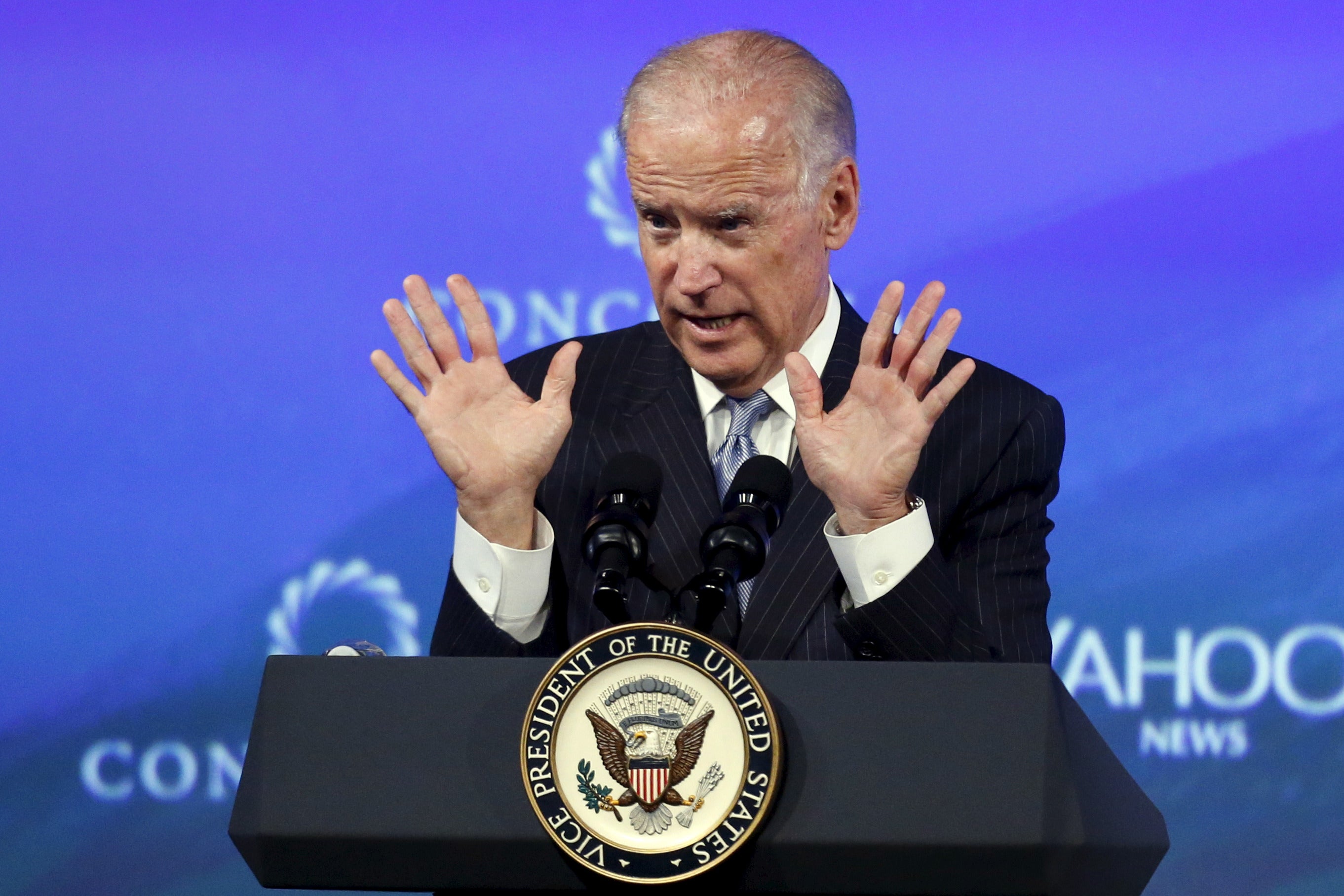 Biden supports trade deal despite opposition from unions
WASHINGTON -- Labor groups have a warning for Vice President Joe Biden as he lobbies for a major trade pact with Asia: We won't forget this if you run for president.
A longtime darling of unions, Biden has been skeptical of previous sweeping free trade deals, warning of risks to U.S. jobs. Yet he's firmly supporting the Trans-Pacific Partnership (TPP), putting him at odds with most Democratic presidential candidates and jeopardizing his support from unions if he enters the race.
Biden spoke Wednesday to a White House workers summit attended by union officials and organizers, many of whom are mounting an aggressive campaign to block the pact, known as TPP. It was his first public appearance and his first run-in with unions since the deal was announced on Monday to the dismay of organized labor. He did not mention TPP in his remarks at the summit.
"It's an unfortunate side-effect of this trade policy because Joe Biden is beloved in the labor community," said Chuck Rocha, a longtime labor organizer and Democratic consultant. "But they're really drawing a line in the sand on the issue -- more than they ever have in the history of the movement."
The vice president "supports the TPP agreement and will help pass it on the Hill," his office said. Biden also serves as the Senate's president, and could be called upon to cast a tie-breaking vote.
Biden, who is considering running for president, would be the only major Democratic candidate backing TPP.
Hillary Rodham Clinton, the Democratic frontrunner, told PBS NewsHour in an interview released Wednesday that she opposes the deal.
Earlier this year, she said probably wouldn't have voted to grant President Barack Obama so-called "fast track" negotiating authority. Sen. Bernie Sanders and former Maryland Gov. Martin O'Malley are staunchly opposed.
Biden has defended the deal publicly, and lobbied Democratic lawmakers last year to give Obama fast-track authority. He also worked to seal the deal abroad, calling for its completion during conversations with Japanese and Canadian leaders.
"This is a game changer," Biden said earlier this year in Mexico, describing TPP as a "comprehensive, high-standard trade agreement" that would raise the bar for 21st century trade.
Clinton and other Democrats are aggressively seeking union endorsements in the primary. Galen Munroe, a Teamsters spokesman, said opposition to TPP would be an important consideration. AFL-CIO strategic adviser Eric Hauser said TPP has a big part of the higher-wages agenda his group will use to evaluate all candidates.
Designed to spur trade between Asia and the Western Hemisphere, TPP would alleviate more than 18,000 tariffs on U.S. exports, Obama has said. After a review period, Congress will eventually hold an up-or-down vote on whether to ratify the deal.
As a senator, Biden voted for the North America Free Trade Agreement, which labor groups detest, but later called for its renegotiation. During the George W. Bush administration, he opposed trade agreements with Central America, Singapore, Chile and Oman.
As vice president, he's won plaudits from union for championing middle-class issues like higher wages. Union workers shouted "Run, Joe, run," as he marched in a Labor Day parade last month with AFL-CIO president Richard Trumka, who also met privately with Biden as he weighs a 2016 campaign.
Thanks for reading CBS NEWS.
Create your free account or log in
for more features.