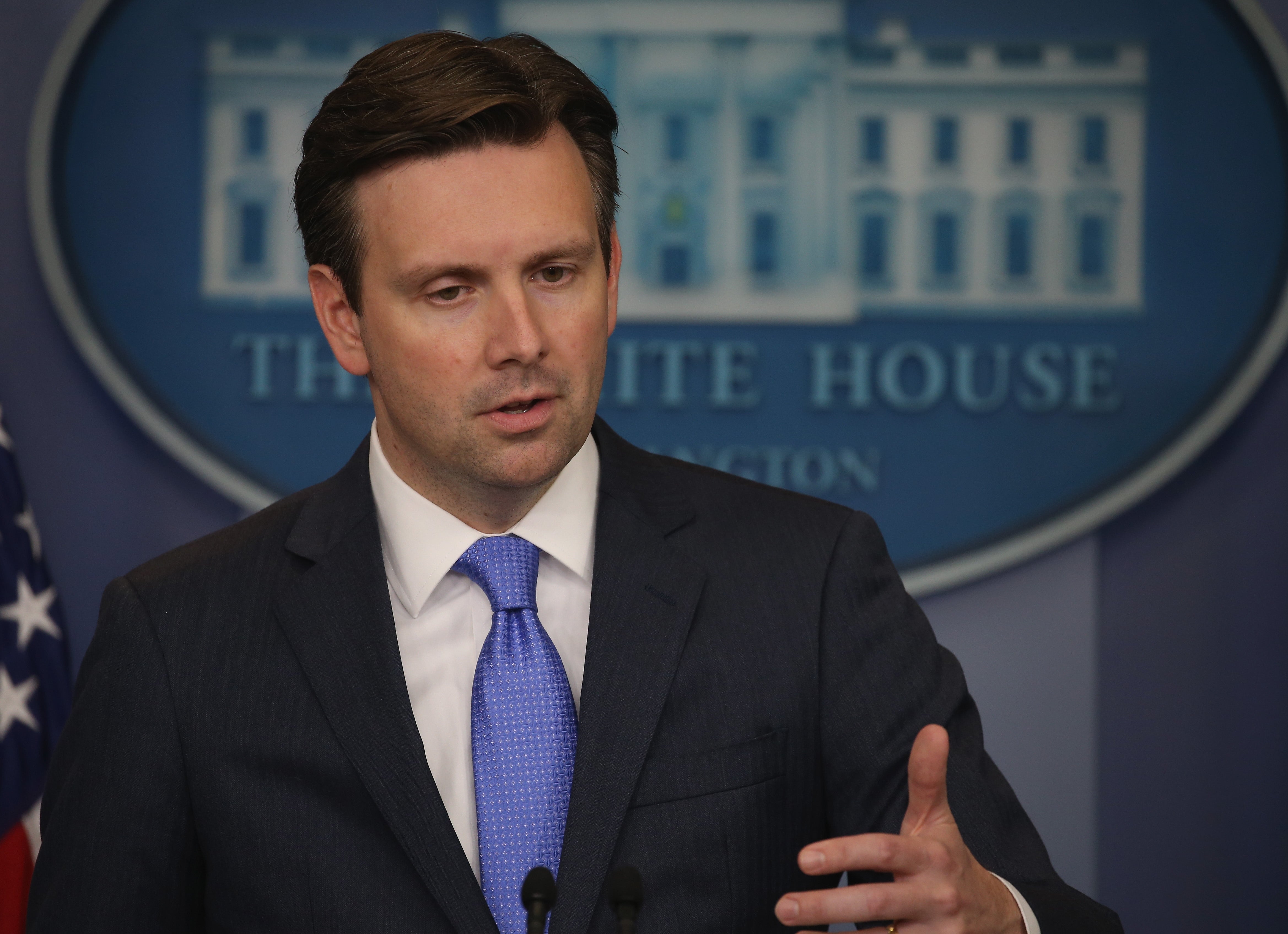 White House tries to downplay Clinton snub on trade
The White House sought to downplay any distance from former Secretary of State Hillary Clinton after Clinton publicly sided with Democrats who are working to block President Obama's trade agenda in Congress.
Clinton, criticized the trade bill Sunday, saying that the president "should listen to and work with his allies in Congress, starting with Nancy Pelosi, who have expressed their concerns about the impact that a weak agreement would have on our workers to make sure we get the best, strongest deal possible, and if we don't get it, there should be no deal."
White House Press Secretary Josh Earnest shrugged off the suggestion that Clinton was being unhelpful to the president by opposing the Trans-Pacific Partnership (TPP), a massive Asia-Pacific trade agreement that is a cornerstone of the Mr. Obama's second-term agenda.
"I think what Secretary Clinton articulated over the weekend is a view that she is neither reflexively in favor of trade agreements nor reflexively against them. She indicated that her test would be to examine an agreement and determine whether or not it was in the best interests of our national security and to determine whether or not it was in the best interests of American workers," Earnest told reporters Monday. "That criteria may sound a little familiar to you because it's quite similar to the criteria that the president himself has established. And it's not particularly surprising to anybody here that Secretary Clinton might identify similar criteria considering she served as the secretary of State under President Obama."
He said the overlap in their views is "not surprising."
But a senior administration official told CBS News Correspondent Julianna Goldman that Clinton was one of the biggest backers of TPP and that the White House was surprised by her comments Sunday.
Clinton's support for House Minority Leader Nancy Pelosi, D-California, and other Democrats who have thrown down obstacles in the way of legislation that would fast-track TPP through Congress differs from the way she used to talk about trade. She complimented TPP in her 2014 memoir, "Hard Choices," and echoed the administration by saying that the deal would have the effect of "lowering trade barriers while raising standards on labor, the environment, and intellectual property."
"It's safe to say that TPP won't be perfect - no deal negotiated among a dozen countries ever will be - but its higher standards, if implemented and enforced, should benefit American businesses and workers," she wrote.
Clinton suggested that Mr. Obama use the vote as leverage to push for U.S. priorities while it is completing negotiations with its trading partners. Asked whether the president was open to making changes to TPP, Earnest said, "the president is determined to make sure that whatever the final agreement is, that it's clearly in the best interests of our national security and clearly in the best interests of middle class families in this country."
If that standard cannot be met, he said, "then there won't be an agreement."
Clinton stuck by her position when she spoke to reporters Monday, reiterating her belief that the House vote on Friday offers Mr. Obama leverage to seek changes to the trade agreement.
"I believe that one of the ways the president could get fast-track authority is to deal with the legitimate concerns of those Democrats who are potential yes voters, to see what within the negotiation or what's even in the existing framework agreement that's being drafted could be modified or changed," she said.
As an example, she cited the investor-state dispute settlement process, which lets foreign companies sue a government if they believe a free-trade agreement has been violated. The lawsuits are judged in special tribunals, the court system of the government that is being sued.
Clinton called the system an "antidemocratic process" and said it was an example of a change the president could seek in order to increase Democratic support. High-profile Democrats who share her opinion include Sen. Elizabeth Warren, D-Massachusetts.
However, Mr. Obama has denied that the system puts the U.S. at risk.
"There is no chance, zero chance, that the U.S. would be sued on something like our financial regulations, and on food safety, and on the various environmental regulations that we have in place, mainly because we treat everybody the same," he told Yahoo Politics last month. "We treat our own companies the same way we treat somebody else's companies."
The White House is scrambling for a way forward now that there isn't enough support to pass Trade Promotion Authority (TPP), legislation that would put TPP up for a vote in Congress without allowing lawmakers to amend the agreement.
The vast majority of Democratic members in the House, 144, voted against legislation called Trade Adjustment Assistance (TAA), which would give aid to workers who had lost or left their jobs due because of an international trade deal. Though it has long been a Democratic priority, voting against TAA prevents Congress from finishing off legislation to fast-track the trade deal.
Earnest is portraying the vote not as a Democratic rebuke of the president's priorities, but as a "legislative snafu" to be resolved.
"The president and the rest of here at the White House continue to be confident continue to be confident that there is strong bipartisan support for this approach, and we just have to figure out how to untangle the legislative snafu in the House," he said. He added that the White House still believes there is "momentum" for a victory.
Thanks for reading CBS NEWS.
Create your free account or log in
for more features.