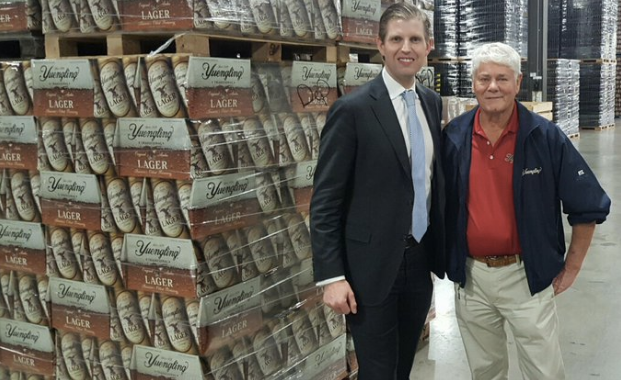 Beer drinkers tap out on Yuengling after owner endorses Trump
Most fans of American lagers hold Yuengling in high regard. Aside from its distinctive taste, Yuengling is beloved for being America's oldest operating brewery. It's been family-owned for generations, and it's produced entirely in the states of Pennsylvania and Florida.
This week, however, something happened that is dividing beer drinkers across the country: Yuengling's owner, Richard "Dick" Yuengling Jr., publicly endorsed Donald Trump for president.
You see, the battleground state of Pennsylvania is a must-win for Trump. So on Monday, in a calculated and rather brilliant political play for Pennsylvanians' votes, Eric Trump visited the company's craft brewery in Pottsville, a source of pride for many of the state's residents. And after getting a tour of the facility, he held a press conference with its fifth-generation owner.
"This is an amazing American success story," Trump told reporters, according to The Reading Eagle. "We need a lot more of these."
"Our guys are behind your father," Dick Yuengling reportedly responded. "We need him in there."
And just like that, the Yuengling love from some social media users across the country was tapped out.
Not all of the reactions to Yuengling's political endorsement have been negative, of course. Many Trump supporters are now flocking to the brand, applauding the owner's move and advising other supporters to make the lager their go-to beer.
In protest, LGBT bars across Philadelphia and Washington, D.C. have begun yanking Yuengling from their shelves and canceling future orders. In a political climate like the one we're in today, backing a presidential candidate — even when you're a beloved beer company — can brew quite the backlash.
Thanks for reading CBS NEWS.
Create your free account or log in
for more features.