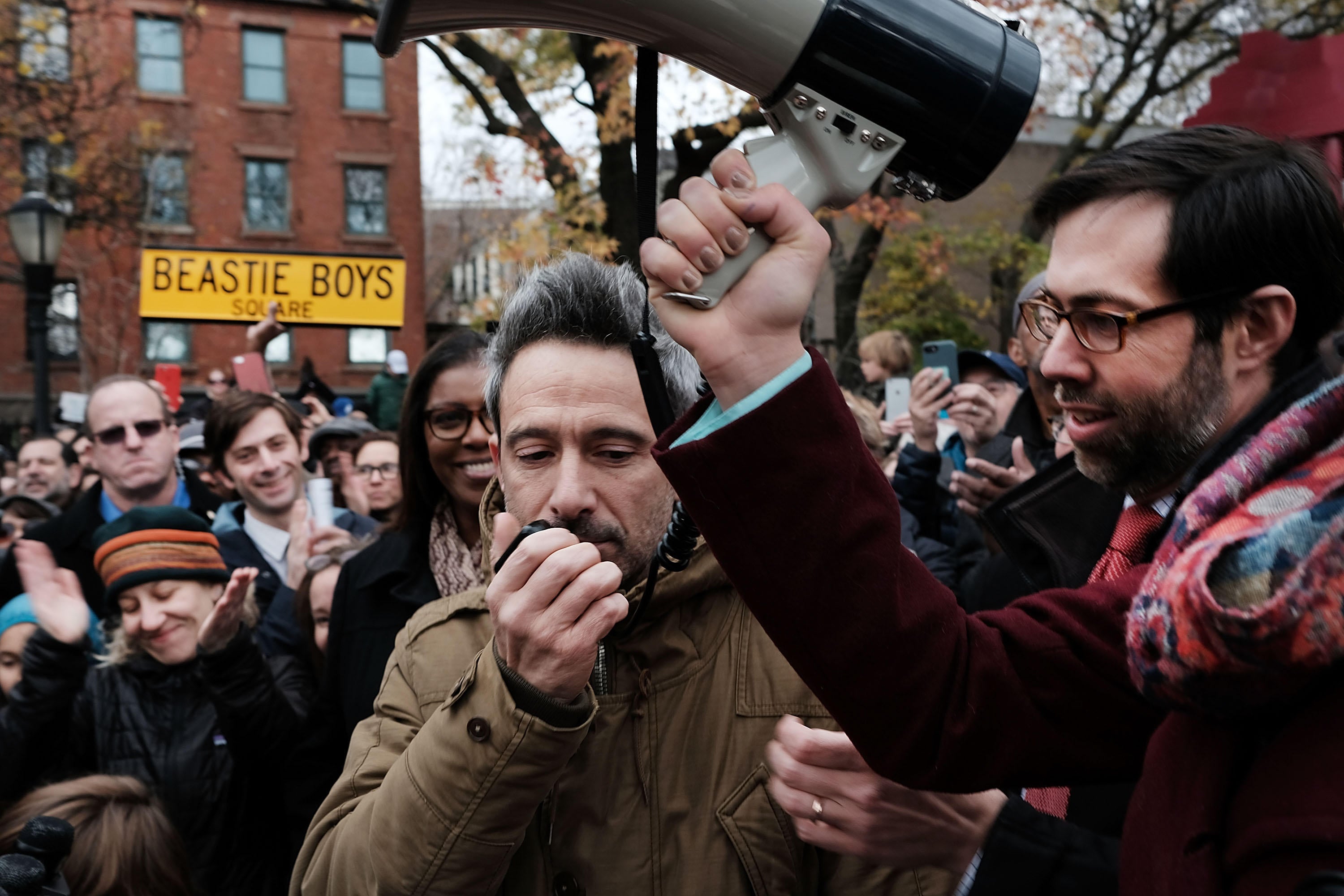 Beastie Boys' star joins rally in Adam Yauch Park after swastikas, pro-Trump graffiti found
NEW YORK — New York City officials, a member of the Beastie Boys and more than 100 people attended a rally in a Brooklyn park Sunday to protest the anti-Semitic graffiti recently found at the playground named after the late member of the Beastie Boys.
On Sunday, officials including State Senator Daniel Squadron, and City Councilmembers Stephen Levin and Brad Lander joined Beastie Boys member Adam 'Ad-Rock' Horovitz at a rally to "stand up against hate" at Adam Yauch Park, CBS New York reported.
The city named the park for the late rapper, who was Jewish, in 2013. He died of cancer in 2012 at the age of 47.
"He was also someone that taught non-violence in his music and his life," Ad-Rock said.
Well over 100 people including families with young children stood together to denounce incidents of hate across the city and around the country since Donald Trump was elected president of the United States, CBS New York reported.
The playground named for Adam Yauch had been vandalized with swastikas and the words "Go Trump!"
Photos show the swastika and words were spray-painted on playground equipment in the Brooklyn Heights neighborhood.
Lander said police were investigating and a Parks Department spokesman said Saturday the graffiti was removed.
It was one of several recent instances of the Nazi symbol being found around New York and in other parts of the country.
The playground includes basketball courts, a community garden, a greenhouse, fitness area, an open play space, drinking fountains and a dog run.
During the Sunday rally, those in the crowd held signs that read "racism is not welcome here" and "yes we care."
Ad-Rock slammed the act for celebrating Nazi Germany.
"Someone in New York City linking Nazi Germany to Donald Trump in a 'hell yeah' kind of way in a park where children play," he said.
Abby Davis used to be one of those children.
"Whoever drew this was terrible, and they just want to hurt people," she said.
The Southern Poverty Law Center said there have been 701 incidents of hate since election day.
Thanks for reading CBS NEWS.
Create your free account or log in
for more features.