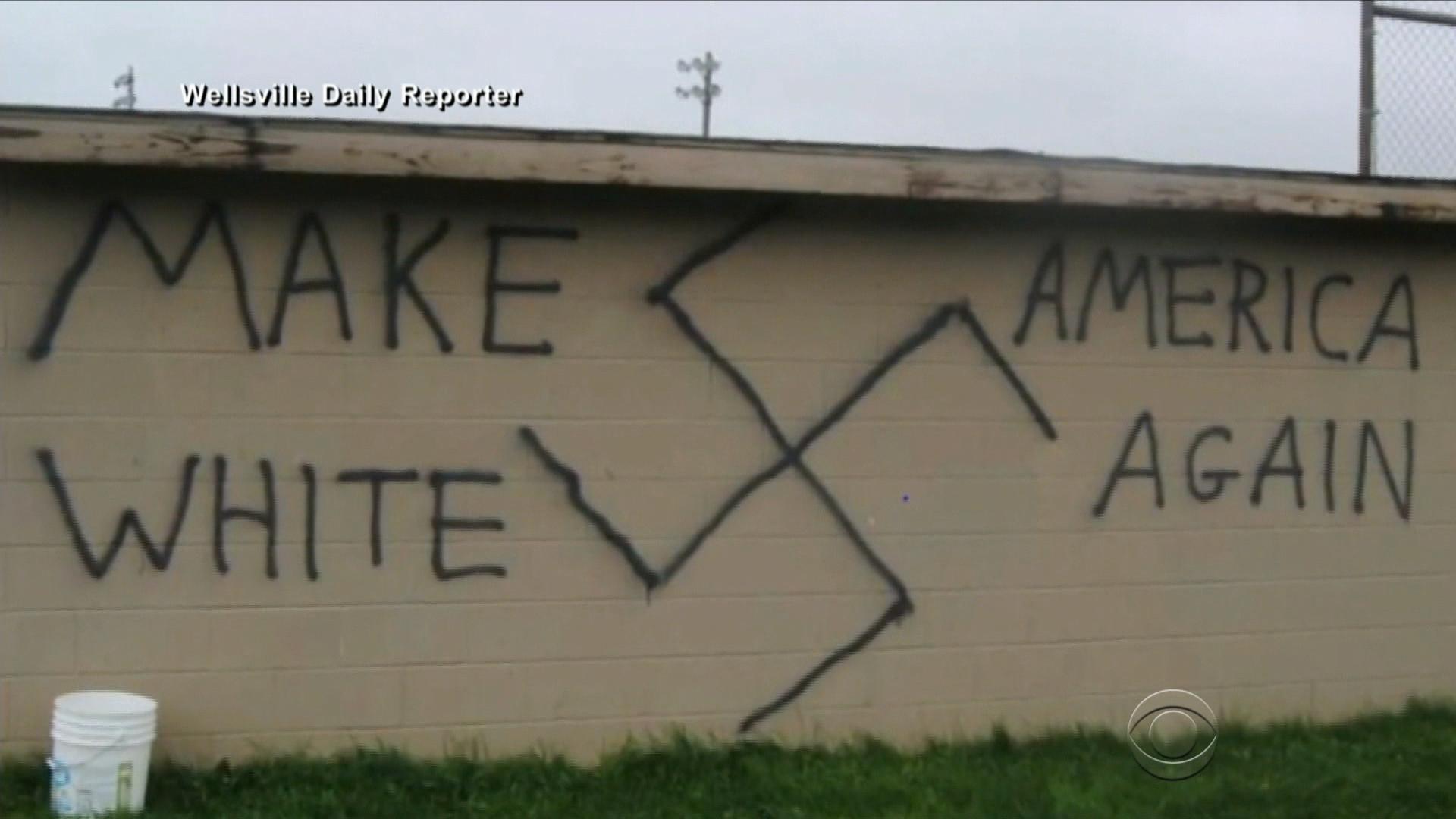 Hate, harassment incidents spike since Trump election
Civil rights group the Southern Poverty Law Center says there have been at least 700 cases of hateful harassment or intimidation since the election.
It ranges from swastikas at a baseball field and a playground to Pennsylvania high school students shouting "white power" in the hallway and a throwback to the days of segregation at a high school bathroom in Northern California.
"I can't explain to you what it feels like to come to a campus that I've loved for four years and not feel safe," said one student.
According to new numbers from the FBI, hate crimes were up almost 7 percent in 2015. That includes a 67 percent jump in crimes against Muslims.
When the racial tension continued even after Election Day, Lesley Stahl asked President-elect Trump about it on "60 Minutes". In response, Trump said, "I am so saddened to hear that. And I say, 'Stop it.' If it-- if it helps. I will say this, and I will say right to the cameras: Stop it.'"
"We're extremely pleased to hear those two words," said the Anti-Defamation League's Deborah Lauter. "We would encourage President-elect Trump to continue to send that message."
Lauter said she hopes the harassment will begin to subside.
"This is such a unique period in this country's history, so I don't have precedent to say it will go down," Lauter said.
And it's not just crimes against minorities.
Four people were arrested in Chicago after an attack on a Trump supporter, during which "You voted Trump! You voted Trump!" was shouted.
On Friday, Attorney General Loretta Lynch encouraged all hate crime victims to continue to speak up.
"We need you to continue to report these incidents to local law enforcement as well as the Justice Department," Lynch said.
Hate crime numbers for 2016 won't be out until next year, and based on what they've seen so far, minority leaders expect to see another increase.
Thanks for reading CBS NEWS.
Create your free account or log in
for more features.