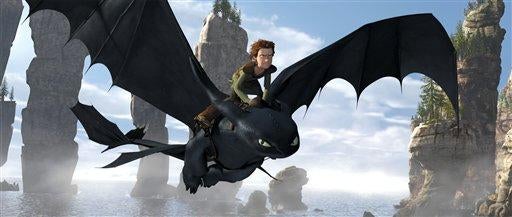 Batman Scales Buckingham Palace
A protester dressed in a
The protester was identified as Jason Hatch, 33, from Gloucester, a member of the Fathers 4 Justice group, which is campaigning for greater custody rights for divorced or separated fathers.
No member of the royal family was at the palace. Queen Elizabeth II was at her Balmoral residence in Scotland.
"We've got a guy dressed as Batman who's on Buckingham Palace on a balcony," said Matt O'Connor, a spokesman for Fathers 4 Justice.
O'Connor said the protest was timed to coincide with Monday's trial of another group member, Patrick Ronald Davis, 48, who is accused of throwing purple flour at Prime Minister Tony Blair in the House of Commons in May. That incident sparked a security alert, and new restrictions on public access to the chamber.
On Saturday, another member of the group who dressed as Spider-man climbed atop the 450-foot tall London Eye Ferris wheel beside the River Thames.
In another headline-grabbing stunt, one of the group's members spent five days atop a 120-foot crane beside London's Tower Bridge to call attention to the group's cause.
Fathers 4 Justice members said Hatch and an accomplice dressed as Batman's partner Robin had easily climbed a perimeter fence while fellow protesters distracted police by creating a disturbance at the palace's front gate.
O'Connor, the group's spokesman, said Hatch and the Robin character, Dave Pyke, used an extendable aluminum ladder to climb the side of the palace to the balcony.
Pyke turned around halfway up the ladder when he was threatened by police, O'Connor said.
Pyke said it had been "unbelievably easy" to breach security.
"We're not terrorists. If we're dressed like this, people don't confuse use with terrorists," Pyke told Sky News. "We're not terrorists, we're not subversives or anything like that, we're just decent dads."
Pyke said Hatch had been pushed to the limit by the government.
"He's been subject to false allegations, bogged in false reporting practices by the welfare services. You get pretty desperate after a while," Pyke said.
Group member Paul Robinson said Hatch hoped to stay on the balcony for 24 hours and had brought food and water with him.
Police tried to talk to him as he stood above a banner bearing the words "Superdads of Fathers 4 Justice, Fighting for Your Right to See Your Kid."
Darryl Westell, another Fathers 4 Justice activist, said Hatch had not been able to see his two children for four years even though he lived near them.
"Not seeing your children is worse than being put in prison," Pyke said. "I would imagine after a stunt like this, the government are going to be talking about Fathers 4 Justice. They're not going to ignore us."
Blair's spokesman said, "We don't believe that events like this actually help address what is the complexity of the problem."
Monday's incident put more attention on security at Buckingham Palace, already the focus of scrutiny in recent months.
A government report warned in May that terrorists could exploit lax security that allowed a tabloid reporter to join the royal staff.
Officials were embarrassed on the eve of a state visit by President Bush in November when Daily Mirror reporter Ryan Parry revealed he had been hired by the palace even though he gave false references.
Parry's stories, which included details about the queen's breakfast tastes and photos of a rubber duck in the royal bath, were picked up by media around the world.
The Security Commission report, ordered by Home Secretary David Blunkett after the stories were published, said any weakness could be exploited by terrorists.
In response to the report, Buckingham Palace created a new position of security director to oversee those applying for jobs or visiting royal palaces.
"This is another embarrassing breakdown in security at the palace," said Mark Oaten, law enforcement issues spokesman for the opposition Liberal Democrat party.
"After so many episodes like this, there must be serious questions asked over the ability of our authorities to protect the royal family."

Thanks for reading CBS NEWS.
Create your free account or log in
for more features.