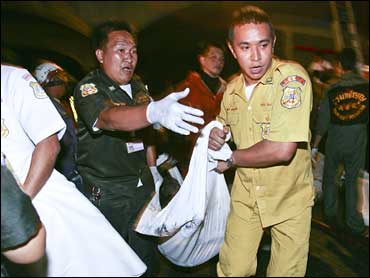 Band, "Burn," Blamed For Thai Club Fire
Thai police have charged the singer of a band named Burn with negligence for allegedly setting off fireworks that started a New Year's Eve nightclub blaze that killed 66 partygoers in Bangkok.
Deputy national police chief Gen. Jongrak Jutanont said Tuesday that Sarawut Ariya, 28, was performing on stage when he set off fireworks indoors at the Santika Club.
Sarawut, whose bail was set at 1 million baht ($28,600), denied the charge. If convicted of negligence causing death, serious injuries and damaging property, he faces up to 10 years in prison.
Fire raced through the two-story nightclub shortly after the New Year's countdown, sending hundreds of panicked guests running for the main entrance. Victims were killed by the blaze, smoke inhalation and crushed in the stampede to get out. More than 200 were injured, many with severe burns.
Among the dead were three Singaporeans, one Japanese and one Myanmar national.
Five other people - the club's owners and managers - have also been charged with negligence and with admitting underage customers.
Police earlier said the club had been found in violation of safety inspections numerous times but was still allowed to operate. Jongrak told reporters he ordered an investigation into whether a senior police officer had been a shareholder in the nightclub.
A 2003 fire that killed 100 people at a nightclub in Rhode Island was sparked by pyrotechnics used by the rock band Great White. The band's manager was one of the people charged in the case.
Thanks for reading CBS NEWS.
Create your free account or log in
for more features.