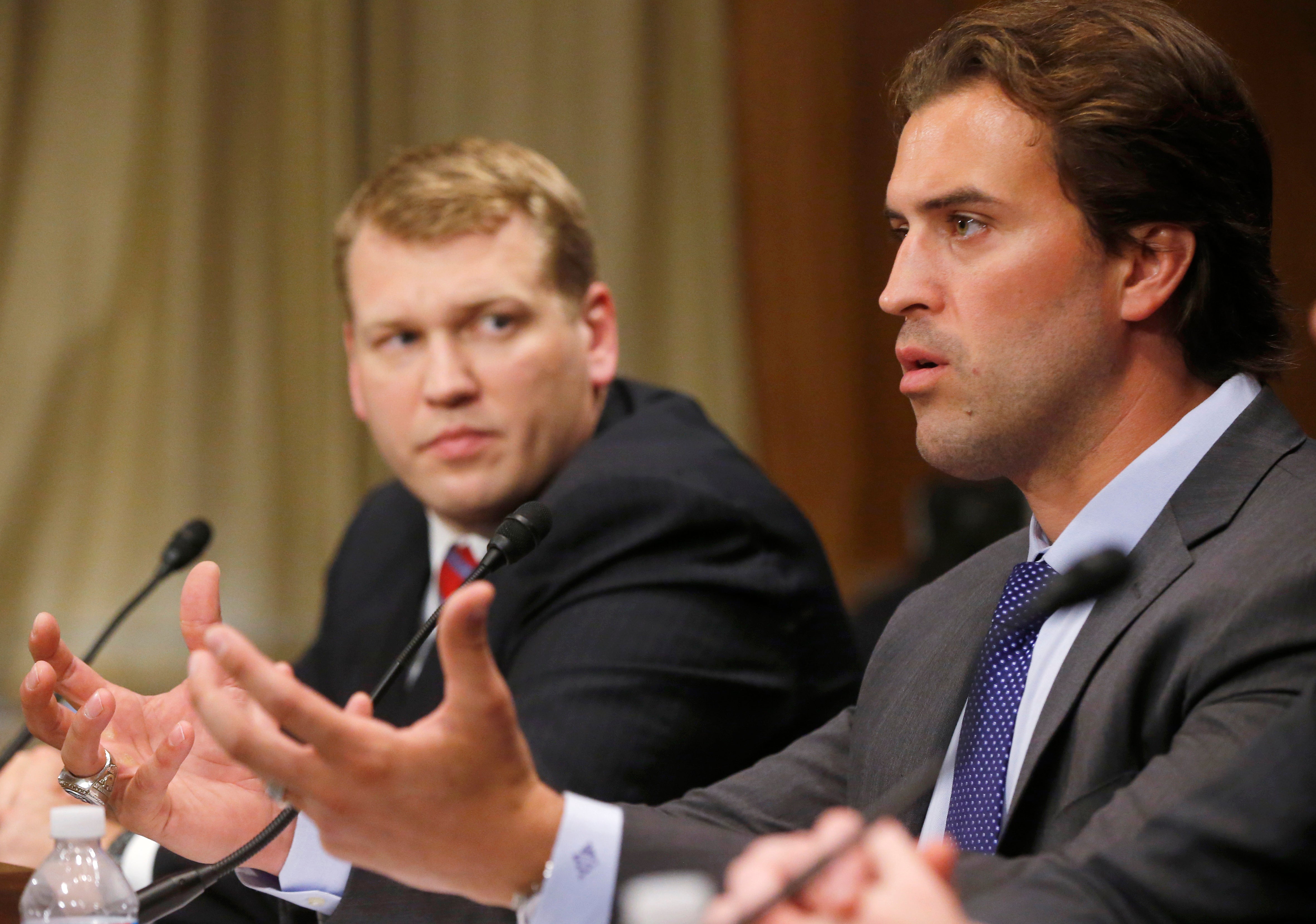 Athletes testify on traumatic brain injury
All too often young athletes feel they are invincible, immune to any sort of long-term consequences from a blow to the head during practice or game. But two former pro athletes who told their stories to Congress today are living proof of how serious the consequences can be.
Chris Nowinski, a Harvard graduate and former professional wrestler for World Wrestling Entertainment, and Ben Utecht, former NFL player for the Cincinnati Bengals and Indianapolis Colts, still suffer years later as a result of these all-too-common injuries. Today both went before the Senate Special Committee on Aging to talk about bearing the long-term burden of repeated head injuries.
Nowinski, who is the founding executive director of the Sports Legacy Institute, a nonprofit to raise awareness and funding for concussion research, told the committee he was first injured during a wrestling match when he was 24, but continued to compete despite persistent headaches.
"The symptoms then expanded beyond daily headaches to include depression and sleep walking, and it would not go away. But I lied about my symptoms for five weeks thinking I was doing the right thing," he said. "My ignorance cost me my career, cost me at least five years of my health with terrible post-concussion syndrome, and I don't know what it's going to cost me in the future. But CTE is what I fear most."
CTE, or chronic traumatic encephalopathy -- a progressive neurodegenerative disease -- can emerge from repeated blows to the head. Many of the symptoms linked to the condition, including memory loss and cognitive decline and well as changes in moods and behavior, are related to symptoms of Alzheimer's and Parkinson's disease and Lou Gehrig's disease. In fact, people who suffer repeated and traumatic brain injury are statistically at higher risk for developing these neurodegenerative conditions later in life.
Researchers still have yet to completely understand the association between traumatic brain injury and long-term cognitive decline. However, a number of large-scale studies indicate repeated traumatic brain injury can cause a buildup of tau and amyloid plaques in the brain, which is also a hallmark of Alzheimer's disease.
In one study published last year in Neurology, researchers at the Mayo Clinic gave brain scans to people who had suffered traumatic brain injury as well as those who had not. They found 18 percent of the study participants with mild cognitive impairment who reported a prior brain injury had an average of 18 percent more amyloid plaques than those without a history of head trauma.
Today's hearing is one of several public events held by lawmakers to call for action and awareness among the health and sports communities. In May, the White House held its first Healthy Kids & Safe Sports Concussion Summit, which brought together more than 200 sports officials, parents and young athletes in an effort to raise awareness and help children and their parents make the right choices to stay safe and still participate in organized sports.
According the U.S. Centers for Disease Control and Prevention, as many as 3.8 million traumatic brain injuries occur each year from sports and recreational activities, and many people are still unaware of the acute symptoms associated with this injury.
At the hearing, Utecht told the audience that he didn't truly understand the health implication of his injuries until he was being put into an ambulance after his fifth documented concussion. "For the first time in my life my brain became a priority and the reason why it became a priority is because at 29 years old, I started to have memory problems and it took losing my mind to care about my mind," said Utecht in his opening remarks.
"It's time for all of us to realize how special our brains really are. "
Thanks for reading CBS NEWS.
Create your free account or log in
for more features.