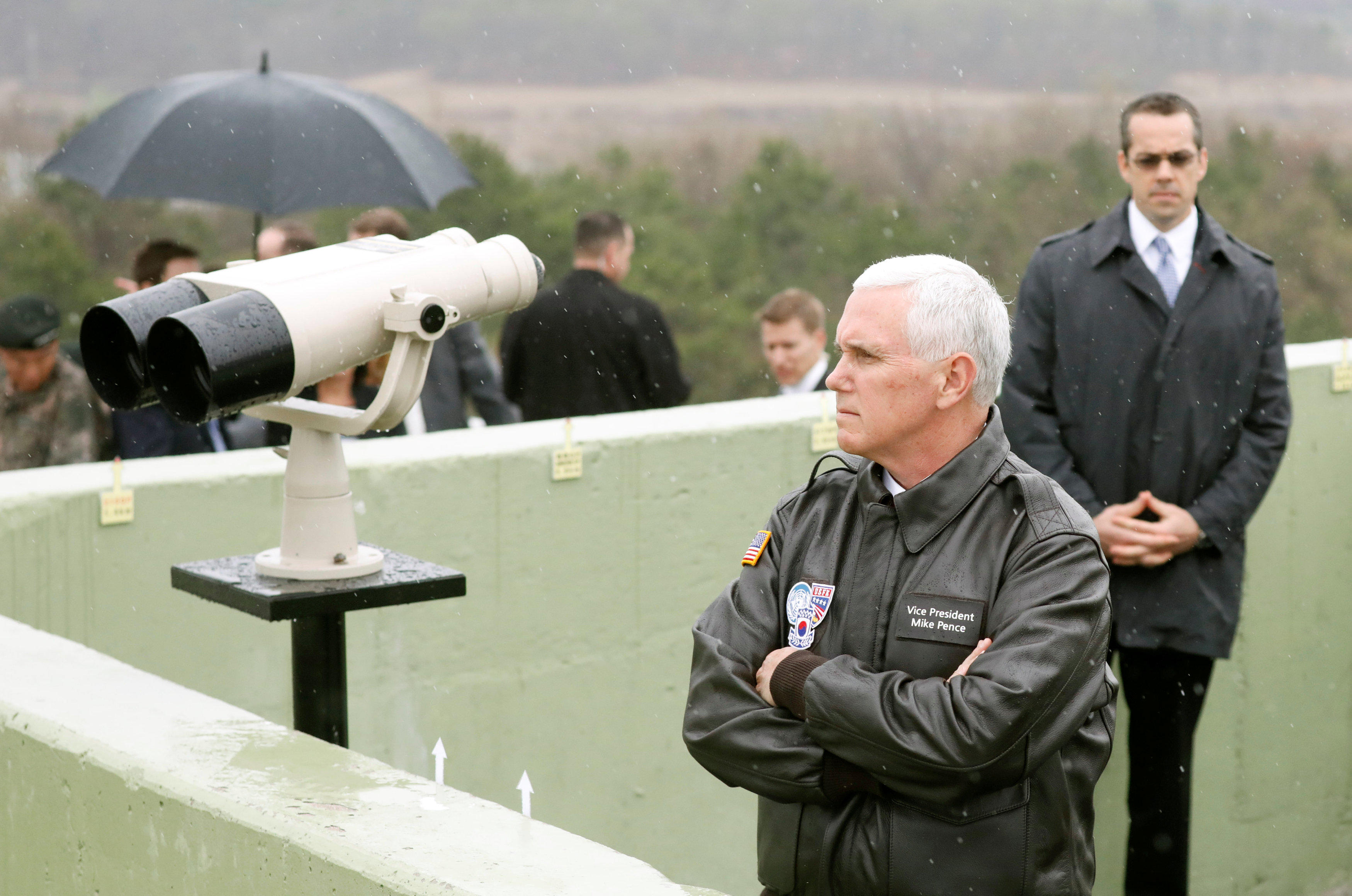 As Koreans plan to march as one, Pence to disrupt North Korea's Olympic charm
Following a year of incendiary tweets, name-calling and false missile threat alerts that raised the prospects of a nuclear war with North Korea, Vice President Mike Pence, leading the White House delegation, heads to the region for the 2018 Winter Olympic Games in PyeongChang, South Korea on Monday.
On his week-long tour, the Vice President will stop in Alaska for a briefing on the U.S. Military's Ballistic Missile Defense Systems, meet with Prime Minister Shinzo Abe in Tokyo, and then head to Seoul for a bilateral meeting with South Korean President Moon Jae-in. He'll cap the trip with an appearance at the Olympic games Opening Ceremony and will attend some early sporting events.
While North Korea's "sports diplomacy" has provided a pause from the tensions, Mr. Pence's visit will seek to counter North Korea's charm offensive by making clear that the U.S. strategy of maximum pressure to denuclearize North Korea will only intensify.
"We've seen this before – charm offenses by the North that lead to a period of fruitless talks that bought more time for the North to advance it's missile and nucear programs, only to lead the world in a more dangerous situation," the official said.
Pence will also remind his South Korean and Japanese counterparts of the importance of trilateral cooperation as athletes from both North and South Korea prepare to march under the same flag in PyeongChang. A White House official told reporters during a conference call on Monday morning that diplomatic strains between Seoul and the White House are "really exaggerated."
"President Moon has been clear in his statements that North Korea must move towards denuclearization in tandem with any expectation of real improvement in inter Korean ties," the White House official said. "President Moon's team and of course Trump's are very clear eyed about the dangers and very clear eyed about any attempts to drive a wedge between allies."
Mr. Pence's Olympic delegation will include Fred Warmbier, the father of Otto Warmbier, an American university student who died after returning home from North Korean prison in a coma, adding on to the administration's not-so-subtle pressure campaign leading up to the Olympics.
President Donald Trump honored another North Korean defector, Ji Seong-ho, at his State of the Union last Tuesday, and promised "maximum pressure" to prevent North Korean leader Kim Jong Un from developing nuclear missiles. Fred and Cindy Warmbier also attended Mr. Trump's State of the Union as honorary guests.
On Friday, after phone calls with both Mr. Moon and Mr. Abe, Mr. Trump greeted a group of North Korean defectors in the Oval office and encouraged them to share their tragic stories of escape from political imprisonment in front of the cameras.
Soon after, the Pentagon released their "Nuclear Posture Review" for the first time since 2010 that outlined the administration's plans to expand U.S. nuclear capabilities in order to defend itself and allies in the case of "extreme circumstances."
"Significant non-nuclear strategic attacks include, but are not limited to, attacks on the U.S., allied, or partner civilian population or infrastructure, and attacks on U.S. or allied nuclear forces, their command and control, or warning and attack assessment capabilities," read the hundred page long report presented by the Pentagon, and the Energy and State Department.
North Korea "may now be only months away from the capability to trike the U.S. with nuclear-armed ballistic missiles," the report added.
An official from the Japanese Embassy in D.C. said on Friday that Mr. Trump's hawkish "all options on the table" approach was a welcome sign that no concessions are being made before the Olympics games, despite North and South Korea's Olympic truce. The embassy official pointed out that historically, Kim Jong Un, a keen student of leaders that have given up nuclear disarmament, continued to develop nuclear programs in secret during negotiations.
A United Nations report found that North Korea made $200 million in 9 months despite sanctions between January and September of 2017 from exports banned under U.N. Security Council resolutions designed to debilitate Pyongyang's nuclear weapons program.
"This is still not a time for dialogue but pressure," the official added, after critiquing Mr. Moon's desire to appease the North Koreans and provide humanitarian aide.
National Security Spokesman Michael Anton, echoing Mr. Trump's commitment to denuclearization last week on Hugh Hewitt's radio show, said that the U.S. needs to see "a genuine change of heart" from the North Koreans during the peace offensive -- "not a negotiation as a ploy."
Former Ambassador to South Korea Christopher Hill said that Mr. Pence will be warmly received in the region, particularly in Japan, where Mr. Abe has a "more detailed" relationship with the Vice President than Mr. Trump.
"The Japanese will be critical of Moon for reaching out to the North Koreans, and in the view of the Japanese, undermining solidarity," Hill said. "But Moon has been pretty solid on the issue of sanctions and clearly had a short term interest in mind which is to make sure the Olympics are safe."
Complicating Mr. Pence's trip, though, are reports that Mr. Trump had shelved his pick for U.S. Ambassador to South Korea, Victor Cha, due to a disagreement over preventative strikes to North Korea.
Shortly after news broke that Cha was no longer under consideration, the Georgetown Professor and former Bush staffer published an opinion editorial in the Washington Post that giving North Korea a "'bloody nose' carries a huge risk to Americans."
"But the answer is not, as some Trump administration officials have suggested, a preventive military strike," wrote Mr. Cha. "Instead, there is a forceful military option available that can address the threat without escalating into a war that would likely kill tens, if not hundreds, of thousands of Americans."
A White House official said that reports of policy differences between Cha and the administration were "flat wrong."
Two sources told CBS News that the scuttling of Mr. Cha was due to issues with his background check. Nevertheless, "South Korea is very freaked out about it," Sue Mi Terry, a Senior Fellow at the Center for Strategic International Studies, told CBS News.
"The South Koreans will press Pence about this bloody nose thing – how real is that?" Terry said. "That's their number one concern. How concerned should they be and how much should South Korean government be involved and have a say?"
Thanks for reading CBS NEWS.
Create your free account or log in
for more features.