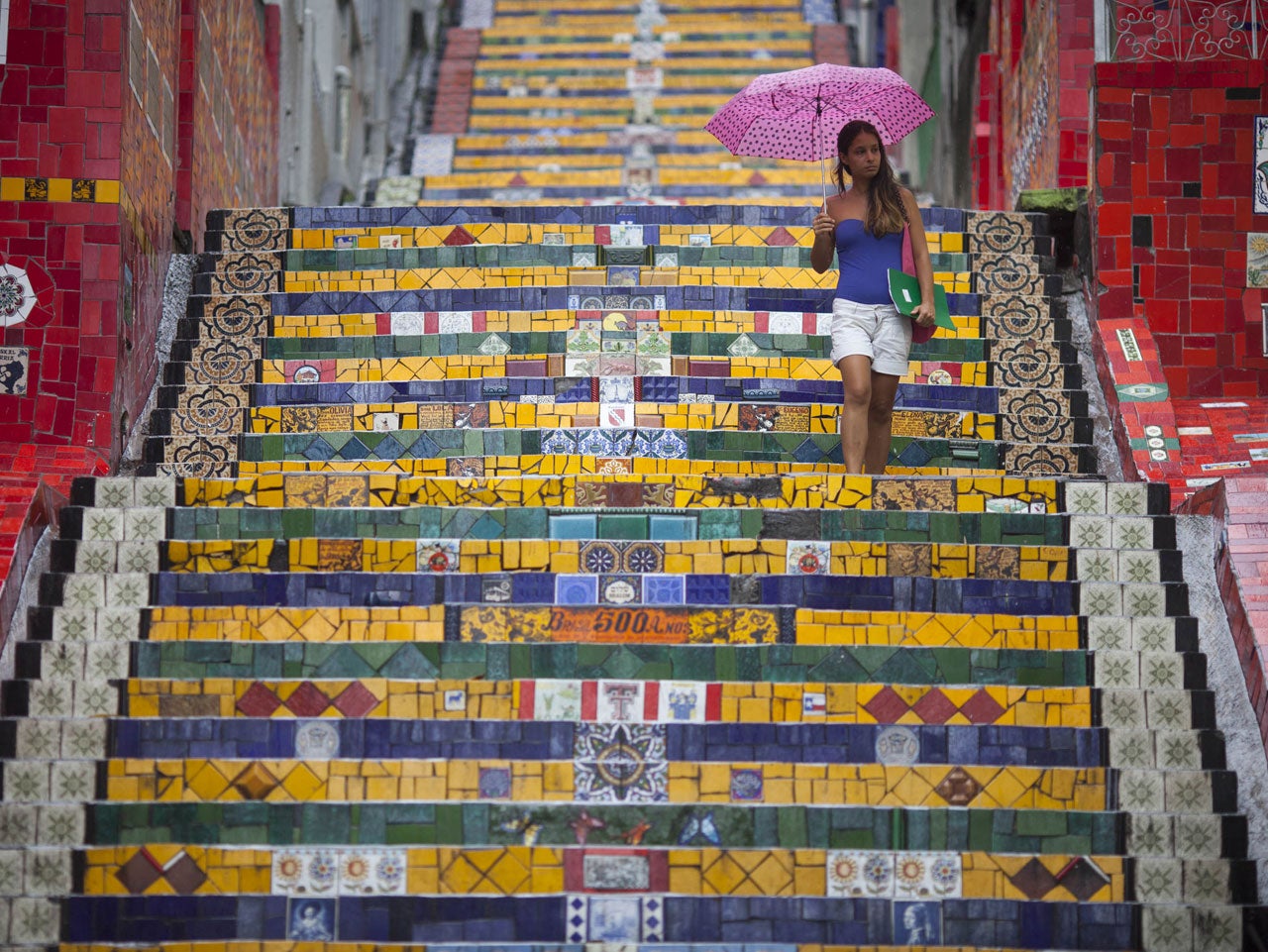 Artist found burned to death on top of his masterpiece
RIO DE JANEIRO Artist Jorge Selaron may have taken his own life by setting himself on fire on the very steps of his masterpiece, a brilliantly colored public staircase that became a symbol of Rio de Janeiro, the homicide police chief said Friday.
The body of Selaron, a Chilean who had adopted Rio as his home, was found early Thursday morning lying charred on the steps he had covered in a rainbow of bright tiles from all over the world as a tribute to the Brazilian people.
With no help from the city, Selaron began decorating the staircase in Lapa with brightly colored tiles in 1990. Soon people were bringing him tiles from all over the world to help complete the project.
The stairs, his life's work, were declared city patrimony in 2005, when Selaron was made an honorary carioca, as Rio residents are called. The steps have been featured in Snoop Dogg's "Beautiful" and U2's "Walk On" music videos, as well as part of the video that Brazil made for their 2016 Olympic bid.
Next to the burned body was a can of paint thinner, the liquid used to fuel the flames, said homicide police chief Renata Araujo. Inside Selaron's home, a humble pastel-colored colonial that opens onto the staircase, was the paint thinner's lid.
All eight people interviewed so far said the artist was deeply depressed over threats by former friend and collaborator and had asked for help in ending his life.
"He even asked to be taken to the subway so he could throw himself under the train," Araujo said.
The autopsy showed the highly flammable liquid was poured on his head, which reinforced the theory he did it himself. Also, since Selaron first reported the threats to police in November 2012, he always had friends stay at his house to keep him company, Araujo said.
The night before he died he chose to sleep alone.
"This could be an indication that he was determined to kill himself," she said. "He could have poured the thinner on his own body inside the house, then to protect his work and die on the staircase, he could have walked out and set himself on fire."
Still, the investigation has not discarded the possibility he was killed. Right before dying the artist went to a nearby bakery and brought home two pieces of bread, Araujo said.
The dispute that led the painter into depression was with Paulo Sergio Rabelo, a friend of long standing and colleague who was left in charge of Selaron's studio when he took a vacation last November.
Rabelo, who earned an income making prints of Selaron's work and was included in his will, fought with several associates in his absence. Selaron was upset and ended their relationship. Rabelo then began threatening him, police said.
Toward the end of the month, the threats escalated and Rabelo attacked one of the artist's closest friends. Selaron registered a complaint with the police on Nov. 24. According to police chief Araujo, Rabelo denied threatening the artist and argued he only wanted to register Selaron's studio as a legitimate business. The artist preferred to remain as he'd always been, working informally and selling his paintings right there on the steps, Rabelo testified to police.
The fighting left Selaron sad and anguished, feelings he expressed in drawings later published in the newspaper O Globo. One piece shows him with trademark mutton chop mustache and the body of a hugely pregnant woman -- a recurring theme in his art -- narrating the threats.
"Today I slept in a hotel because these last few days I've been threatened by Paulo, who is still my heir," he wrote on the drawing. "He intends to take control of the sales of my paintings. I said no, this won't happen until I die. He didn't like it."
"In the last 20 days, he lost control entirely," Selaron wrote.
Thanks for reading CBS NEWS.
Create your free account or log in
for more features.