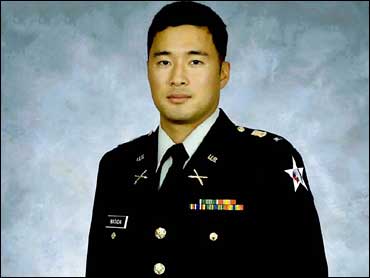 Army Officer Refuses Iraq Duty
An Army officer who was born and raised in Honolulu is refusing to go with his unit to Iraq because he says the basis of the war is illegal and immoral.
1st Lt. Ehren Watada, 27, is with a unit at Fort Lewis, Wash. Watada is the son of the former executive director of Hawaii's campaign spending commission, Bob Watada.
During a videotaped speech played at a press conference in Tacoma, Wash., Watada said, "My participation will make me party to war crimes."
"I feel that we have been lied to and betrayed by this administration," Watada said Tuesday in a telephone interview with the Seattle Times from Fort Lewis. "It is the duty, the obligation of every soldier, and specifically the officers, to evaluate the legality, the truth behind every order — including the order to go to war."
His attorney, Eric A. Seitz, says Watada submitted a letter to his command in January stating he had serious reservations about the Iraq war and felt he could not participate in it.
Seitz says a few months later, at the Army's suggestion, Watada resubmitted his request to resign.
"They took their time," says Seitz, "but then they informed him in early May that they were not going to let him resign."
According to KOMO-TV in Seattle, Watada wrote in a letter that he refuses to watch families torn apart while the president tells America to "stay the course." Watada's father, who is from Hawaii, says his son - who turns 28 on Thursday - is taking a bold step and he is proud of him.
Joe Hitt, a civilian spokesman at Fort Lewis, an Army post about 40 miles south of Seattle, confirmed that Watada is a member of the 3rd Brigade, 2nd Infantry Division, the Army's first Stryker Brigade Combat Team. The unit held a deployment ceremony Friday and will begin leaving later this month for its second mission in Iraq.
Hitt said the Army is aware of Watada's plans but has no comment.
Watada, a native of Honolulu, enlisted in the Army in 2003 after graduating from Hawaii Pacific University. He reported for boot camp in June of that year and began officer candidate school two months later.
Watada's commission requires that he serve as an active-duty Army officer for a three-year term ending Dec. 3, 2006.
"By his refusal to participate in the ongoing war, Lt. Watada joins a growing number of high-ranking military officers, West Point graduates and current and former members of the armed services who have expressed their opposition to the actions of the United States in Iraq," says Seitz.
Seitz says Watada could be court-martialed if he refuses to serve as ordered, unless the Army allows him to resign his commission or assigns him to duties that are not directly connected to the Iraq war.
The Seattle Times reports that Watada has reached out to peace groups, including clergy, students and some veterans opposed to Iraq. Some war critics are raising money for his legal defense as they seek to galvanize broader opposition to the Bush administration's Iraq policy.
Watada is not alone in refusing to go to Iraq. Sgt. Kevin Benderman, an Army mechanic among the enlisted ranks in Fort Lewis, is serving a 15-month sentence at a base correctional facility for refusing a second tour of duty in Iraq, according to the Seattle Times. Benderman served in Iraq in 2003 but refused to return in January 2005, the newspaper notes.
Thanks for reading CBS NEWS.
Create your free account or log in
for more features.