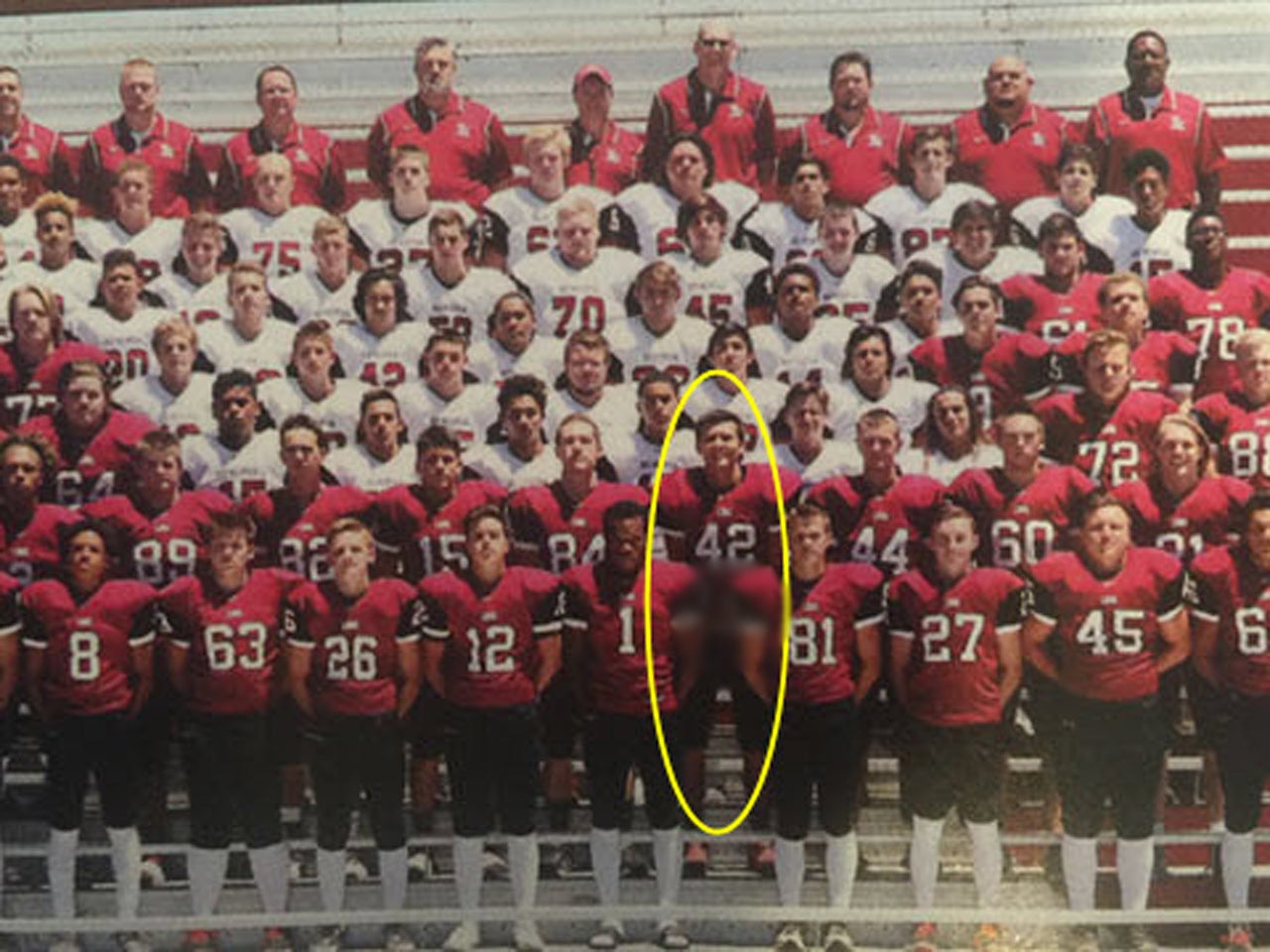 Ariz. student gets felony charge for yearbook pic prank
MESA, Ariz. - An Arizona high school student was hit with dozens of criminal charges after horrified school officials discovered he had exposed his penis in a football team photo seen by thousands of students.
Det. Steve Berry of the Mesa Police Department said as a result of the incident, 19-year-old Hunter Osborn has been booked for 69 counts of indecent exposure -- a class 1 misdemeanor -- and one count of furnishing harmful items to minors -- a class 4 felony, reports CBS affiliate KPHO in Phoenix.
Berry said they arrived at that number of criminal charges because there were 69 students, ranging in age from 15 to 19, and 10 faculty members present when the picture was taken. If individuals in the photo are older than 18 and do not wish to press charges, the number of criminal counts could be reduced.
"It is still an ongoing investigation," Berry said. "The number of charges may go up or down depending upon how the investigation continues."
The picture in question is a standard high school football group photo, with Osborn standing on the second row of bleachers smiling. Two players in front of him appear to have given enough space between themselves to allow Osborn to expose himself. Some students told KPHO they didn't even notice until adults started making a big deal out of it.
"He made a dumb mistake a little bit, but I don't think he should be charged so heavily for that," senior Zach Anthony said.
The photo was printed in both the yearbook - which was sent out to 3,400 students -- and in the school's football program, sold at games and seen by many family and community members.
According to police, Osborn said he was dared by teammates to expose himself, and that in retrospect he was "disgusted" with himself for doing it.
A neighbor told KPHO that Osborn is intelligent and considerate.
"I hope that something can be done so that this doesn't ruin his life, his career," said the neighbor, who asked to be identified as Jim. "He's been a good neighbor. He doesn't go out and party all the time. He has a job that he works at; he's punctual. He gets up and goes to school every morning. He gets up on Sunday and goes to church. I really feel for the guy."
In a statement, Mesa Public Schools officials said: "The district is dismayed by the actions of the students involved in the photograph. Their behavior does not reflect the values of Red Mountain High School or Mesa Public Schools. Upon learning of the photograph, school administration immediately contacted police and is cooperating fully with the investigation. Disciplinary action will follow policy and may be based on the outcome of the police investigation...
"While the small size of the photograph as published makes the details difficult to discern, the yearbook has been recalled so the school can make a minor but critical edit for the inappropriate content."
Thanks for reading CBS NEWS.
Create your free account or log in
for more features.