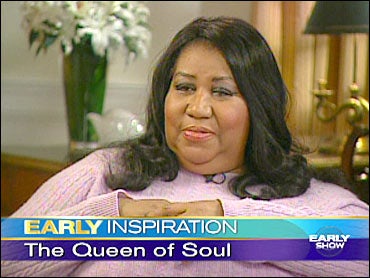 Aretha: "Just The Lady Next Door"
Aretha Franklin has reigned as the undisputed "Queen of Soul" for nearly half a century, inspiring millions of music lovers.
At this year's Grammys show Sunday, she'll be honored as the MusiCares Person of the Year, for her artistic achievements and charitable work.
But, in a wide-ranging interview in her Beverly Hills hotel room, Franklin told Early Show co-anchor Maggie Rodriguez she tries to think of herself as "just the girl next door."
"You HAVE to know that you're the 'Queen of Soul," Rodriguez insisted.
"Well, OK," Franklin replied. "If you say so, OK."
How would Franklin describe herself?
"Just the lady next door," she said.
"But you're so special and unique," Rodriguez persisted. "You're not "the lady next door."
"Yeah, I am 'the lady next door,' Franklin said. "It's grounding, and I like staying grounded. People can do a lot of things, and if one were not careful, it could go to your head, and I prefer that it not go to mine. Hah!"
Her legendary voice commands attention, Rodriguez observes: Singing with power and majesty, Franklin is a tour de force.
She's released 47 albums, and was the first woman inducted into the Rock 'n' Roll Hall of Fame.
She also has 19 Grammys.
Which means the most to her?
"All of them," Franklin says. "The 19th one is just like the first one was. Of course, you want to win. I love to win, so if I can just get one more -- it will be 20! A nice, round figure!"
"The lights go down, the curtains go up, Aretha Franklin steps onto the stage," Rodriguez said. "The audience knows they're about to hear something magical. What are you feeling?"
"When I walk to the microphone, I'm really looking forward to the give and the take that the audience and I get into, and just letting those surprises come out a little bit at a time."
Through the decades, Rodriguez says, her look has changed, but the voice remains the same.
Aretha Franklin demands respect -- and she's earned it.
In a classic Grammy moment, Franklin stepped in at the last minute in 1998 for Pavarotti and sang an aria. She brought the house down.
"The producer ... ran up to the dressing room and asked" her if she could do it, Franklin recalls. "I said, 'Yeah, well, maybe. What, like in an hour or so?' 'Cause the Grammys go on for four hours. And he said, 'No -- in six minutes!' Huh!"
"It was a sensational night," Franklin conceded to Rodriguez.
Another unforgettable Franklin moment, Rodriguez says, came in the Blues Brothers movie when she went into "You Better Think."
Why doesn't she do more movies, Rodriguez wondered.
"We need to call these casting agents out here and find out why haven't called me," Franklin responded. "Yo -- what's up!" She chuckled.
"Aretha wants to do movies?" Rodriguez asked.
"Yeah," came the answer. "Aretha wants to do movies. Call me!"
Franklin, says Rodriguez, is taking charge of her music career, recording an album on her own label, about the heartache of a recent failed relationship Franklin felt began with great promise.
"Did you come out of that relationship, still believing in love?"
"Oh, absolutely. I wouldn't let -- one man doesn't speak for men!"
Franklin said there' a new special someone in her life, "but we won't talk about it. We won't talk about it."
"That would be an entirely different album, I have a feeling, from the smile on your face," Rodriguez remarked.
"Yes, it would be!" Franklin confirmed.
Thanks for reading CBS NEWS.
Create your free account or log in
for more features.