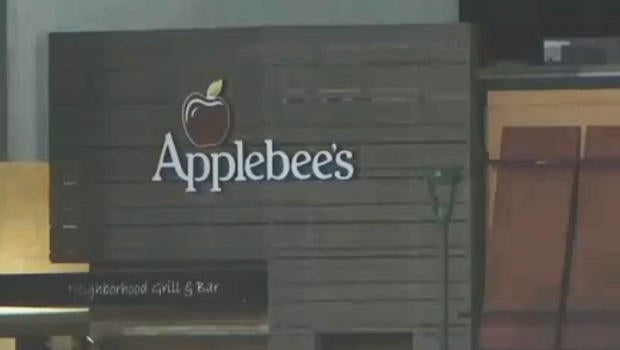 Applebee's fires 3 workers, apologizes after racial profiling allegation
INDEPENDENCE, MO -- A St. Louis woman claims she was racially profiled at an Independence Applebee's when, she says, she and a friend were accused of leaving without paying their bill during a previous visit. Alexis Brison posted a video of the incident on Facebook on Saturday, reports CBS Kansas City affiliate KCTV. As of Monday, the video had been viewed 1.9 million times and shared 45,000 times.
Applebee's says three employees were fired as a result, adding it is temporarily closing the eatery involved.
In a statement, the chain says, "We recognize the hurt and pain caused by the recent incident at an Applebee's restaurant in Independence, Mo. We very much regret this occurred and sincerely apologize to our guests and community. After an internal investigation and in-line with our values, the franchisee terminated the manager, server and another employee involved in the incident. We do not tolerate racism, bigotry or harassment of any nature, and we have taken additional steps to close the restaurant at this time in order for the team there to regroup, reflect, learn and grow from this. We are reaching out to the guests involved to apologize directly. We know rebuilding trust with those affected by the incident will take time, and we look forward to finding resolution in the coming days."
In the post, Brison says she and a friend were shopping at the Independence Center shopping mall when they stopped for a meal at Applebee's.
About an hour into their meal, members of the restaurant's staff accused the women of leaving without paying their bill the night before, Brison says. Both women denied the allegations and claimed that they were being accused because of their skin color.
"Especially in Black History Month, black people cannot continue to be treated this way," Brison said in her post. "After being mocked, humiliated, and embarrassed we were asked to pay for our food, leave, and not come back."
Brison says she and her friend were approached by an Independence police officer, a mall security officer and the restaurant manager.
In the video, the two women are seen strongly denying the accusation. In the post, Brison also says she can show proof of their whereabouts the prior night.
Applebee's staffers and the police officer asked the women to pay their bill, leave and not return. Both women paid for their food and left the restaurant.
After leaving the restaurant, Brison says the restaurant and the manager were called and said the person accusing them had described them as "a skinny girl and one who wore makeup," but couldn't recognize any of their facial features or defining characteristics.
"This is a clear example of racial profiling that should not be stood for," Brison wrote. "Just because we are black does not mean we are all criminals and I will not be treated as such."
In a statement to KCTV, Applebee's says it regrets what happened but it had no initial indication the incident was race-related.
Thanks for reading CBS NEWS.
Create your free account or log in
for more features.