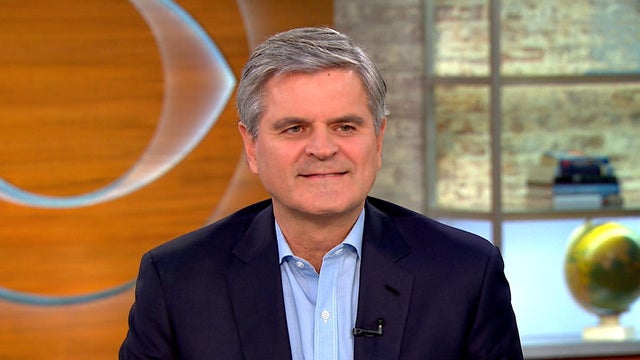 Are we ready for the "third wave" of the digital era?
The world is entering a new digital era, but are we ready?
One leading pioneer of the technology revolution suggests not quite. In his new book, "The Third Wave: An Entrepreneur's Vision of the Future," AOL co-founder Steve Case outlines how the Internet must be "taken to the next level" for what he calls the "third wave" of the digital revolution.
Case himself was the pioneer of the "first wave," when he co-founded America Online in 1985. It started with only 3 percent of people online for just one hour a week during the primitive dial-up days, then went on to become involved in one of the biggest media mergers ever.
Companies like AOL laid the foundation for the "second wave," of companies like Facebook and Google that expanded the Internet with search and social networking capabilities. The third wave, Case said, must now integrate the Internet into "every aspect of our lives," from health care to education."
"Take health care for example. Right now if you go to the hospital, it works about the same way it did 20 years ago," Case told "CBS This Morning" Monday. "Or education ... the way most kids learn now is about the same. New systems that allow for more personalized, adaptive learning [are] becoming more possible.."
But doing this will be a challenge, Case said.
"Occasionally, you'll get lucky and have an overnight success, but the perseverance that is necessary to really revolutionize learning or food or health is going to require a kind of long-term, built-to-last mentality," Case said.
And for that, tech companies and the government must play an active role, Case said
"The entrepreneurs in Silicon Valley and all around the country who want to tackle education or health can't just focus on software or focus on the apps," Case said. "They also have to partner with some of the institutions and also understand the role of government because many of these sectors are regulated."
According to Case, the government could help spur innovation by shaping policies for startups "to flourish in the third wave" -- making it easier for startups to raise money, investing in research and development and even creating visa programs for immigrant entrepreneurs. Case also argues that the government should treat startups differently than other small businesses, as "the real growth in terms of job creation comes from these young, high-growth startups."
Case also stressed that big companies must partner with entrepreneurs, rather than defend themselves against the growing competition.
"I think the big companies do have the opportunity in this third wave to innovate and disrupt themselves, but they really have to learn in the future," Case said. "They have to create a culture around experimentation, not just play defense, but play offense."
Thanks for reading CBS NEWS.
Create your free account or log in
for more features.