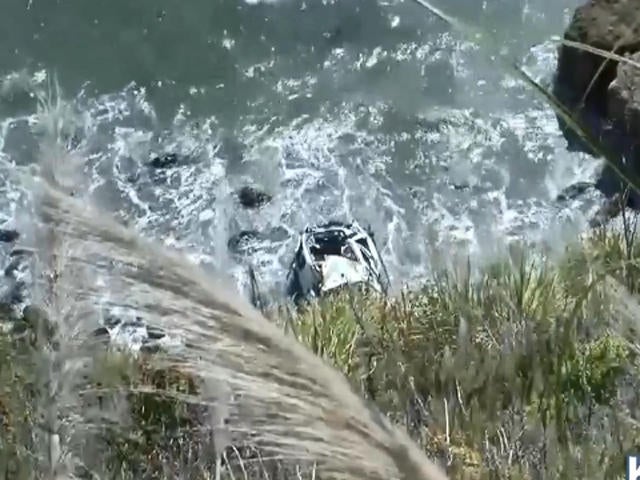 Woman survives a week after driving off California cliff
BIG SUR, Calif. - A couple on a camping trip found an Oregon woman who had survived for a week after her car went over a cliff on the California coast, reports CBS Monterey, California affiliate KION-TV. Angela Hernandez, 23, had last been seen July 6. She's recovering in a hospital in Templeton, California.
Chad and Chelsea Moore tell KION they were looking for places to fish along the beach near Big Sur Friday evening when they saw something strange.
"We saw a bumper first and we were like, 'Hmm, there's a bumper. That's weird.' And then we came around another bend and saw the car" at the bottom of a 200 foot cliff, said Chelsea.
It was a 2011 white Jeep Patriot. They didn't realize search and rescue teams had been trying to locate the car for days.
When the Moores spotted the car, "It looked like there wouldn't have been any survivors. … The car was pretty bad. And there weren't any signs of people or blood or anything," Chelsea said.
They started collecting items from the Jeep, including the license plate, to give to law enforcement.
The couple said they walked back to their campsite about a mile or two from the car along the beach. That's when they found Hernandez.
"We turned around and Angela was right there in the rocks, just looked like hell. She was happy at the same time, she was really happy to see us," said Chad.
"At that point, we just panicked with adrenaline like, 'Oh my God, you were in that car we just saw and you're alive and you must need help,"' said Chelsea.
They said Hernandez seemed OK and responsive, and they got help right away. Chelsea called 911 and brought back food and blankets as they waited for rescuers to arrive, and Chad stayed with Hernandez on the beach.
Rescuers say she appears to have suffered a concussion.
The Moores say it was just good timing that led them to Hernandez, and that it is a miracle she survived.
"Can't believe you're alive Angela, if you're listening to this. You're a hero, that's unreal," said Chad.
"Total legend. She's here for a reason and we were there for a reason and we're so glad she's OK," said Chelsea.
Hernandez later told authorities she swerved off Highway 1 to avoid hitting a rabbit, sending herself off the edge of the cliff and down to the rocky bottom.
Hernandez told the Moores she remembers flying through the air and feeling the sense of falling before getting knocked unconscious. She told them she woke up to water filling up her Jeep, so she broke the driver's side window with a multi-tool.
To stay hydrated, Hernandez reportedly used a radiator hose from her vehicle to siphon water from a nearby stream.
Hernandez was airlifted to the hospital.
Thanks for reading CBS NEWS.
Create your free account or log in
for more features.