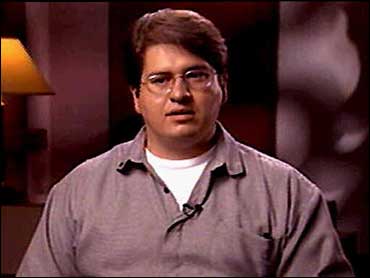 'Angel Of Death' Pleads Guilty
Self-proclaimed "angel of death" Efren Saldivar pleaded guilty Tuesday to six counts of first-degree murder and one count of attempted first-degree murder in a plea bargain that let him avoid the death penalty.
He was immediately sentenced to seven consecutive life sentences.
Saldivar was nearly inaudible when he answered "guilty" to each count as it was read. The pudgy 32-year-old, wearing glasses and a maroon sweater, acknowledged when asked by Superior Court Judge Lance Ito that he understood his rights and was voluntarily pleading guilty.
The former respiratory therapist, who has been in custody for 14 months, also admitted to two special circumstances, the commission of multiple murders and murder by administration of poison, the muscle relaxor, Pavulon.
A count of receiving stolen property, the sedative Versed, was dismissed as part of the deal.
Saldivar, who once called himself the "Angel of Death," killed six elderly patients in 1996 and 1997 while working at Glendale Adventist Medical Center, injecting them with the drug that stopped their breathing.
He told police in 1998 that he may have contributed to "anywhere from 100 to 200" deaths and actively killed up to 50 patients with drugs or by withholding treatment. Saldivar spent nine years as a hospital worker.
He later recanted in television interviews, saying he fabricated his statements because he was depressed and wanted to die.
"It still seems so unreal," said Larry Schlegel, whose 77-year-old mother, Eleanora, was found dead in her hospital bed in January 1997. "It's just that whole thing that it can never happen to you," he told the Los Angeles Times.
Saldivar was charged in January 2001 after authorities exhumed 20 bodies and found Pavulon in the remains of six victims.
The victims were Eleanora Schlegel, Salbi Asatryan, 75, Jose Alfaro, 82, Luina Schidlowski, 87, Balbino Castro, 87, and Myrtle Brower, 84.
Seven lawsuits have been filed against the hospital where Saldivar once worked. Four have been dismissed. Salbi Asatryan's family accepted a $60,000 settlement from the hospital. The family of Jose Alfaro, 82, also settled for an undisclosed amount.
By Erica Werner
Thanks for reading CBS NEWS.
Create your free account or log in
for more features.