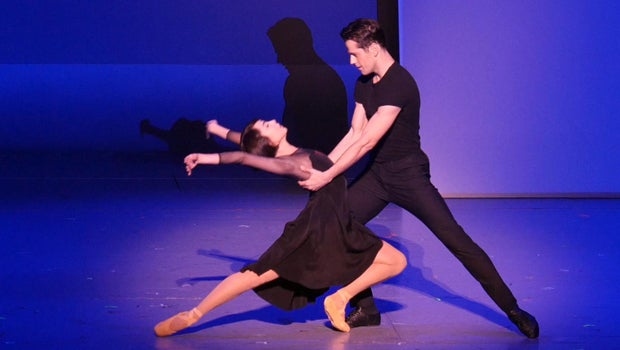 ​"An American in Paris" heads to New York
Direct from Paris -- a musical is coming to New York set in happier days after that city's liberation during World War II. Call it old or new, or marvelous: It's Gershwin. Our Man in Paris, David Turecamo takes us backstage:
In the center of Paris is the 150-year-old Theater Chatelet, and looking out her dressing room window Leanne Cope can see "this building here, [which] is where they held Marie Antoinette just before she was beheaded."
Leanne is a member of London's Royal Ballet. "Generally I'm one of many swans or one of many snowflakes."
But now she is the leading lady in a new musical debuting on Broadway. "If you mention 'Broadway' anywhere in the world, people would know what it is, and that does scare me a little bit," she told Turecamo.
It's customary for Broadway shows to open out of town, but usually in cities like Philadelphia, New Haven, or Pittsburgh -- out-of-town try-outs to fine-tune a show before facing the New York critics. So why bring this show to Paris?
Because this show is "An American in Paris."
You probably know the movie: Gene Kelly, six Academy Awards (including Best Picture), on lots of 10-best lists. It's just a great movie.
So you think these kids feel pressure? "Absolutely!" says director Christopher Wheeldon, one of the most respected choreographers in the world. His background includes the Royal Ballet of London and the New York City Ballet. But this is the first time he's ever directed a musical.
And he's attempting something that very few people have ever done successfully, which is choreographing ballet for a Broadway musical
"I guess I make dances that I think I would want to see if I was an audience member," said Wheeldon.
George Gershwin originally wrote the musical composition "An American in Paris" in 1928 -- the impressions of an American while walking around the city.
The movie reflected a different time. It was made in 1952, just seven years after the war. Paris was still rebuilding, and it was too soon to confront post-war realities, so the movie added romance. Gene Kelly falls in love with Leslie Caron (actually, I think a lot of us did). This Paris is light, colorful and carefree.
But Wheeldon's version begins with the liberation of Paris, and so places the war front-and-center.
"We were searching for a way to make the romance and the joy feel more potent coming from this place of darkness," he said. "Even the cast moving all of the pieces in and out, building scenes, gives you a sense of the people of Paris rebuilding their city. So then it was about, how do we do that but make it move seamlessly and beautifully and feel like the city itself is waltzing in and out, off the stage?"
But make no mistake -- Gershwin is what this show is all about.
"It even starts like the beating of a heart," said Wheeldon. "That trumpet melody is liquid romance."
The three Americans in "Paris" are Robert Fairchild (who plays the Gene Kelly part), Brandon Uranowitz, his best friend (just think of Oscar Levant in the movie), and Max Von Essen, who plays the rival in love.
See, in the best Hollywood tradition, they ALL fall in love with the same girl.
And all of this against the backdrop of post-war Paris.
"It was a really messy, dirty, kind of scary time," said Uranowitz.
"They've been so sad and so held back for so many years that everyone needs love," said Von Essen. "Everyone needs to smile, and then since it's a musical, everyone needs to sing and to dance and to let it out in their own way. It may start from a dark place, but it's a fun ride."
Don't worry, said Uranowitz: "You'll get your big splashy numbers!"
So, how are French audiences? Are they different from American?
"They don't run to their cars at the end," said Von Essen. "They stay, they're so attentive, they're so respectful, and when they've loved it, they don't stop!"
As we heard among the audience members: "Magnifique! Fantastique!"
On man said, "It's fabulous, a beautiful experience, three hours of joy!"
And then there's the magic of Paris.
"Every street you walk down, you want to live there," said Fairchild.
Leanne Cope added, "On one of my first days here, I walked along the Seine and found a bench and I thought, 'OK, this is where Lise and Jerry meet.' It's amazing -- we can actually walk around Paris and walk the show!"
Director Christopher Wheeldon said, "More than inspiration, it's kind of like the greatest research you could ever do for a show. I feel like we have an opportunity to take part of Paris back with us to America now."
'Cause they've already brought America to Paris.
"I've got rhythm,
I've got music,
I've got my gal,
Who could ask for anything more?"
And from THIS American in Paris, "Bon courage mes enfants!" (Knock 'em dead, kids).

For more info:
Thanks for reading CBS NEWS.
Create your free account or log in
for more features.